This article first appeared in The Edge Malaysia Weekly, on January 14, 2019 - January 20, 2019.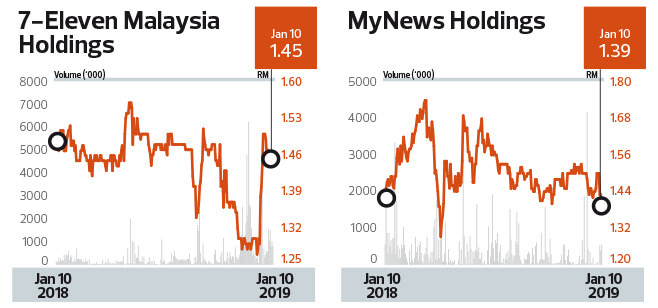 AS society becomes more urbanised, it is undeniable that convenience for consumers has become a highly valuable commodity. Changing consumption habits explain the proliferation of convenience stores in the country in recent years, especially in the Klang Valley. But how are they as an investment?
The two listed convenience store companies on Bursa Malaysia are 7-Eleven Malaysia Holdings Bhd and home grown MyNews Holdings Bhd.
7-Eleven has been on the local retailing scene since 1984, but it only debuted on the stock exchange in 2014. Nevertheless, since its listing, the share price has only gained 7% from RM1.34 to RM1.45 as at last Thursday.
Meanwhile, myNews — which morphed from a newsstand to the convenience store chain it is today — can be considered a rookie on the stock exchange as it only listed in March 2016. But its share price has increased 147% since it debuted on the exchange, from 57.1 sen in 2016 to RM1.39 at last Thursday's close.
Nevertheless, over a period of one year, the share prices of 7-Eleven and myNews have seen a decline of 3.19% and 0.75% respectively.
The KL Consumer Product Index has not fared too well either. Over the same period, the index has risen merely 0.62%, to 659.08 points as at last Thursday's close.
This year, many expect the improving trend in the MIER Consumer Sentiment Index to be sustained after it recovered beyond the 100-point confidence threshold in the third quarter of 2018 after three years of weakness.
"We believe the positive trend in consumer sentiment will be sustained as consumers become more confident of the government with expectations of more rakyat-centric policies, better governance and transparency," says AmInvestment Research in a recent report.
While many may think that better consumer sentiment would translate into higher growth potential for convenience stores like 7-Eleven and myNews, an analyst with a local research house begs to differ.
"I don't think better consumer sentiment affects sales at convenience stores dramatically. It would likely affect high-value items or discretionary products more," he says.
Analysts say what is key for convenience store chains is location, more than the number of stores a chain has.
"The location has to be right. If stores are located too near to each other, that is not good. If you notice, convenience stores with the highest sales per sq ft tend to be those located at or near public transport, such as LRT and MRT stations," comments another analyst.
Convenience stores have also found themselves evolving with the times. It is worth noting that chains like 7-Eleven and MyNews are tying up with e-commerce logistics partners to provide last-mile service to customers.
A market observer says being that last mile provider for customers will inevitably cause a spillover effect for business at the convenience store.
"Convenience stores with such services will be able to benefit. Often, when you pick up your parcel from such places, you also pick up some items from the stores as well. This is how convenience stores are complementing e-commerce businesses now," says the observer.
7-Eleven faces stiff competition
As one of the first in the modern convenience store landscape, there is no doubt that 7-Eleven has scale and size to its advantage. As at September 2018, it had 2,259 stores nationwide.
Nevertheless, revenue growth for the company has been slow. On a year-on-year basis, revenue growth averaged 4.9% for FY2015,  FY2016 and FY2017.
Its net profit margin is also thin, at between 2% and 3% over the last four years.
For the cumulative nine months ended Sept 30, 2018, revenue came in at RM1.66 billion, a 1.3% increase from the previous year. Net profit stood at RM38.82 million, up 13.3% from a year ago.
Kenanga Research notes in a report that the group has been working towards an overhaul of its store operations and end-to-end supply chain operations. Both are showing results, with margins improving slightly, but it is happening at a slow pace.
"The group has been facing stiff competition from new players, which are revolutionising the high-margin fresh-food space, which is limiting its sales growth," it adds.
Currently, there are four "hold" calls and three "sell" calls on the counter, with a target price of RM1.28.
myNews food-processing factory to boost margins?
Analysts seem more positive on myNews, with five "buy" calls, three "hold" and only one "sell". The average target price stands at RM1.58, a 16% upside to the stock based on last Thursday's closing price of RM1.39.
An analyst with a bank-backed research house says that its in-house food processing facility, which is expected to be operational in the second quarter, could be a potential catalyst for the convenience store chain's growth if executed well.
"For convenience stores, the way margins can increase is by having high-margin fresh foods. They would have to ramp up distribution to all stores to achieve scale," the analyst says.
At present, myNews has 436 stores, a fraction of 7-Eleven's, and it plans to open at least 70 more this year.
Its SSSG stood at 0.8% for the financial year ended Oct 31, 2018, and would have been 2.3% if print media sales were excluded, says the analyst from the bank-backed research house.
In terms of revenue growth, myNews fares much better than 7-Eleven, posting y-o-y growth of 21.4% in FY2016, 23.8% in FY2017 and 19.9% in FY2018.
Net profit margins are also higher at 7% over the last three financial years.
AmInvestment Research believes that myNews will be an indirect beneficiary of the public transport subsidy that the government intends to roll out this year.
"We reckon that this measure will boost foot traffic surrounding the train stations. It is currently operating more than 30 stores in the MRT, LRT and monorail stations," it adds in its report.
However, Kenanga Research believes that expansion of its earnings margin could be limited this year on the back of higher staff and rental costs and the start-up cost it has to incur from its in-house food-processing facility.
Save by subscribing to us for your print and/or digital copy.
P/S: The Edge is also available on Apple's AppStore and Androids' Google Play.