This article first appeared in The Edge Financial Daily, on October 15, 2018.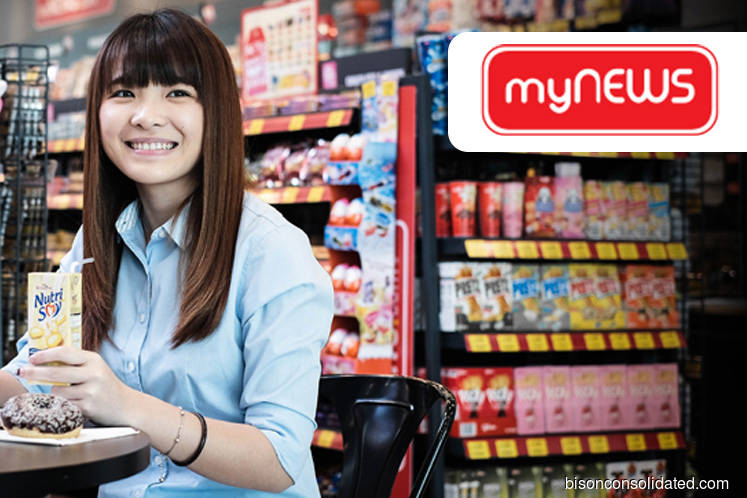 Mynews Holdings Bhd
(Oct 12, RM1.43)
Maintain hold with an unchanged target price (TP) of RM1.44: Mynews Holdings Bhd has introduced new food and beverage (F&B) products as a prelude to the roll-out of its ready-to-eat (RTE) facility. The target operational date for the food processing facility has, however, been slightly delayed to the end of the first quarter of calendar year 2019 (1QCY19). Upon imputing for higher store openings in financial year 2018 (FY18) and rises in minimum wages in FY19 to FY20, our earnings forecasts are largely unchanged. We have maintained our "hold" call with an unchanged TP of RM1.44.
Mynews has devised new F&B products under the "Maru Kafe" brand for its stores in order to remain competitive against its peers. With this, Mynews hopes to increase its average basket size per customer by 50 sen to 60 sen from RM6.12 (7-Eleven: RM6.29; FamilyMart: RM12). Thus far, Mynews has included Maru Kafe into one store in Avenue K, with plans to extend this product offering in batches of 50 stores from mid-October 2018.
Mynews ramped up its new store openings in 4QFY18, opening 29 new stores since 3QFY18 (year-to-date FY18: 77 new stores; end-FY3Q18: 48 new stores). That said, Mynews relented that they are likely to fall short of their internal target of 90 for FY18. Meanwhile, the commencement date of its food processing facility has been delayed to end-1QCY19 (from end-CY18) to accommodate minor changes in design. Mynews targets to roll out its RTE and bakery F&B products to 150 stores within the Klang Valley in 2019 (full capacity: 600 stores).
Given that the majority of Mynews' staff force (1,600 to 1,700) are paid above the minimum wage, the overall staff cost may only rise by about RM600,000 per annum. Note that foreign workers account for 32% of Mynews' workforce. Hence, factoring in higher wage costs, offset by better revenue contributions from our higher FY18 store opening estimate of 85 stores (from 75), our FY18 to FY20 earnings forecasts are largely unchanged. — Maybank IB Research, Oct 12