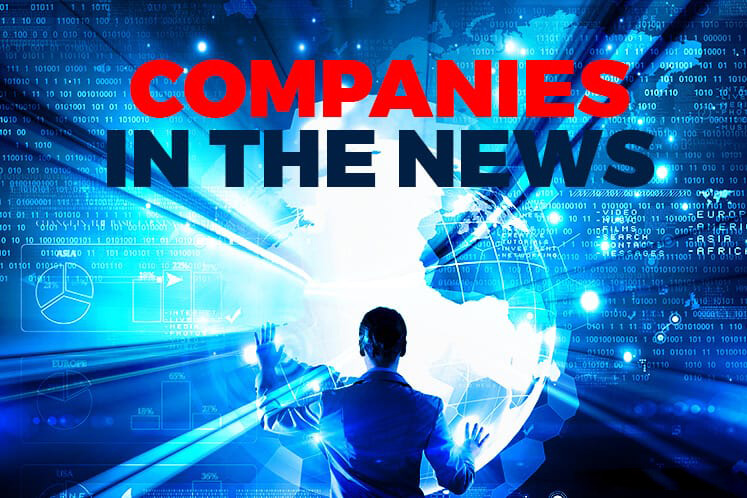 KUALA LUMPUR (April 4): Based on corporate announcements and news flow today, companies in focus tomorrow may include: MyEG Services Bhd, Scomi Group Bhd, Petron Malaysia Refining & Marketing Bhd, Pintaras Jaya Bhd, Sime Darby Property Bhd, Vizione Holdings Bhd and LTKM Bhd.
MyEG Services Bhd is investing 10 million yuan (RM6.1 million) in China-based education technology group, Jingle Magic (Beijing) Technology Co, which is mainly involved in the development of Virtual Reality (VR), Augmented Reality (AR) and Artificial Intelligence (AI)-based educational equipment and software.
Jingle Magic, it said, is widely recognised as one of the major AR/VR/AI and 3D Internet education platform providers in China, said MyEG.
The group said the investment in Jingle Magic marks the second of its kind by MyEG in a China-based company in the AR/VR/AI space, following last year's investment in a 3.13% interest in Guangzhou-based Ximmerse.
A years-long dispute between Prasarana Malaysia Bhd and Scomi Engineering Bhd has come to an end with the signing of a new contract worth RM303 million between the two parties today.
Under the deal, Prasarana will acquire seven new four-car train sets for the Rapid KL Monorail route, while Scomi Transit Project Sdn Bhd will repair five sets of four-car trains that have stopped operating since January last year.
The seven sets of new trains will be built by STP at their factory here and are targeted for delivery within 30 months from the signing date.
Petron Malaysia Refining & Marketing Bhd (Petron) has gotten leave from the Kuala Lumpur High Court to strike out a suit by Konsortium Lord-Saberkat Sdn Bhd (Lord Saberkat) suing the former for RM109.18 million.
Petron said it had filed an application to strike out the suit, which was heard today. The High Court allowed Petron's application to strike out the suit filed by Lord Saberkat with costs, it said.
A Singapore unit of Pintaras Jaya Bhd has been awarded five piling contracts worth a total of S$16 million (approximately RM48 million), through its sub-subsidiary, Pintary Foundations Pte Ltd.
The works are set to commence between March and April, and the contract periods vary from three to five months. These contracts are expected to contribute positively to group earnings.
Sime Darby Property Bhd announced today that Datuk Seri Amrin Awaluddin will be stepping down as its group managing director on May 3, citing "early cessation of contract" as the reason. There has been speculation that he will be joining Boustead Holdings Bhd.
Township Development chief operating officer Datuk Wan Hashimi Albakri Ahmad Amin Jaffri will be appointed as Sime Darby Property's acting group CEO.
Amrin's departure came after a report by The Edge Financial Daily today, citing sources, that he will be joining Boustead Holdings Bhd as its new managing director.
Vizione Holdings Bhd, whose subsidiary was mentioned in a cheating case linked to a graft probe on the Penang undersea tunnel, clarified yesterday that the RM15 million reportedly paid out from its subsidiary's account was actually a security deposit it paid for a certain work package under the Penang Mega Infrastructure (PMI) project.
Specifically, it said the sum was paid in 2017 from the account of wholly-owned Vizione Construction Sdn Bhd to a nominee of the main contractor of the PMI project, Consortium Zenith Construction Sdn Bhd, for Package 1 of the PMI project.
"However, since there was a delay in Package 1 of the PMI project, the RM15 million security deposit has since been refunded fully by CZC to Vizione Construction in the same year. As a result, Vizione did not suffer any financial impact," it said in a statement.
LTKM Bhd's unit LTK (Melaka) Sdn Bhd is to be charged for increasing the margins of its grade A egg prices by 17.46% and therefore committing an offence under the Price Control and Anti-Profiteering Act 2011.
The poultry company has received a summons last month to appear in the Melaka Sessions Court on April 16, this year. LTKM is alleged to have increased the price margins from 12.29% to 29.75%. LTK Melaka is a major subsidiary which contributes more than 70% of the group's profit before tax.
"The board of directors of the company is seeking legal advice and taking the necessary actions to respond to the above claim," it said.