This article first appeared in City & Country, The Edge Malaysia Weekly, on May 27, 2019 - June 02, 2019.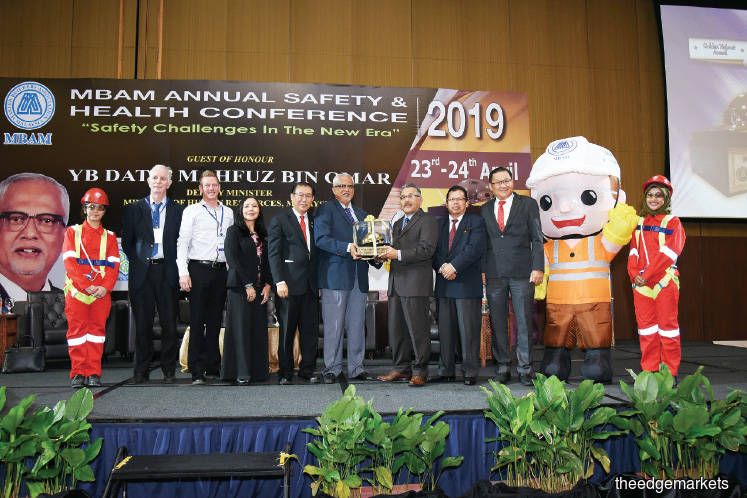 Mahfuz (sixth from left) presenting Mohtar with the MBAM Golden Helmet Award
Industrial Revolution 4.0 (IR4.0) has arrived, but is the construction industry ready to ride the fourth wave of technological advancement into a brighter future?
I am troubled by this question, which is pertinent now that the government has announced its decision to continue with the East Coast Rail Link project, albeit at a lower cost, and revive the stalled Bandar Malaysia project that is sitting on the prime Sungai Besi Air Force base land.
Here, I must admit that size matters for innovation to reap the benefits of today's new technology. Already, China has utilised 3D printing to erect multistorey towers and, with the aid of artificial intelligence and 5G telecommunications technology, it is using autonomous machinery and equipment, such as excavators, to do earthworks and extract granite and separate them into various grades in relative safety in the quarries.
Why are we slow?
Digitalisation has disrupted conventional ways of doing things and among its effects are challenges that affect speed, quality, productivity, profit margin, work performance, labour supply and sustainability. If the construction industry is not able to rise to the challenge, its negative effects could derail growth.
Most construction firms do not have a road map to navigate IR4.0, which promises to help them drive reliable outcomes and improve margins. Both digitalisation and automation can increase productivity and resolve the shortage of labour, but why is the industry not investing?
The primary cause is the heavy cost of adoption as new technology carries a hefty price tag. Malaysian builders and construction firms are not getting enough contracts or continuity of projects to pay for the change to innovate. This is aggravated by the lack of government subsidies and incentives. Maintenance support must be in place and readily available when needed.
In this, Master Builders Association Malaysia (MBAM) is happy to note that the government has been proactive in promoting transformation and I am happy that the government recently raised the share of contracts given to local contractors in mega infrastructure projects to 40% from 30% before.
More can be done to assist in the transition to digitalisation with the government and the industry playing a pivotal role in training the right personnel. This is important as the industry knows what is required.
Safety first
MBAM congratulates former Department of Occupational Safety and Health (DOSH) director-general Datuk Mohtar Musri on being conferred the MBAM Golden Helmet Award for safety and health.
Few can emulate the leadership role that Mohtar took on as he steered DOSH. He introduced two administrative measures — the setting-up of safety patrol units in all DOSH offices and the formation of a construction safety division in DOSH to solely look into occupational safety and health in the construction sector.
The industry is indebted to Mohtar for enforcing the requirement of site safety supervisor certification to safeguard workers from safety risks at work sites.
Crowning his achievement is the drafting of the Occupational Safety and Health in Construction Industry (Management) guidelines that is a paradigm shift in rethinking safety that seeks to nip danger in the bud. Contractors are no longer the sole party to be blamed and penalised for work-site accidents.
Paradigm shift
An amendment to the Occupational Safety and Health Act (OSHA) that will be deliberated in parliament seeks stiffer penalty for work-site incidents and pins the blame on all stakeholders, from the project owner and principal consultant to the contractor.
I was touched to hear Deputy Minister of Human Resources Datuk Mahfuz Omar say at the opening ceremony of the 18th MBAM Safety and Health Conference last month that an amendment to OSHA will be tabled for approval before parliament.
Mahfuz spoke on the importance of "thinking safety" and urged workers to empathise with the feelings of a bereaved family suffering from the loss of a loved one as if it had happened to them.
The OSHA amendment, once approved, will make stakeholders responsible for mitigating the risks they create at every stage of the work, from planning, design and construction to maintenance and demolition. This is to ensure the safety and health of the workers on site.
With the revised OSHA, tasks associated with safety and health will be more systematically carried out and recorded.
---
Foo Chek Lee is MBAM president and managing director of Pembinaan Mitrajaya Sdn Bhd