This article first appeared in Forum, The Edge Malaysia Weekly, on December 16, 2019 - December 22, 2019.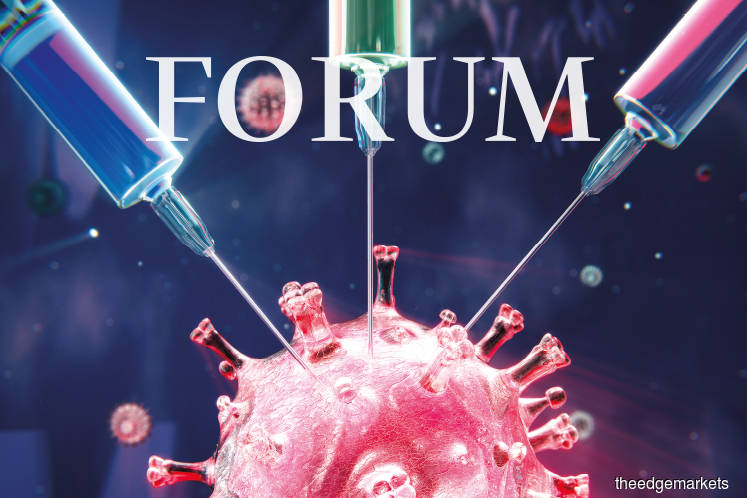 The world is at war against vaccine-preventable diseases and the front lines are now in Malaysia. Last week, we recorded our first diagnosis of polio since 1992, with a three-month-old infant hospitalised in Tuaran, Sabah. This is not "just one case of polio". This could be the point where a slow-burning crisis of our health system suddenly tips over into a catastrophe.
The facts continue to emerge, but speculation and rumours have predictably seen some quarters already blaming illegal immigration, porous borders and opaque citizenship processes. This speculation creates destructive "us versus them" narratives, possibly xenophobia and racism, and certainly misleads public discourse.
New facts will continue to emerge specific to this infant, but some timeless truths will remain. The first of these is that Malaysia must now consider mandatory vaccinations as one weapon in the war against diseases. The second is that health for all must cover all non-citizens so that all citizens are protected. The third is that health remains a political (and geopolitical) choice for Malaysia.
Mandate vaccines now
Many international organisations believe that vaccines are "public health's best buy". They have saved millions of lives and prevented the sufferings of millions more. Yet, we still struggle to save our children. This year, Samoa and Tunisia had a measles outbreak, and children in the Philippines and Pakistan suffered from polio. Defenceless children suffer because we adults fail to protect them.
Vaccine hesitancy is listed by the World Health Organization as one of its top 10 global health threats. The anti-vaccination movement is increasingly organised even in Malaysia, damaging our health system, especially through misinformation on social media.
The battlefront is already in Malaysia, and we are failing. The immunisation schedule in Malaysia is free for all citizens (but prohibitively expensive for non-citizens) and contains a list of recommended vaccines from birth to 15 years of age. None of the vaccines is mandatory, despite all of the diseases being either life-threatening or potentially crippling.
How to increase vaccination rates
Efforts to increase vaccination rates must address the three Cs — complacency, convenience and confidence. Malaysia can always clarify rumours and misinformation, win in the social media battle, provide more education to citizens and parents, increase physical access to clinics and doctors, establish a fast-track access for vaccinations so parents do not have to wait too long in clinics and so on. These efforts are effective and must continue in parallel with any mandatory vaccination programme.
However, in the face of decreasing vaccination rates, we must strongly consider making vaccination mandatory in Malaysia. For example, Germany, France, Italy, Singapore and the US require mandatory vaccinations before children attend nurseries, kindergartens or primary schools. Australia requires childhood immunisation before parents can obtain welfare services, in a policy called "no jab, no pay". These are countries where one might imagine public opposition to be vociferous, but the people understand and are complying.
We can also impose fines, just like Germany's €2,500 fine on top of nursery bans. This closes the loophole of rich parents bypassing public schools and home or private-schooling their children. It is also possible in principle to pay parents to vaccinate their children such as Indonesia's conditional cash transfer programmes. Similar payments in India, Nicaragua and Zimbabwe showed increased vaccination rates in children, and in adults in Mexico. We may not need to pay parents to vaccinate their children in Malaysia but these examples serve to illustrate how important vaccination is to countries across all socioeconomic brackets.
At the same time, we must close the loophole around exemptions. Exemptions on medical grounds are always appropriate, but we must not let exemptions on religious grounds or personal beliefs be adopted. Recently, Australia and California removed exemptions on religious grounds and retained it on medical grounds only.
In these examples, the measures have increased vaccination rates, which, in turn, protect both children and adults. It is important that any mandatory vaccination programme be accompanied by an effective public relations campaign, with appropriate media, social media, civil society and grassroots support. The messaging is important so that the people understand that it is for their own protection.
We must also consider a vaccine liability and compensation programme an internationally accepted standard. Finally, mandatory vaccination programmes must be accompanied by an improved delivery system that provides physical access to the entire population. It cannot exist as a toothless government declaration.
Mandatory vaccinations are justified
Governments have always been coercive in favour of public health. Examples are seat belts, helmets, child car seats and driving licences. All these measures were originally opposed by certain quarters because they restricted individual freedoms but are now widely accepted to be legitimate and beneficial. Following that, the Malaysian government is justified in mandating vaccinations for these reasons.
Firstly, vaccines work and mandatory vaccination increases vaccination rates. This has an unequivocal benefit of protecting young children from diseases. In simple terms, vaccines will help boost the undeveloped and immature immune systems of young children to fight against disease. We have a moral and ethical duty to protect every child, especially in the presence of unvaccinated children.
Secondly, mandatory vaccination helps us achieve the herd immunity threshold of 95%. Some people cannot be safely prescribed a vaccine because they have a medical condition (this is called a contra-
indication). If too many people opt out for non-medical reasons, we will not achieve the more than 95% threshold to protect the population. Mandatory vaccination will thus prevent the free-rider problem.
Thirdly, vaccines save us money. Every US$1 invested in a vaccination programme saves US$16 in healthcare costs, lost wages and lost productivity. We cannot even put a ringgit value on preventing death and disability. In a world where our government debt is ballooning and costs are spiralling, the case for vaccinating everyone is fiscally wise.
Fourthly, mandatory vaccination is supported by political philosophy and legal precedents. The harm principle is abundantly demonstrated by unvaccinated children. This imposes a clear moral duty on their parents to protect others and a resultant duty for governments to intervene to enforce that obligation. When considering justice and liberty, one can restrict liberties (by making vaccinations mandatory) to improve justice (by ensuring every citizen carries an equal burden to reduce preventable diseases). Legally, the supreme courts of France and the US have affirmed the right of their governments to mandate vaccinations.
Finally, many religions support vaccinations as a matter of public good. Religion and science fundamentally want to improve the human condition and must, therefore, be allies against ignorance and suffering. The Dakar Declaration in 2014 gathered Muslim scholars in support of vaccinations. Some Malaysian scholars even believe that it is permissible to use vaccines containing non-halal substances where necessary and as a last resort. The Catholic Church supports vaccinations, as does the Russian Orthodox Church. Buddhism, Hinduism or Taoism are not as centrally organised as other religions, so there will not be a clear statement of support by a single leadership.
If nothing else, the controversy and shock value of mandatory vaccinations will signal that our government takes the threat of unvaccinated children very seriously. This will break the complacency surrounding public health and vaccines. We need a better public conversation about the duties and rights of citizens and non-citizens alike.
It was as long ago as 1840 that the state impinged on individual liberties in the name of public health, with Britain imposing fines on parents if they did not vaccinate their children. It is time for Malaysia to mandate vaccines.
Health for all
A policy for mandatory vaccination for Malaysian children is only one piece in the basket of solutions to improve public health. The polio case in Sabah is an excellent test case for the principle of health for all.
Mandatory vaccination for Malaysian children is clearly beneficial but could sound controversial to some people. That controversy becomes even more fraught when we begin discussing whether to mandate vaccinations for the children of non-citizens such as refugees, immigrants (legal and illegal) and stateless people.
Here is a reasonable and realistic proposal that we can build on. The Malaysian government should provide free vaccines for all children of undocumented non-
citizens through our public healthcare system. These children must carry vaccination cards and their parents must promise to complete these vaccinations for their children's sake. Our public healthcare facilities must not criminalise their attendance and doctors must not be forced to report the presence of illegal immigrants in our government clinics.
The reasons and benefits of such a proposal are clear. We have an ethical and religious duty to prevent disease in other human beings. If all children are vaccinated, our children will be protected from disease too. Non-criminalising their parents will encourage clinic attendance, and we should not punish children for the crimes of their parents. The cost could be an issue, but bulk purchase of vaccines can reduce their unit cost. Malaysia will gain moral soft power from a humane treatment of children of non-citizens.
Admittedly, this could rapidly become a slippery slope. What other health services should we provide to non-citizens? Where do we draw the line? Do we treat children differently from adults? Who pays if there are side effects? What are the long-term solutions to illegal immigration? There are no easy answers to these questions, but we will deal with them shortly.
The main thrust of the argument is clear. Mandatory vaccination for Malaysian children must be supplemented by encouraging vaccination for children of non-citizens. In medical and public health terms, this is a logical decision. Even if it seems like a selfish motive, it is perfectly understandable and even ethical from a consequentialist, not deontological, point of view.
The politics and geopolitics of health
The issues in Sabah are very real and difficult to resolve. Illegal immigration, porous borders, stateless people and opaque citizenship pathways leading to accusations of citizenship-for-votes have been made known. When we put health in the middle of all these issues, one can see how even the best of ethical and humanistic intentions can be drowned by the politics and geopolitics of the situation.
It may seem insurmountable, but this polio crisis could trigger a helpful and overdue discussion to find durable solutions to these issues. We can deconstruct our Sabah solution in the following ways.
The first is in the public health system in Sabah, which must cater for and finance these children because vaccinations require several doses and they might be under-immunised if they do not complete the course of vaccines. There is a sub-issue of what health (and non-health) services to offer them, because it is hypocrisy to only offer vaccines but not medicines for asthma, schooling or proper housing. Building the size and capacity of the health system can even help improve the solidarity of Sabah, because everyone is working towards a neutral and acceptable aim of public health.
The second issue is the legal treatment we will provide undocumented non-citizens in Sabah, which must amount to some sort of legal recognition and/or amnesty so that they will not be deterred from seeking health services. The polio crisis could trigger a debate and subsequently a decision for a one-off recognition of all undocumented non-citizens or a decision for deportation and a stronger border or another decision. All decisions have their pros and cons, the analysis of which is beyond this column. The point is, the polio crisis could force such a decision to be made instead of the "business as usual" approach to the problem.
The polio crisis could also force our government to clarify our position on refugees and illegal migrants all over Malaysia, not just in Sabah. We will have to decide on what health services they can access and what other rights and duties that they have. This is an important test of who we are as a country and what kind of society we want to be.
To date, we have about 180,000 refugees and four million to six million documented and undocumented migrants. The polio crisis could force the government to decide on expanding health services or health insurance for them or allowing refugees to work, pay taxes and access public services. We cannot pretend that they do not exist. The polio crisis could bring this issue into the open to examine the rights and duties of non-citizens and of the Malaysian government.
Health is a political choice
The Ministry of Health deserves plaudits for its calm, professional and competent response to the polio case in Sabah. Its transparency has been helpful in reassuring the public. While the facts are important, we must not forget the timeless truths that we can and must protect the population with mandatory vaccination for Malaysian children.
We must promote health for all by encouraging vaccination for the children of non-citizens in a non-criminalised way. The real but hidden issues of migrants and refugees must be surfaced and we must find durable solutions for them that allow them to access their human rights to health.
The Mandarin word for crisis is Σ»ú, a combination of "danger" and "opportunity". This could be a full-blown crisis and we must not let it go to waste. Health remains a political choice and we must make the right political choice for all of us, citizens and non-citizens alike, to be healthy. The infant in Sabah must be the last child that we fail.
---
Dr Khor Swee Kheng is a physician currently pursuing a Master's in Public Policy at the University of Oxford