This article first appeared in Forum, The Edge Malaysia Weekly, on January 11, 2021 - January 17, 2021.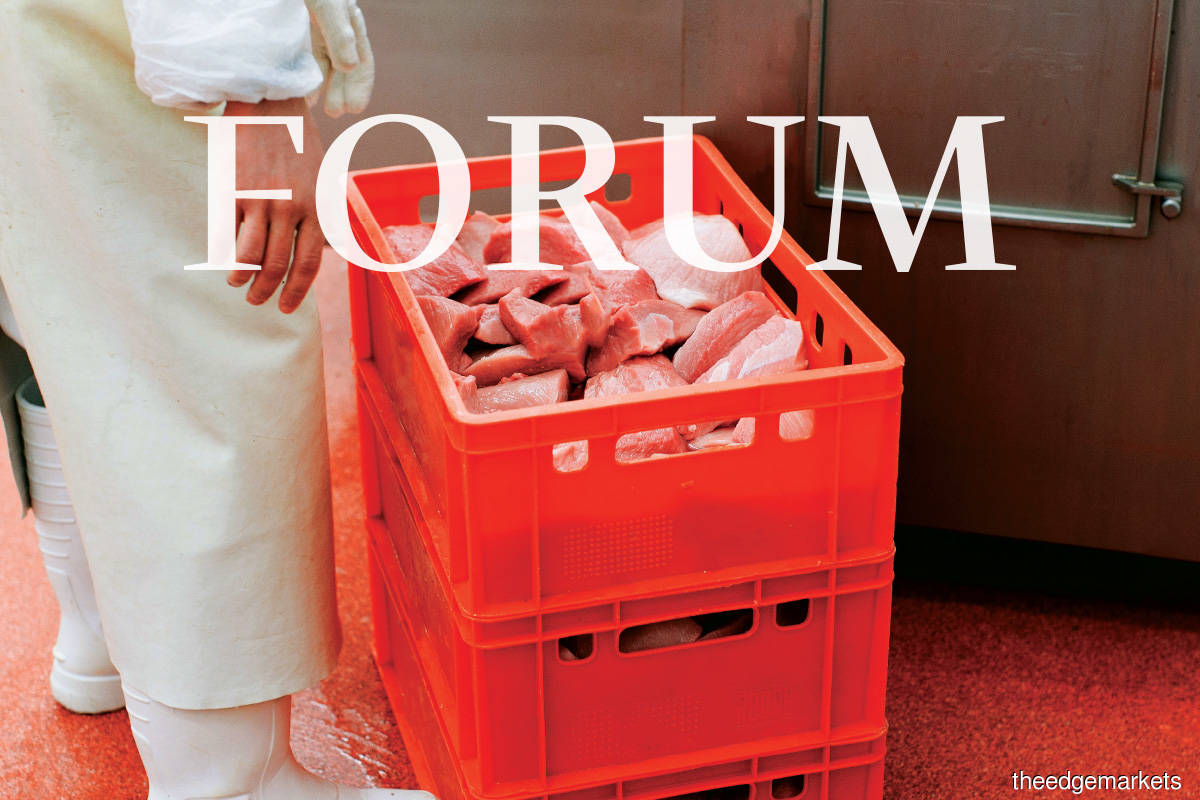 The imported halal meat fiasco has all the elemental components of a crime: smuggling; faking; a network of cheating syndicates, from the starting point to the consumer table; multinational actors to facilitate multiple functions at multiple points; and unchecked and unpunished, allegedly, for 40 years.
It is another corruption case that the public has to swallow. This time, the public is robbed of safe, genuine, quality and, to the Muslims, halal meat — a betrayal in all dimensions to consumers.
The case begs the question as to why it was left unchecked for such a long time. Logically, it means that it must have been well planned, tested and proven, or that the system is so weak that it failed to prevent such a serious situation.
Let us look at the industry landscape that allows such a practice to breed. In 2018, the self-sufficiency level for meat stood at 22%, where the consumption per capita was 6.3kg per year, import value was RM3.8 billion and export value was RM1.2 billion, giving a trade deficit of RM2.6 billion. Similarly, related commodities such as milk and feedstock experienced a deficit of RM2.6 billion and RM10.2 billion respectively in 2018.
The data implies that, first, the demand for meat and milk is far greater than local supply, which has shown slow growth in the last five decades. Second, Malaysia depends on imported feedstock for her cows.
The agencies involved in monitoring the sector include the Ministry of Domestic Trade and Consumer Affairs (KPDNHEP), Department of Veterinary Services (DVS), Jabatan Kemajuan Islam Malaysia (Jakim), Malaysian Quarantine and Inspection Services (Maqis), Ministry of Home Affairs (MHA), the Royal Malaysian Customs Department (RMCD) and Port Police (PP).
In simple terms, the cartel uses fake halal certificates for meat from uncertified sources from the point of slaughter, either at the exporting country or at local warehouses, until it reaches consumers. The activities involved are acquisition, storing, processing, smuggling, manipulation, abetting and bringing into the country the non-certified frozen meat through approved import permits.
The real modus operandi involves a web of collaborative work of the cartel, suppliers, officials and traders both overseas and on the domestic scene. It is alleged that the first point of faking halal certificates may occur at slaughterhouses overseas, which have to get halal certification under the purview of Jakim and DVS. Once the cartel bypasses the first stage of inspection, the rest of the procedures are less of a hurdle.
Once the meat reaches the ports, the cartel again could move in smoothly with the help of "representatives" of very senior officials from government agencies working with it. Upon reaching the warehouses, the meat would be mixed with halal-certified meat and repacked with fake halal logos, then released to the market.
The supporting structure under which this malpractice takes place is described as follows.
First, Malaysia is continuously dependent on meat imports (particularly beef and lamb), owing largely to growing demand, while local production shows the reverse trend. Local production is weak because of low productivity, high cost of production and inefficient small farms. These result in inflows of meat from efficient producers such as Australia, New Zealand and Argentina at relatively lower prices than local sources.
Second, arbitrage activities thrive when there is a big price gap between two locations. For instance, there are 124 illegal jetties in Kelantan where the black market or smuggling of goods and food commodities has been active for many decades. This occurs because the prices in Thailand are cheaper than in Malaysia. A similar analogy applies in the case of meat imports.
Third, standards, sanitary and phytosanitary requirements and halal certification involve costs and disruption. As such, barriers — especially those that are messy and costly — incentivise traders to avoid or bypass the rules wherever possible. Some go to the extreme by violating the law and regulations, especially if the monitoring procedures are weak and ineffective.
Fourth, the import industry is oligopolistic in nature, where collusion among members is rampant, as proven in this case.
Fifth, it is highly probable that lowly paid government servants are drawn to receive bribes, especially when governance is weak, as proven by the alleged abuse that is said to have occurred for 40 years.
Sixth, with six agencies involved in monitoring meat imports, it is highly probable that there exists a redundancy of functions that deter efficiency. Seventh, non-governmental organisations and consumers that have the power to bring about change failed to sound the warning bell.
The convergence of these factors has led to the scandal being untouched by the law.
What are the policy implications? Since this practice has taken root over a long time, no quick solution will undo it. While legal proceedings are a must, medium- and long-term structural changes must be instituted immediately.
First, there is an urgent need for a deep inquiry into this matter in terms of the gap between standard operating procedures and reality, the major players that are responsible, the weakest links in the supply chain, the governance structure and the role of public agencies.
Second, there is an urgent need to increase local production through improvement in productivity and cost reduction. The livestock producers must be empowered with skills, knowledge and advanced technologies to improve production. Production cost can be reduced by using local materials such as palm kernel cake and other sources.
Third, the farmers' cooperatives have to be strengthened to improve domestic production. Small farms find it hard to sustain production, owing to limited capital for investment but, through this vehicle, they may share resources and gain economies of scale.
Fourth, the National Feedlot Centre is not feasible, as it is highly centralised and has proved to be vulnerable to rent-seeking practices in the past. It can be replaced by support measures and incentives to encourage private abattoirs that are more competitive, run either by individuals or cooperatives.
Fifth, the cartel can be diffused by competition. The import sector should be opened up to more participants so that market control or any predatory move is checked by the competing participants.
Sixth, the data speaks the truth. Digitalisation of the supply chain may provide transactional transparency to all participants, hence minimising malpractices. Among the applications are blockchain, an information and communications technology solution whose distributed ledger technology allows data to be stored on servers. It creates secure, real-time communication networks with partners along the supply chain. The system makes it difficult for one user to gain control of, or game, the network.
Maybe Malaysia is not ready for this, but the concept is of high utility. For a start, the country should focus on developing a complete database of who is doing what as well as their business profile. Data to be monitored is all the players' profiles, including overseas slaughter houses, in terms of production, quantity and quality traded, price, origin or source of meat, and prices. From the data one can detect irregularities such as a sudden increase in quantity or changes in prices or sources of origin. Such tracking may minimise malpractices along the supply chain. Once these databases are running well, then more sophisticated transaction apps such as blockchain may be considered.
In short, the issue of fake halal certificates is just a symptom of a deeper structural disease. This refers to a non-transparent procurement system, weak governance, oligopolistic import market and too many agencies involved, resulting in fragmented monitoring and attractive arbitrage opportunities, owing to low domestic production. It mirrors a systemic failure that requires a system overhaul.
---
Prof Datin Paduka Fatimah Mohamed Arshad is head of the agriculture and food security cluster at the Academy of Professors Malaysia. She is also a senior fellow at the Institute for Democracy and Economic Affairs (IDEAS) and a research fellow at Universiti Putra Malaysia.