This article first appeared in Forum, The Edge Malaysia Weekly, on April 22, 2019 - April 28, 2019.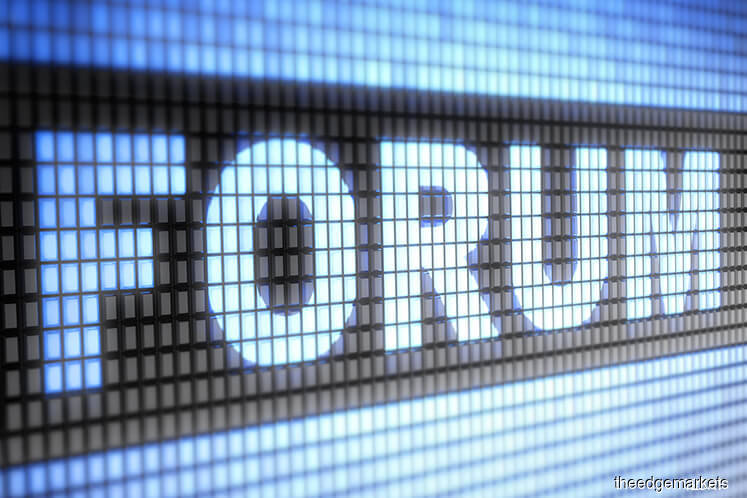 When I give my chairman's Crystal Ball Presentation at the 20th edition of the Asia Oil and Gas Conference (AOGC) in Kuala Lumpur in June, it will remain focused on the oil and gas business and some of the attendant major environmental issues with it. I will talk about what are the likely developments in the upstream sector, on the refining sector, on the oil trading business and what is happening in the liquefied natural gas (LNG) markets. I will argue that growth is ready to slow down, and it may be the last major cycle left in front of us.
The oil and gas industry had been used to 5% annual growth. That has fallen to 1.6% now and is projected to grow at only 0.7% for the next 20 years. The gasoline and diesel markets will plateau by around 2030 while the demand for aviation fuel continues to go up, and demand for petrochemicals continues. Basically, the transport sector outside of aviation will slow down very significantly.
This has some interesting implications because with the oil business not growing so fast, nobody is building refineries, which results in the margins remaining high. The operators will be making money and so there is no driver to build more capacity to satisfy this demand and reduce margins. This will leave the onus on governments to invest in new facilities, which is not a likely scenario.
However, when we start talking about gas, it is a different story — the cycles are alive and well. There is no end to demand for gas, and there is no end to demand for petrochemicals.
In the LNG business up to 2021, there is a bit of surplus in the market. From 2020 to 2025 there will be a huge deficit. This shortfall has been recognised and we are seeing a lot of final investment decisions (FIDs), although by the time these facilities are commissioned, they will have missed the start of the gap with a lot of them coming online in the middle of the next decade.
What is very different this time is that many operators are building LNG infrastructure without customers signed up for supply. It is the companies with deep pockets that are investing to build, and this will change the shape of the global LNG business very dramatically.
In the past, you produced oil first and you sold it later. LNG, you sell it first then produce it later. That model has now permanently changed with all these new FIDs that we expect. This dramatic shift in the market will lead to more liquidity and perhaps make gas into a commodity much like oil.
I will also focus on another important sector — the maritime industry and the effects that IMO 2020 will have on the market. These new regulations that come on line in 2020 will dramatically change the whole global oil and gas industry. It will change the demand for marine fuel with many shipowners opting for a better quality of low-sulphur fuels, which in turn may put price pressures on fuel for cars and trucks. It will almost certainly drive diesel prices up and by driving diesel prices up, it will also drive gasoline prices up.
All of this is set against a backdrop of geopolitical uncertainty. US President Donald Trump has made himself a key player in the market, something that previous presidents have always avoided. At no other time has a US President been directly involved in price issues. The other geopolitical issue is related to US sanctions on Iran, Venezuela and potential problems in Saudi Arabia after the murder of a Saudi journalist in Turkey.
All these things are brewing on the upside but, on the downside, we have stronger US oil production coming in that will hit a ceiling somewhere in the next three to four years. The Organisation of the Petroleum Exporting Countries are still trying to keep a band on prices by regulating production and trying to keep some order for people to make some investment decisions. The geopolitical issues relating to the sanctions and the involvement of the US president matters but, as always, the king of the oil market is still Saudi Arabia and much of its future is in Opec's hands.
When it comes to the investment that the oil and gas sector needs to meet future demand, it is going to reach the levels it did in 2014 and 2015. Before that slump, a lot of bad investments were made. With oil prices above US$100 a barrel, there was scant regard for the costs; they just spent money. Since then, there has been a lot of work to reduce costs and so an oil price of US$60 to US$70 per barrel will be enough for investors. The investment is less but the productivity is much, much higher.
There is another potential hiccup and that comes from China. There is a concerted effort being made to dampen the growth of demand for oil, above and beyond that caused by the slowing economic growth. China has the largest electric car programme in the world and the demand for diesel has started to fall, and they intend to keep it falling every year. From 2025, the authorities aim to flatten and reduce the demand for gasoline. All in all, it is an interesting time for the industry and I am looking forward to presenting the scenario in June.
---
Dr Fereidun Fesharaki is the chairman of FGE — FACTS Global Energy. FGE is a leading consulting group focusing on the oil and gas markets East of the Suez, Europe and the US, with offices in London, Singapore, Dubai, Hawaii, Beijing, Yokohama and Perth.