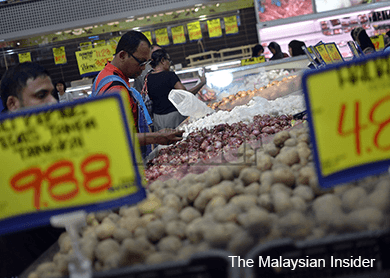 (April 17): Federal Territories mufti Datuk Zulkifli Mohamad has urged Putrajaya to exempt Muslims from paying the goods and services tax (GST) as they have fulfilled the zakat based on Islamic laws.
Zulkifli's proposal, which was made through a Facebook post on the Federal Territories mufti page last night, also called on the federal government to reduce the tax from the current rate of 6%.
"The 6% rate should be decreased according to reason and the ability of the rakyat in the current situation.
"Muslims who are already paying the zakat should not be imposed with the GST, or a special mechanism should be set so that they will not be forced to pay twice until it burdens them," he said.
The same statement was also published on the Federal Territories mufti official website in the "Bayan Linnas" column.
In the same posting Zulkifli also urged Putrajaya to explain, collect, as well as distribute the proceeds of the GST well.
"The people and the public are anxiously waiting to see what will be done with the GST collections... to improve the quality of the transportation system, public facilities, learning and others that are 'maslahah ammah' (beneficial to the people).
"Its mechanisms and the way it is being collected and distributed have to be safeguarded from any oppression and the poor are exempt from the burden of taxes," he said.
The Federal Territories zakat rate stands at 2.5% of the total income and it is tax deductible.
In an immediate response, Segambut MP Lim Lip Eng said that the mufti's suggestion was a clear sign that the Barisan Nasional-led federal government was facing immense pressure from Muslims who are feeling burdened by the GST.
It also showed that that the GST was a burden to all Malaysians regardless of race or religion, Lim said.
"It is imposed on all people to increase the income of the country in order to fund the extravagant expense of the government, which can be seen especially in the RM42 billion debt of state investment vehicle 1Malaysia Development Berhad (1MDB), as well as the extra expenses despite the country's ballooning debt following the decline of our currency.
"The nation's income can be improved if the government is more careful in spending the country's finances and does not simply do as it pleases, besides plugging leakages with a stricter enforcement on corruption," he said in a statement.
Taxing the people should have been the last resort, Lim said, adding that not only Muslims should be exempted from the GST, but all Malaysians should not have to be burdened just to finance the government's extravagant spending. – The Malaysian Insider