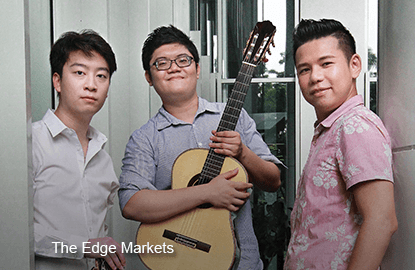 HIS rich, melodious tenor voice has won him many fans, especially with his ability to stir up emotions with his renditions of golden 1970s and 80s pop songs. For Pahang-born Liow Jun Yi, his singing journey has been a long but remarkable one.
This is not just an empty expression, but provable with the 200 plus competitions that the singer has taken part in. In each, he has been placed in the top 10, and more often than not he gets a prize.
Growing up in his home town, Liow listened to 70s and 80s Mandarin and Cantopop on his radio, as well as whatever his parents listened to. He loved to sing, but like most Malaysian children, took the academic route and arrived in Kuala Lumpur to do his diploma in electrical and electronic engineering.
"One day at a public karaoke place, after finishing my song, a middle-aged couple came to me," says Liow, "They said I had a good voice and asked if I wanted to join a competition. I said I never had lessons before, so they gave me a card and asked me to go to this person."
After a trial, his then vocal coach said he could be taught. By the second class, where he was less nervous and could present his vocal ability better, his teacher began giving him opportunities to perform, notably with professional singers, Mindy Quah and David Quah.
The singer, who most recently reprised his role as the flamboyant Pak Long in I Have A Date With Spring, initially balked at the idea of having to learn "boring" classical styles and folk songs, and struggled with other genres such as jazz and musical singing. "But he told me that if I wanted to join competitions, I must learn all sorts of styles," says Liow of his teacher, "After that, I started singing all types of songs. If the competition required me to sing Malay songs or English songs, I didn't care if I could pull it off, I would just go. Even if my accent wasn't good," he adds.
In a week, he would take part in up to five competitions, all while working full-time in marketing at a global electronics brand. He recalls, "I remember one Friday when I finished work, drove to Alor Setar, finished competing at midnight and then drove to Kuantan. I booked a hotel [room] and slept early in the morning, then went for the next competition. After that, I drove home to Kuala Lumpur during midnight and slept three hours before going to work."
As Liow performs this weekend at the Theatre Lounge Café with classical guitarists SK Duo, he will be the veteran guiding young 22-year-old musicians Gavin Ng and Chong Shoon Fai. However, the now full-time performer self deprecatingly refers to them as his "seniors".
"My second vocal coach is a lecturer at MIA (Malaysian Institute of Art). He asked me if I had a music background, I said no. So he encouraged me to take a course and I started in 2012," says the soft-spoken 35-year-old, adding that it was where he met his two talented senior classmates.
The show, titled Love & Indulgence, will be about making memories for the three, as both Ng and Chong prepare to head overseas to further pursue their musical studies.
"They helped me a lot with my assignments and also taught me a lot," Liow praises the two. After playing in festivals and projects, SK Duo (which denotes Sarawak and Kuala Lumpur, where they're from) embarked on a Malaysian tour at the end of last year.
Using classical techniques to play pop music, both Ng and Chong are looking forward to showcasing a different experience with classical guitars. "I think it will be the first of its kind in Malaysia, playing an unplugged show using a classical-stringed guitar," comments Ng.
Performing a musical journey of 70s pop till current songs both in Chinese and English, Love & Indulgence will convey "love" from a male perspective. As Liow explains, "Normally you hear about love from a girl's perspective, how pitiful or sad she is. Actually guys have their own pain as well.
"We will also have female songs, but the emotions will be something that we feel applies both to men and women," he adds with a laugh.
Featuring 14 songs from artists such as Hong Kong's original pop idol Danny Chan, Taiwan's Liu Wen Zheng, Chinese singer Guan Zhe, the show will also include theme songs from movies such as C'est la vie, mon chéri (Xin Bu Liao Qing) and Chow Yun-Fat's All About Ah Long.
For Liow, it will be an opportunity to branch out from the usual oldies he does so well, with a couple of songs by contemporary artists like Adele and popular hits from The Voice China. In contrast, Chong confesses that he doesn't know any of the songs from their list. "I grew up listening to English songs," he says.
The dynamics of the three also mean there could be an exploration of new styles and arrangements. Ng points out that there will be elements of jazz, bossa nova, swing and even Spanish flamenco.
"I think with every song, you can hear something different. Moreover it's presented through classical guitar. So the tone is different. The singer's sound will change, and the feel also is different," adds Chong, "The sound is warmer and clearer as well with the classical guitar."
Expect a few surprises along the way, including Liow's debut on the piano in a "simple" performance. "At age 30, I started learning the piano. I want to thank my teacher for not giving up on me," he quips.
Ever determined, Liow plans to continue his musical studies here and have already applied for both degree and Masters studies at University Malaya. He also plans to keep competing, should the chance arise.
"Every year there are new singers coming up, and singing styles change all the time. I want to know what's out there and see what's popular. Through the juniors I can learn a lot, try new styles and keep that energy going," Liow observes. "If I don't keep improving, I will fall behind. I won't care what people may think," he repeats, "for me, nothing is too late."
---
Love & Indulgence will be showcased at the Theatre Lounge Café, Plaza Damas 3, on July 3, 4 and 5. There will be a cover charge of RM65. Seats are limited, to purchase visit www.theatreloungecafe.com or call (03) 6730 7982 (between 7.30pm to midnight).
This article first appeared in The Edge Financial Daily, on June 29, 2015.