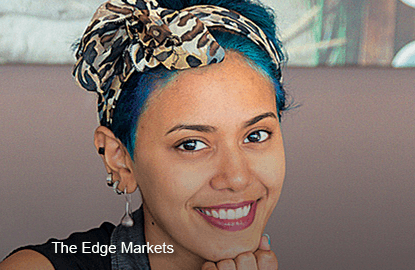 WHEN Nina Simone—otherwise known as the "High priestess of Soul"—died in 2003, she left behind not only a legion of heartbroken fans around the world, but a legacy which includes a collection of music, both classical and contemporary as well as her work as a civil rights activist. And all this has become a part history today.
Fast-forward a decade, and Kuala Lumpur-born and raised Evelyn "Evie" Feroza Fernandez discovered the musical legacy that Nina Simone created all those decades ago. Although Fernandez originally stuck to singing pop numbers, Top 40 music, as she calls it, she quickly found her calling in the jazz, blues and soul genre.
From legends like Etta James, Ella Fitzgerald, Eva Cassidy and Ray Charles, Fernandez learned that music is not just about singing but is an expression of emotion, and jazz and soul embraces it like no other genre.
The 23-year-old stumbled upon the world of music quite by accident, however. It was during a wedding dinner two years ago when she went up on stage to sing a song, and one of the band members was so impressed with her voice that he invited her to fill in for their lead singer for a gig at Soul'ed Out just a couple of weeks later.
"I'd never done a gig before — never performed four or five songs in a row. So it was scary but I learned to go with the flow and channel the fright into adrenaline for the performance," says Fernandez.
According to Fernandez's mother, she started humming to Mariah Carey tunes when she was just four years old, proving that she had innate talent. Never having had any formal vocal training, she takes cues from fellow musicians and especially her mother, whom is always brutally honest in her critiques.
"My biggest inspiration is — it's very cheesy — but it's my mom. She's my greatest supporter but pulls me down to earth when I'm way up in the cloud. She always believed in me, and her only concern was how I was going to break into the industry, and about the kind of stability that I would have in this business," Fernandez explains.
"In the musical sense, I've always been inspired by Whitney Houston and Mariah Carey. Lately, it's Eva Cassidy, Billie Holliday and Etta James. I love the way Eva Cassidy interprets songs, and I'm going to do a tribute to her soon."
One might be surprised that such a young lady would have so much passion for music that came from a bygone era, songs that were hits way before her time, but listening to Fernandez's voice quickly dispels any doubts that one might have. She skilfully embraces the nuances in the jazz and soul music that she sings, taking in every note and lyric and expressing the raw emotions that the songs are meant to channel.
"The amount of soul you can hear in a song — heartbreak, happiness … all these things just drew me into the genre. Especially the heartbreaking tunes! They're such beautiful songs," says Fernandez.
So far, she has only done covers of her favourite artists, but she's currently working on writing her own music and hopefully, a studio album as well, which is going to be released soon. Amongst the songs that will be featured in the album are two or three of her favourite and best covers.
This weekend, Fernandez will be performing a Nina Simone tribute at Alexis Bistro, bringing back to life Simone's treasure trove of magical memories from the four decades of her musical career.
"I discovered Nina Simone when I heard her song called Feeling Good on American Idol, which is a great way to discover songs that we've never heard before, and another Nina Simone song, Summertime is one of my favourites," declares Fernandez.
"She's a great singer — one of the greatest of all time, so why not pay tribute to her and let people who do not know much about her appreciate her music?"
Among the songs that Fernandez will be performing at the show are Feeling Good, Summertime, I Put A Spell On You, House of the Rising Sun, and I Wish I Knew How It Would Feel to Be Free.
---
Evie Fernandez's "A Tribute to Nina Simone" will take place on July 17 and 18  at 10pm. Alexis Bistro Ampang is located at Great Eastern Mall, 303 Jalan Ampang, Kuala Lumpur. Admission is free. A dress code of no shorts and slippers applies. For inquiries or reservations, call (03) 4260 2288 or log onto www.alexis.com.my.
This article first appeared in The Edge Financial Daily, on July 13, 2015.