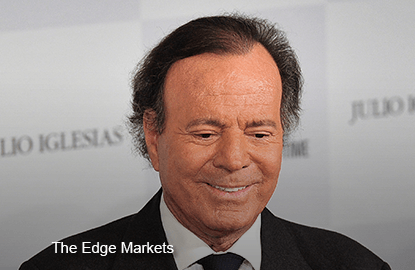 Julio Iglesias returns with album dedicated to Mexico
Spanish singing legend Julio Iglesias (pic) has announced a new album of songs inspired by Mexico, scotching speculation that the 71-year-old is retiring.
Latin music's top-selling artist said he will release on Friday the single Fallaste Corazon (You Failed, Dear), the first track on his album Mexico - Julio Iglesias that will come out Sept 18.
The album will be his first studio work since 2006's Romantic Classics, in which he interpreted well-known English-language songs, and his first in Spanish since 2003's Divorcio.
Iglesias said that the new album will feature 12 songs with a Mexican flavor and pay tribute to the country's great songwriters.
"Mexico is a country that I love dearly. The Mexican people have given me many indelible moments in my life," he said in a statement last Thursday.
"I know this country as if it was my homeland and I always carry it in my soul," he said.
Iglesias said he dedicated the album to Mexico's "outstanding composers who, generation after generation, filled our lives with love, nostalgia, memories and moments."
Known for his romantic ballads and prolific love life, Iglesias is considered by Guinness World Records to be the top-selling Latin artist with more than 300 million albums sold.
Unusually for a Spanish-language artist, much of his fame comes from other parts of the world and he enjoys an avid fan base in China and other parts of Asia.
Iglesias recently underwent a minor surgery on his back but he has rejected speculation in recent years that he was preparing for retirement.
He has performed concerts this year in Bulgaria, Portugal, Romania, Russia and Turkey.
He is also known to a younger generation as the father of fellow singer and sex symbol Enrique Iglesias.
Willie Nelson to receive the Gershwin Prize for Popular Music
The equal parts iconic and prolific country music star has been officially named by the US Library of Congress as the next recipient of its lifetime achievement award.
Nelson will officially receive the award in Washington DC in November and a series of events are being palnned to honour the man and his work in the coming months.
"Willie Nelson is a musical explorer, redrawing the boundaries of country music throughout his career," said Librarian of Congress James Billington. "A master communicator, the sincerity and universally appealing message of his lyrics place him in a category of his own while still remaining grounded in his country-music roots. His achievements as a songwriter and performer are legendary."
As such Nelson, who has released over 140 albums to date, joins a list of other similarly iconic recipients, including Paul Simon, Stevie Wonder and Paul McCartney, whose music has entertained and informed, enriched the cultural fabric, enhanced understanding and inspired the next generation of musician.
Beyoncé to headline The 2015 Global Citizen Festival
A host of A-list artists have been confirmed for the free one-day festival set to take place on Sept 26 in New York's Central Park.
Alongside, Beyoncé, Pearl Jam, Ed Sheeran and Coldplay will also be performing at the event, which will be broadcast live around the world via YouTube.
The Global Citizen Festival is timed to coincide with the United Nations' new global goals and the event will be focused on encouraging people from around the world to support efforts to end inequality and extreme poverty.
That's why in order to stand a chance of winning a free ticket, applicants will need to get involved in these goals by taking part as volunteers, attending talks or making phone calls. Applicants who can prove they've been on an "Action Journey" will be entered into the ticket draw.
As well as YouTube, the audio from the event will be streamed on Tidal and the concert will be shown in full on MSNBC in the United States. What's more, the organisers have hired director and screenwriter Richard Curtis (Four Weddings and a Funeral, Notting Hill) to produce a one-hour show about the festival, which will be shown on US and UK TV stations. — AFP
This article first appeared in The Edge Financial Daily, on July 13, 2015.