This article first appeared in The Edge Malaysia Weekly, on July 22, 2019 - July 28, 2019.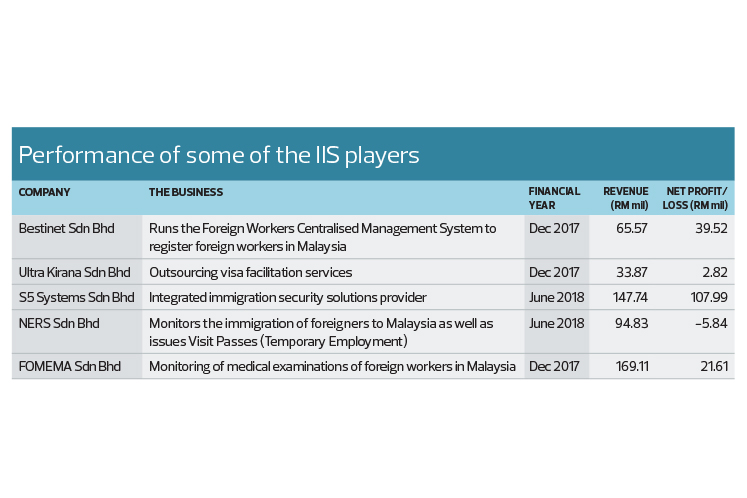 THE multibillion-ringgit Integrated Immigration System (IIS) tender — which commenced in mid-May and is slated to close on Aug 19 — is likely to be awarded to a single company, a source from the Ministry of Home Affairs tells The Edge in a brief phone conversation.
"It is likely to be [awarded to] only one company. There are two processes to the tender. The first phase [which is ongoing] is the submission of proposals. Then, after Aug 19, the shortlisted candidates will have to resubmit their proposals (for the second phase)," he says.
"It (the two-stage tender process) is likely to go on till December. Then, we will award it to the winning party."
Even companies involved in the bidding stage were unsure whether the ministry would award a contract to one company or a clutch of companies acting in concert to resolve current issues.
"It (whether to award to one company or more) is a decision that will be made by KDN (Kementerian Dalam Negeri or Ministry of Home Affairs)," one senior executive of a bidder explains when contacted by The Edge.
A CEO of another company looking to participate says his thoughts are that the government may allocate the core application to one company and give the rest to the others.
The award of the contract then, could be a lucrative proposition for the winning outfit.
Market talk has it that the two likely front runners are Iris Corp Bhd and Scicom (MSC) Bhd. The others, such as HeiTech Padu Bhd, are also in the running.
There are also some interesting parties looking to bid, such as a group of former members of HeiTech Padu's senior management who have come together and set up an outfit to participate.
Under the previous Barisan Nasional government, the Sistem Kawalan Imigresen Nasional (SKIN) was valued at RM3.5 billion and was proposed by Prestariang Bhd.
However, last December, the government scrapped the project, which was scheduled to be implemented in 2021.
SKIN was slated to replace the Malaysian Immigration System (MyIMMS) set up in the 1990s, which apart from being outdated, was also lax, with border control being compromised.
It is noteworthy that MyIMMS is being maintained by HeiTech Padu via a contract, which expires in August next year.
However, MyIMMS has been taking flak for some time, and the auditor-general's report in 2015 said it was "not up to mark".
Iris Corp has the mandate to provide the chips for passports while Scicom does a lot of back-end processing for foreign workers and immigration departments.
Prestariang has filed a claim of RM732.86 million against the government in court for terminating the SKIN contract. The two parties were unable to reach an agreement on the quantum that should be paid by the government as compensation after a few rounds of negotiations.
Prestariang had roped in French defence, technology and security firm Thales Communications & Security SAS. Prestariang has a 70% stake in Prestariang Services Sdn Bhd while Thales owns the remaining 30%.  Prestariang Services wholly owns Prestariang Skin Sdn Bhd, which secured a 15-year concession from the Ministry of Home Affairs in August 2017.
(Editor's note: Since the publication of this article, Thales has clarified that it had sold its identity management business in December 2017 and as such, has no relationship with Prestariang and the Sistem Kawalan Imigresen Nasional project.)
Checks reveal that Prestariang is not participating in the latest tender.
While more than 100 companies are said to have taken tender documents, it is not clear how many will really bid as the requirements are quite stringent.
"The requirements, in a nutshell, are experience in the integration of systems, financial muscle and having the requisite workforce to handle such an effort," one of the sources says.
He explains that the aim of the IIS contract is to integrate the currently fragmented border protection control systems. "[It] basically integrates all the platforms."
Bestinet Sdn Bhd has the Foreign Workers Centralised Management System, which enables medical tests to be carried out and results uploaded online, including registration of workers' demographic, biometric data and eligibility verification, news reports indicate.
Privately held Ultra Kirana Sdn Bhd has the mandate to process and approve visa applications — through the Electronic Travel Registration and Information System — made by Chinese, Indians and nationals from a few other countries to enter Malaysia.
There is another company, S5 Systems Sdn Bhd, which is involved in processing visa applications and providing systems to maintain security at immigration counters and enforcement in the country.
NERS Sdn Bhd, meanwhile, issues Visit Passes (Temporary Employment) under a 12-year concession, which began in mid-2011.
Then, FOMEMA Sdn Bhd has a concession to manage and supervise a mandatory programme for health screening of all legal foreign workers in Malaysia, which aims to guarantee that foreign workers who enter the country are free of diseases.
And there is MYEG Services Bhd, which provides the renewal of foreign workers' permits.
A check on CTOS Lite Report reveals that for the year ended December 2017, Bestinet registered an after-tax profit of RM39.52 million on revenue of RM65.58 million. The company had total assets of RM365.44 million and total liabilities of RM317.88 million as at end-December 2017.
As at end-December 2017, it had retained earnings of RM42.56 million. The company paid out RM10 million in dividends in FY2018.
Ultra Kirana chalked up an after-tax profit of RM2.82 million from RM33.87 million in sales for its financial year ended December 2017. As at end-December 2017, it had total assets of RM15.59 million and total liabilities of RM6.54 million. The company had retained earnings of RM8.55 million as at end-2017.
S5 Systems, for its financial year ended June 2018, posted an after-tax profit of RM108 million from RM147.75 million in turnover. As at end-June 2018, it had accumulated total assets of RM131.83 million and total liabilities of RM109.9 million.
As at end-December 2018, S5 Systems had retained earnings of RM3.66 million. It paid out dividends of RM114.1 million in FY2018 and RM60 million in FY2017.
NERS, for its financial year ended June 2018, suffered an after-tax loss of RM5.84 million on revenue of RM94.83 million. As at end-2018, it had RM413.47 million in total assets and RM432.65 million in total liabilities. It had accumulated losses of RM24.19 million, and it has not shown a profit in five years.
FOMEMA, for its financial year ended December 2017, made an after-tax profit of RM21.61 million from RM169.12 million in sales. As at end-2017, it had total assets of RM24.07 million and total liabilities of RM14.15 million. The company had retained earnings of RM4.12 million as at end-2017 and paid out RM17.81 million in dividends in FY2017.
Excluding the renewal of foreign workers' permits provided by MYEG Services, the combined after-tax profits of the five entities exceed RM166 million a year and their revenues amount to more than RM511 million a year.