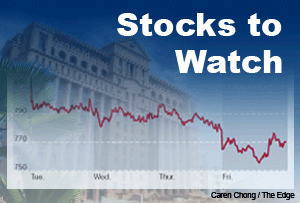 KUALA LUMPUR (Oct 27): Based on news flow and corporate announcements today, stocks that may be in focus tomorrow (Tuesday, Oct 28) could include the following: Multi Sports Holdings Ltd, Kulim (Malaysia) Bhd, NCB Holdings Bhd, Protasco Bhd, Nexgram Holdings Bhd, IOI Properties Group Bhd and BIMB Holdings Bhd.
Multi Sports Holdings Ltd's largest shareholder Power Wide Holdings Ltd has disposed yet another block of 18.3 million shares today, representing about 3.6% of its issued share base of 517.5 million, bringing his stake to 37.12% or 192.1 million shares thereafter.
In a filing with Bursa Malaysia, the China-based shoe sole manufacturer announced the disposal was done at 16.4 sen, via a married deal in the open market on Oct 24. The counter traded between 16 to 17 sen today.
Lin Huozhi, 51, executive chairman of Multi Sports, has deemed interest in the disposal through Power Wide. He held an indirect stake of 37.12% in the company, post-disposal.
Lin has been paring down his stake in the company. As at April 30 this year, his indirect stake — or Power Wide's direct stake — in the company stood at 45.1%. So far, it is not known whom the buyers of those shares that Power Wide has sold to, are.
Multi Sports closed up 0.5 sen today at 16.5 sen, giving it a market capitalization of RM82.80 million.
Kulim (Malaysia) Bhd announced today that its subsidiary, Kulim Energy Nusantara Sdn Bhd, has entered into a joint operating agreement last Friday (Oct 24), with two Indonesian companies —  PT Graha Sumber Berkah (GSB) and PT Radiant Bukit Barisan E&P (RBB) — to explore and develop an oil and gas field in South West Bukit Barisan Block, Central Sumatera in Indonesia.
The total cost for exploration activities from year 2015 to 2018 is estimated at RM175.7 million, according to a filing with Bursa Malaysia.
According to the filing with Bursa Malaysia, the Indonesian government had awarded the contract to RBB and SKR on Nov 13, 2008, for a period of 30 years. RBB is to act as the main operator for the project, while GSB and Kulim Energy will act as co-operators.
Under the contract, RBB and SKR have participating interests of 51% and 49% respectively.
Kulim said the execution of contract is consistent with its long term business plan to diversify its business activities to other sectors, apart from oil palm plantations.
The counter closed up one sen or 0.29% at RM3.50, giving it a market capitalization of RM4.48 billion.
NCB Holdings Bhd posted a net loss of RM2.3 million for the third quarter ended Sept 30, 2014, compared to a net profit of RM27.27 million in the previous corresponding quarter, on lower container and conventional cargo throughput handled by the port.
Revenue meanwhile fell 11% to RM199.51 million, from RM224.56 million. NCB did not declare any dividends in the quarter.  
For the nine months ended Sept 30, 2014, NCB's net profit plunged eleven-fold to RM5.27 million from RM56.53 million, while revenue sank 12% to RM610.91 million, from RM690.94 million previously.
"Container business being the main contributor of revenue, registered a decrease in container handled to 1.88 million TEUs [twenty-equivalent units], from 2.17 million TEUs for the same period previous year. The company is currently in various stages of upgrading its wharf facilities, and the full capacity of the expansion is expected to gradually materialize over the short to medium term," NCB said in a statement.
NCB closed up 7 sen or 2.75% at RM2.62, giving it a market capitalization of RM1.23 billion.
Protasco Bhd has received notice from two shareholders who collectively hold about 10.51% in the company, requisitioning for an extraordinary general meeting to remove Tey Por Yee and Ooi Kock Aun from the board as non-executive directors with immediate effect.  
In a filing with Bursa Malaysia today, the company said two of its shareholders, namely UOBM Nominees (Tempatan) Sdn Bhd and Tan Heng Kui who hold 30.13 million shares, representing 8.99% stake and 5.1 million shares or 1.52% stake in the company respectively, have submitted the requisition and special notice today.
"A board of directors meeting would be called to discuss the matter, and relevant announcement(s) would be made in due course," the filing read.
To recap, Protasco had on Sept 22 filed a legal suit against PT Anglo Slavic Utama (PT ASU) and two of its directors, including Tey — who is also a substantial shareholder of Protasco, and Ooi, for the damages arising from the breach of contract with regards to the PT ASU's acquisition.
Protasco closed up 4 sen or 2.50% to RM1.64, giving it a market capitalization of RM546.28 million.
Nexgram Holdings Bhd, an end-to-end mobile application service provider that has ventured into property development, is targeting 15% in profit margin from its property division, said its Chief Executive Officer and Managing Director Tey Por Yee.
Currently, Nexgram has formed a joint venture with Angkasa Bina — a subsidiary of Angkatan Koperasi Kebangsaan Malaysia Bhd — to undertake two housing projects in Putrajaya and Cyberjaya, which has an estimated combined gross development value of RM1.2 billion.
Speaking to the media after the company's AGM, Tey said Nexgram has yet to set the commencement and launch date, but hopes the ground-breaking ceremony of projects could take place by first quarter next year (2015), and construction work to commence within 12 months after the ceremony.
On the status of joint venture with Protasco Bhd, Tey said the memorandum of understanding has lapsed due to Protasco not having replied to Nexgram within the time frame given.  
"Hence, we are looking for suitable candidates to replace Protasco," he said, adding Nexgram had shortlisted several companies. However, he declined revealing the names.  
Nexgram closed unchanged at 10.5 sen, giving it a market capitalization of RM197.69 million.
IOI Properties Group Bhd will be launching property projects with a gross development value (GDV) of about RM3 billion over the second half of its financial year, ending June 30, 2015.  
Speaking to reporters after the group's annual general meeting today, Executive Chairman Tan Sri Lee Shin Cheng said the group would launch 10 projects in its three key markets, namely Malaysia, Singapore and China.  
"There will be about 10 projects in total, which will include Kota Warisan in Dengkil, Bandar Puteri Bangi in Bangi, as well as our projects in Singapore and Xiamen (IOI Palm City)," he said.
IOI Properties is aiming to launch up to RM10 billion GDV worth of properties over the next two to three years across all three markets, 60% of which would be contributed by local projects.  
On the group's existing land bank, Lee said it had 10,000 acres which would sustain the group for "a few years". It is also open to opportunities to acquire land bank elsewhere amongst these three markets.
Meanwhile, Lee said he does not foresee a significant impact from the cooling measures introduced by the Chinese government, for its property market.   
IOI Properties closed up three sen or 1.19% at RM2.56 today, giving it a market capitalization of RM8.29 billion.  
BIMB Holdings Bhd, which wholly owns Bank Islam Bhd and 60.5% in Syarikat Takaful Malaysia Bhd, is still keen to acquire banks in Indonesia, with condition that it will have board representatives and management control, said Group Managing Director and Chief Executive Officer Johan Abdullah.
Speaking to reporters after the financial group's extraordinary general meeting, Johan however said as of today, the plan was still preliminary and nothing was yet on the table.  
Meanwhile, he is unperturbed by the creation of mega Islamic bank, as it is "not fixated in numbers".
"We are not fixated in numbers, and if you look at our key ratios, I would say that we are still doing fine. And I also believe that the pie is still big enough for a so-called standalone Islamic bank, that does not leverage on conventional bank," he said.
BIMB increased one sen to RM4.29, giving it a market capitalization of RM6.4 billion.