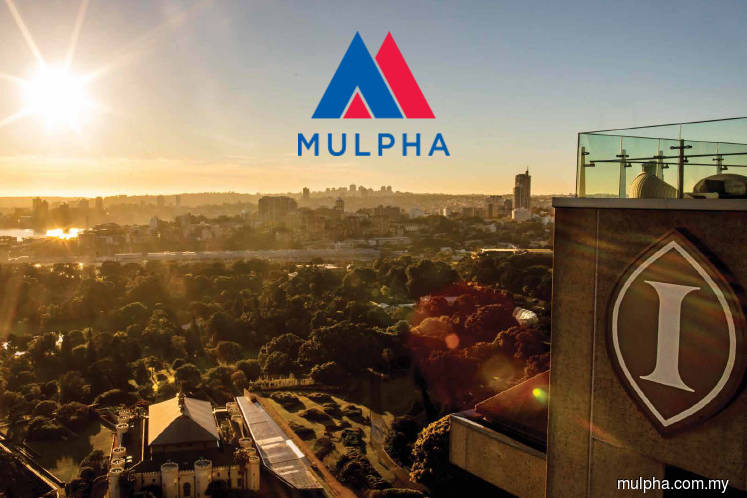 KUALA LUMPUR (May 30): Mulpha International Bhd's net profit for its first quarter ended March 31 (1QFY19) more than doubled to RM69.24 million from RM32.43 million in the corresponding quarter last year, on the back of better earnings from its hospitality and investment division.
However, the group's property segment moderated this growth.
Quarterly revenue declined 19.40% to RM146.55 million, from RM181.82 million in the corresponding quarter last year (1QFY18), as its property and hospitality divisions dragged the group's top line.
Earnings per share (EPS) for the quarter rose to 21.67 sen, from 10.15 sen in 1QFY18.
The group's property segment pre-tax profit declined to RM7.06 million in 1QFY19, from RM30.49 million in the corresponding quarter last year, with quarterly revenue declining to RM38.79 million, from RM73.55 million last year.
Mulpha International attributed the underperformance of this segment to lower take up in its Mulpha Norwest and Sanctuary Cove developments in Australia, with higher taxes and increasingly restrictive lending policies aimed at foreign property buyers chipping away the demand for the developments.
The hospitality division registered a higher net profit of RM89.57 million from RM7.61 million, in spite of posting lower revenue amounting to RM86.52 million, from RM92.71 million posted last year.
The group said 1QFY19's higher profit was due to insurance claims on its Hayman Island Resort, as a result of the damage caused by Cyclone Debbie in 2017.
Its investment and other activities division recorded a pre-tax loss of RM5.99 million, from a loss of RM7.13 million, due to favourable foreign exchange movements on US dollar-denominated bonds and deposits.
The group said it anticipates its hospitality division to remain stable in Sydney, and that strong demand is expected when its InternContinental Hayman Island is reopened on July 1, 2019. 
It however noted that its InternContinental Sanctuary Cove hotel would be impacted by a rooms refurbishment programme slated for the second half of 2019 (2HCY19).
While the Australian property market is slowing down due to lending restrictions by local and foreign banks, higher taxes on foreign property buyers and concerns over a glut of high-rise homes in Sydney, Mulpha noted that tighter lending has provided Mulpha International an opportunity to take part in providing first mortgage lending to quality Australian developers.
In Malaysia, its Leisure Farm project has returned to profitability, while its commercial real estate investment properties are expected to benefit from underlying leases to quality tenants.
"The current disruption occurring in finance markets is expected to result in more lending and acquisition opportunities in the coming year. The group is also exploring opportunities to expand its interests in operating businesses, particularly where the group has established operational capabilities," the group said.
Mulpha International's counter closed 3.15% or seven sen higher to RM2.29 today, with 73,500 shares traded, giving it a market capitalisation of RM731.93 million.