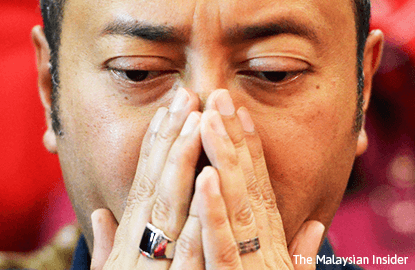 KUALA LUMPUR (Feb 3): Datuk Seri Mukhriz Mahathir today announced his resignation as Kedah menteri besar with immediate effect, after losing majority support in the state legislative assembly.
Mukhriz said the Kedah palace had informed him that he no longer commanded majority support from assemblymen.
"I hereby quit as Kedah menteri besar with immediate effect," he told a packed media conference at Wisma Darul Aman in Alor Setar today.
Mukhriz's announcement today ended the two-week-old Kedah leadership crisis triggered by the call from 14 state Umno leaders to have him replaced as menteri besar and state Umno chief.
The divisional chiefs, led by state deputy liason chief Datuk Seri Ahmad Bashah Hanipah, said Mukhriz had failed to manage the state effectively.
Nineteen of the 21 Barisan Nasional (BN) assemblymen were said to have signed a statutory declaration stating their loss of confidence in Mukhriz.
Following this, Prime Minister Datuk Seri Najib Razak held meetings with the factions in Kedah but has kept tight-lipped over the choice of the new menteri besar.
Najib had an audience with the Sultan of Kedah, the current Yang di-Pertuan Agong Tuanku Abdul Halim Muadzam Shah, and also the state Regency Council over the issue.
The council had over the past two days met with reps from both Barisan Nasional and opposition to assess the situation.
It was widely speculated that the crisis had to do with Mukhriz's father, former prime minister Tun Dr Mahathir Mohamad's criticism against Najib.
Mukhriz, the Jerlun MP, was appointed MB after BN wrested the state from PAS in the 2013 national polls.