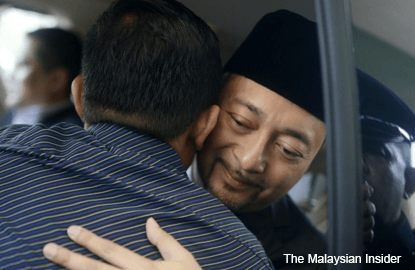 KUALA LUMPUR (Feb 3): Datuk Seri Mukhriz Mahathir may no longer be the Kedah menteri besar but the people still love him.
More than 200 people, comprising Umno members, former staff at Wisma Darul Aman and supporters, turned up to see him off at the Sultan Abdul Halim airport in Kepala Batas, Alor Star, this afternoon.
Many were waiting for him outside the VIP lounge at Kompleks Bunga Raya when he arrived at 3.35pm with his wife, Datin Seri Norzieta Zakaria.
Mukhriz, who just resigned this morning after he lost the support of the majority in the state assembly, greeted the crowd the same way he always approached people — with smiles, hellos, handshakes and hugs.
He joked with some of them and when approaching the VIP lounge wishing them "Okay. Bye-bye." Some of his former staff were seen crying.
His mother, Tun Dr Siti Hasmah Mohd Ali, met him there briefly but left a few minutes ahead of him on a private jet. While waiting to board his Firefly flight for Subang, Mukhriz chatted with the people in the lounge.
Before boarding his plane about 4.15pm, he also greeted a group of Umno members waiting behind the fence to bid him goodbye. He also stopped to pose for last-minute selfies with the crowd, including some Kedah reporters.
"Everyone is just so sad about what has happened to him," said a Jerlun resident, who had waved at Mukhriz from behind the fence.
The elderly woman said Mukhriz was "Kedah's pearl" and now the state had lost a good leader.
"Everybody in Kedah loves him. There is nobody who does not love him."
Shukri Taha, 66, also from Jerlun, where Mukhriz was MP before, said Kedah and its people have suffered a huge loss.
"We have been praying that he would survive this trial and continue his work and plans. He is just halfway through the term. Just heart-breaking and sad," he said.
Mukhriz, he said, was a "people's man" and even though he was menteri besar, he did not care for protocol when he was with the people.
"When a storm hit, he would be around to see the people and help. He would also visit the sick... he has always been a caring, friendly and humble menteri besar.
"He worked. He gave aid to the people, took the Ayer Hitam rural seat because he wanted to help folk there by bringing them development.
"But now, this has happened to him," said Shukri, who is the branch chief of Umno in Manggol Bongor.
Mukhriz faced a revolt from Kedah Umno leaders who wanted him removed as menteri besar for the past two weeks.
The menteri besar saga ended today when he resigned after he was informed by the Kedah Regency Council that he had lost the support of the majority in the assembly.
Bakar Bata assemblyman Datuk Seri Ahmad Bashah Md Hanipah will be sworn in tomorrow as the new menteri besar.