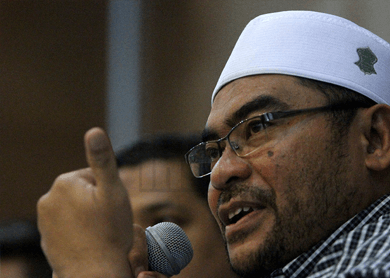 KUALA LUMPUR: The PAS muktamar (general assembly) is the highest decision-making body in the Islamist party based on its constitution, and as such, any decision made by it is final, said its former central committee member Datuk Dr Mujahid Yusof Rawa.
The Parit Buntar member of parliament was referring to the motion by the party to sever ties with DAP, which was passed during the muktamar ended on Saturday.
Several PAS leaders have said the motion adopted to cut ties with DAP is still to be finalised by its Shura Council and central committee, but Mujahid refuted this, saying that the muktamar is the highest decision-making body.
"Article 7 of the party constitution says the muktamar is the highest decision-making body. Effectively, it means that the decision has already been made to sever ties with DAP," he told reporters at the Parliament lobby yesterday.
"Look at the motion, it was not to bring the matter to their attention, it was to 'decide' to cut ties with DAP."
The Dewan Ulama or clerics' wing last Wednesday passed a motion to cut ties with DAP, yet remain in Pakatan Rakyat.
The motion was adopted by PAS' main body at its congress without debate, a move that angered some delegates who wanted the matter debated on the floor.
Mujahid was among several progressive leaders who lost in the party polls, which were dominated by the ulama faction, led by PAS president Datuk Seri Abdul Hadi Awang.
He announced yesterday that he would be resigning from his posts in the DAP-led Penang state government, out of respect for the Dewan Ulama's motion to cut ties with its Pakatan ally.
This came after former PAS deputy president Mohamad Sabu also said he was resigning from his positions as a board member of Penang Water Supply Corporation and a director of the Penang International Halal Hub, following the party's decision.
PAS secretary-general Datuk Mustafa Ali, however, said that despite the motion being adopted, it is not the final stand of the party as it still had to be discussed by the central committee and Shura Council, which comprises ulama leaders. — The Malaysian Insider
This article first appeared in The Edge Financial Daily, on June 10, 2015.