This article first appeared in The Edge Financial Daily, on March 17, 2020.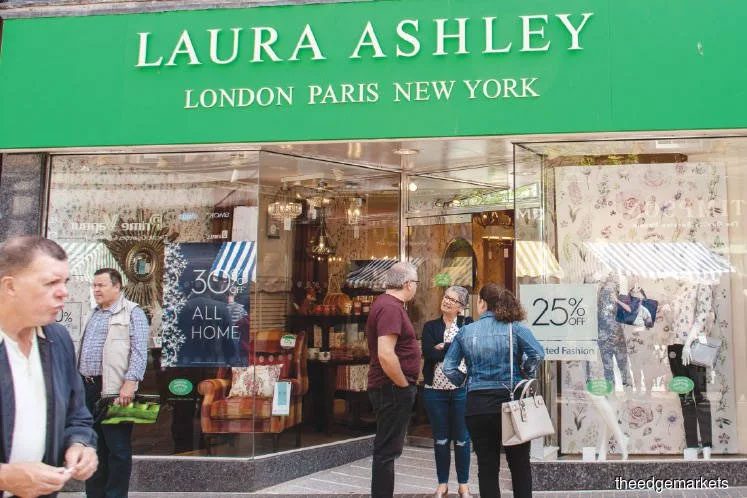 KUALA LUMPUR: UK-based Laura Ashley Holdings plc, a 35.17%-owned associate of Malayan United Industries Bhd (MUI Group), is in talks with British financial investment firm Hilco Capital to raise £15 million (RM78.82 million) by the end of this month, according to a report by UK's Sky News.
In a report on Saturday, Sky News wrote that Hilco, the former owner of UK-based music and film retailer HMV, is in "advanced negotiations about the emergency loan to Laura Ashley".
"Unless the funding materialises within the next fortnight, the chain, which trades from more than 150 British stores, risks collapse by the end of the month.
"Administrators are expected to be put on standby in the coming days pending the outcome of the talks with Hilco," the report read.
Laura Ashley, which is listed on the London Stock Exchange, announced last Friday that it was in "advanced discussions with a third-party lender to provide facilities of up to an additional £15 million to meet the group's working capital requirements".
"The process is being managed by Arrowpoint Advisory and the debt funding will need to be in place by no later than the end of March 2020.
"If the group is unable to secure commitment for the requisite level of funding by the end of March to satisfy its ongoing working capital requirements and turnaround plan, then the company will need to consider all appropriate options," it said.
Laura Ashley previously explained in its interim results released last month that there had been a reduction in the amount that the group could draw down under its debt facility with its incumbent lender, Wells Fargo.
Laura Ashley reported a wider net loss of £14 million for the financial year ended June 30, 2019 (FY19), compared with a net loss of £1.4 million for FY18. It blamed the deeper losses on an increase in salaries and wages as a result of statutory increases in the National Living Wage and the National Minimum Wage, and a loss of business in Japan following the termination of its partnership with AEON Holdings, among others.
"The situation is still being reviewed and you will have a statement available as soon as we have all the facts," a MUI spokesperson said when contacted.
Revenue for FY19 fell 9.6% to £232.5 million, largely due to the closure of six stores in the UK during the period.