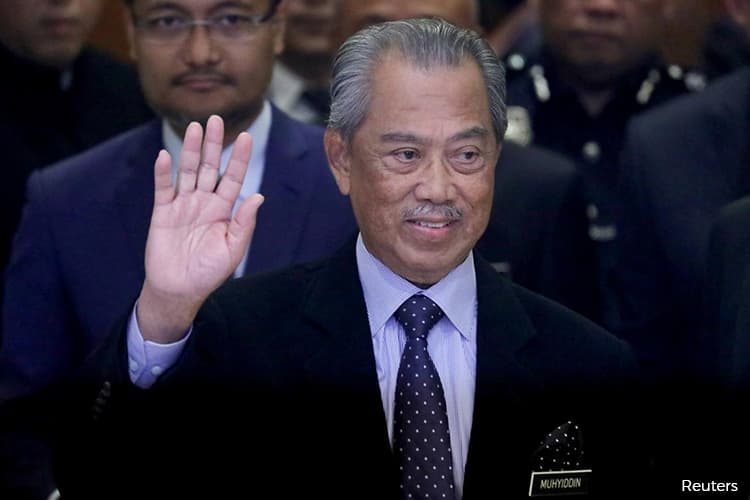 KUALA LUMPUR (April 15) : Prime Minister Tan Sri Muhyiddin Yassin today thanked the United States government and its Department of Justice (DOJ) for its return of US$300 million of funds recovered from seizures related to 1Malaysia Development Bhd (1MDB).
The funds are an outcome of the Kleptocracy Asset Recovery Initiatives of the DOJ in relation to 1MDB.
Muhyiddin in a statement today said on Oct 30, 2019, Penang fugitive businessman Low Taek Jho, better known as Jho Low, had reached a settlement with the DOJ pertaining to numerous forfeiture claims filed by the DOJ against assets he had purchased using 1MDB monies.
"The US$300 million represents some of those assets which had been forfeited and later sold. It also includes proceeds from 1MDB-linked assets that were given up or forfeited by individuals linked to Jho Low."
"The Government of Malaysia is pleased to share that thus far, inclusive of this most recent tranche of US$300 million, a total of US$620 million of 1MDB monies – in the form of sales proceeds or assets – have been returned to Malaysia. The process to sell Jho Low's remaining forfeited assets under the DOJ consent forfeiture judgment is ongoing," Muhyiddin said.
Since 1MDB assets recovery efforts were initiated in June 2018, Malaysia has received US$620 million from the US, made up of:
US$57 million from the proceeds of settlement with Red Granite Pictures (credited in March 2019);
US$137 million from the sale proceeds of Jho Low's interest in the Park Lane Hotel (credited in April 2019);
US$126 million from the judicial sale of the luxury yacht, Equanimity, by the Malaysian Admiralty Court (credited into the trust account in December 2019); and
US$300 million (credited in April 2020) to Malaysia.
Expressing gratitude to the US government, in particular to its embassy here, the prime minister said its assistance and cooperation in facilitating the return of the US$300 million is deeply appreciated.
"I would also like to commend Malaysia's Minister of Finance and the Attorney-General for their role in the negotiation process. 1MDB asset recovery efforts are ongoing, and the Government will continue to work with the US, the DOJ and other governments to recover and repatriate more 1MDB monies in the future," Muhyiddin said.
In a separate statement, US Ambassador to Malaysia Kamala Shirin Lakhdhir said: "We are again extremely pleased to continue transferring assets back to Malaysia as part of this DOJ investigation. Although the world is facing the Covid-19 pandemic, the US government made special efforts to ensure that the transfer was expedited during this challenging time."
"For more than 60 years, the US has been a close partner and friend to Malaysia and our cooperation in this investigation highlights our shared commitment to upholding good governance, combatting official corruption and ensuring justice is served," she added.
Former prime minister Datuk Seri Najib Razak is still on trial in facing 25 charges that includes 21 for money laundering a total of RM2.28 billion and four abuse of power in relation to the said 1MDB funds. His trial was supposed to continue to proceed this month but had been shelved temporarily following the virus outbreak.
Read also: MoF confirms receipt of US$300m in 1MDB funds
#dudukrumahdiamdiam and get the news at theedgemarkets.com.