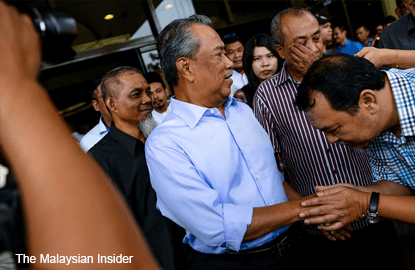 (Dec 2): Saying that he did not care what action Umno would take against him, deputy president Tan Sri Muhyiddin Yassin today threw his support behind nine Teluk Kemang branch leaders hauled up by the party disciplinary board.
He said he did not care if he were sacked for showing up at PWTC (Putra World Trade Centre) in Kuala Lumpur today, because what he was doing was upholding the party's true struggles.
"What is important to me are the true struggles. I feel I am ready to face any eventuality. But I don't want to be fired," he told reporters at PWTC as he joined the supporters of nine branch leaders facing the disciplinary board this afternoon.
"I came to give moral support to those who had been called up by the disciplinary board. I believe they stated the truth," the former deputy prime minister said, while stressing that they had rights even though they were ordinary members.
Muhyiddin hoped the disciplinary board would weigh their case and not punish them as they only had a dissenting view on the party leadership.
He arrived at Menara Datuk Onn about 2pm and was greeted by former Gopeng Umno Wanita head Datuk Hamidah Osman and former Kedah Umno leader Anina Saadudin.
Both women, also sacked from the party, arrived at 1.40pm.
All branch leaders, calling themselves the "Gabungan Ketua Cawangan Malaysia" (GKCM), recently held a press conference urging party president Datuk Seri Najib Razak to quit the post. – The Malaysian Insider