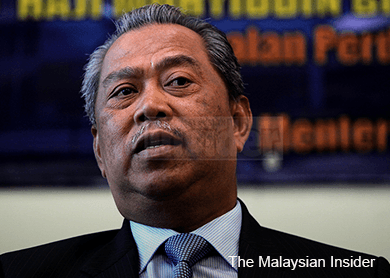 KUALA LUMPUR (July 28): Datuk Seri Najib Razak is to reshuffle his Cabinet this week, dropping five out of the 35-strong slate of ministers, including his deputy, Tan Sri Muhyiddin Yassin, who has been critical of the prime minister's handling of government-owned 1Malaysia Development Bhd's RM42 billion debts, say sources.
Government sources say apart from Muhyiddin, two other Umno ministers – vice-president and Rural and Regional Development Minister Datuk Seri Mohd Shafie Apdal; and Domestic Trade, Cooperative and Consumerism Minister Datuk Seri Hasan Malek – will be dropped in a mid-term review of Najib's Cabinet which took office in 2013 after the prime minister won his own mandate.
Umno's most popular vice-president and Home Minister Datuk Seri Ahmad Zahid Hamidi is expected to be the new deputy prime minister while Deputy Finance Minister Datuk Ahmad Maslan is set to be a full minister.
Zahid would still keep the home minister portfolio, the sources said, adding that several other senior ministers would remain to support Najib – the country's sixth prime minister.
Another two ministers expected to be dropped from the Najib administration are embattled Datuk Seri G. Palanivel, who has been stripped of his MIC presidency and membership, and Senator Datuk Seri Idris Jala, the government efficiency unit Pemandu chief executive who is in his second and last term as a senator.
"The reshuffle is on this week as the prime minister has tweaked his list for the Agong to consider," a Putrajaya source told The Malaysian Insider here last night.
"The list should be presented to the Agong by Wednesday," the source added, saying consultations among senior Umno members started earlier this week.
The 68-year-old Muhyiddin was widely expected to be dropped after he renewed his criticism of government strategic investor 1MDB at the Cheras Umno division annual meeting on Sunday.
1MDB's RM42 billion debts have been roundly criticised by former prime minister Tun Dr Mahathir Mohamad and opposition politicians who have also questioned Najib about his private account, which global business daily The Wall Street Journal said, had received US$700 million before the 2013 general election (GE13) as stated in Malaysian government investigation papers.
Najib is said to be weighing his options to sue the US business newspaper despite his government banning two business papers, The Edge Weekly and The Edge Financial Daily, and the Sarawak Report blog for their coverage of 1MDB.
Najib set up 1MDB when he took power in 2009 from former prime minister Tun Abdullah Ahmad Badawi. He has yet to reshuffle or tweak the Cabinet from 2009 and after the 2013 polls where he expanded the list of full ministers to 35.
Apart from Ahmad, another deputy minister set to be promoted as full minister is Datuk Seri Mahdzir Khalid, who is now the deputy in the Energy, Green Technology and Water Ministry.
Another source said Najib's former political aide and Kuala Selangor MP Datuk Irmohizam Ibrahim is also to be named as deputy minister as the prime minster consolidates his power three years ahead of the next elections.
It is not known if Idris, who runs the government efficiency unit, and Palanivel, will be replaced. The former is among the 10 full ministers in the Prime Minister's Department – the largest complement in Malaysia's modern history.
"Najib's loyalists will be the dominant part of the Cabinet this time," the source added, noting the prime minister was also considering members of the Public Accounts Committee (PAC) which has been investigating the 1MDB issue.
The PAC is led by three-term Pulai MP Datuk Nur Jazlan Mohamed, a qualified accountant.
"This isn't a full-scale reshuffle but more of a tweak," the source added.
Najib has seen his popularity plunge despite various initiatives and winning the mandate in GE13 where his ruling Barisan Nasional (BN) won only 47% of the popular vote.
He has soldiered on with various economic measures, including tabling the 11th Malaysia Plan and introducing direct cash transfers called BR1M (1Malaysia People's Aid) but high debts racked by 1MDB and unexplained cash flows to his purported private bank accounts have dented his popularity.
Muhyiddin had questioned the scandal surrounding the 1MDB debts and the WSJ's reports of money in the prime minister's accounts this past weekend but was told by the Prime Minister's Office yesterday to wait for final investigation results.
At least four people have been arrested in connection with the scandal-hit 1MDB and its former unit SRC International Sdn Bhd's case although investigators say the case is complex. The government has said an interim probe has cleared 1MDB but is awaiting the full results of an audit. – The Malaysian Insider