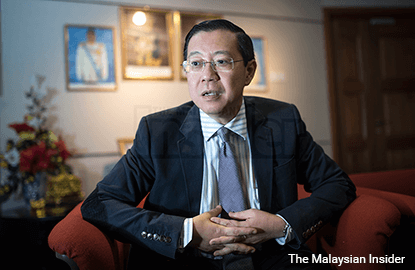 (July 27): DAP said today that it agrees with Deputy Prime Minister Tan Sri Muhyiddin Yassin that Barisan Nasional will lose if the 14th general election is called now.
DAP secretary-general Lim Guan Eng said Muhyiddin was merely reflecting the reality in the country that BN now risked being defeated following the 1Malaysia Development Berhad (1MDB) scandal.
However, he said 1MDB was not the only issue causing BN to lose support, as the people were equally angry about the drop in the ringgit's value and the implementation of the goods and services tax (GST).
"The drop of the ringgit is also contributed by the 1MDB scandal and GST. The people are angry and they want an alternative.
"They are fed up with the failure of the economic policy and the endless scandals affecting the federal government," he said in Penang today when asked to comment on Muhyiddin's statement.
Muhyiddin, in a Cheras Umno meeting last night, reportedly said Umno was suffering from a perception crisis over the RM42 billion 1MDB scandal and would lose the general election if it were called now.
"I speak the truth. If Parliament is dissolved tomorrow, we won't win the general election. There has been research that stated we will find it hard to win the next general election.
"I'm just stating how we are being perceived on the ground," he said.
Lim, who is Penang chief minister, said the Umno deputy president was speaking the truth.
He said it would not be Umno alone suffering defeat because all those who supported 1MDB would go down as well, taking a swipe at former ally PAS.
"PAS stands with (Prime Minister Datuk Seri) Najib (Razak)… so this will be a question for PAS," he said.
PAS had previously made remarks perceived to be in defence of Najib when he was accused of receiving RM2.67 billion in his personal accounts before the last general election.
Lim also commended Muhyiddin for advising Najib to quit over the WSJ allegations. – The Malaysian Insider