This article first appeared in The Edge Financial Daily, on September 25, 2019.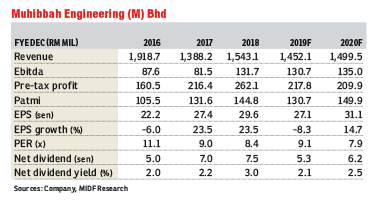 Muhibbah Engineering (M) Bhd
(Sept 24, RM2.50)
Maintain buy with an unchanged target price (TP) of RM3.73: Muhibbah Engineering (M) Bhd's results for the past five quarters have consistently met our expectations in spite of the slowdown in domestic construction activities since the second half of 2018 (2H18). The firm support to its bottom line was derived from its airport concession business which saw a rising number of passengers. Moving forward, our optimism about Muhibbah remains predicated on its airport-driven business model, and its status as a niche specialist contractor. In our universe, this stock remains as our top pick with a more than 50% potential upside.
The group is commencing arbitration proceedings against TTCL Malaysia Sdn Bhd (formerly known as Toyo Thai Malaysia Sdn Bhd [TTML]). This was made via the issuance of a demand letter to TTML's parent company TTCL Public Company Ltd. In the letter, Muhibbah is demanding a sum of RM142.4 million which includes, but not limited to, the value of work done pursuant to remeasurement of the actual quantities of work, change orders and so on. In the same announcement, we noted that Muhibbah is also refuting TTML's notice of arbitration against the group for an amount of approximately RM26.7 million as it is not in compliance with the conditions of the contract. Taking these into consideration, we expect the impact to be manageable as necessary provision has been made.
TTCL PCL was initially formed as a joint-venture entity between Toyo Engineering Corp (TEC) and Italian-Thai Development PCL. It owns 100% of TTML, which then undertook part of the engineering, procurement, construction and commissioning awarded to a consortium between TEC and Toyo Engineering & Construction Sdn Bhd. The contract was dubbed Package 5, with Petroliam Nasional Bhd being the client. We noted that part of the job was then subcontracted to Muhibbah with an outstanding value of RM158.2 million. For details, it covers the scope of civil, concrete and buildings for off-site areas for the Refinery and Petrochemical Integrated Development project. The construction was scheduled to commence in August 2015 and run until November 2017. We noted that the value is no longer in Muhibbah's order book as of the first quarter of 2018.
The group is expected to continue deriving benefits from its airports. It has enjoyed meaningful growth in the segment, which has seen its profit after tax and minority interests contribution expanding from 35% in 2013 to about 60% in 2018. We expect the trend to persist, given the influx of Chinese tourists travelling to Cambodia. Airport expansion is already on the cards, which we noted has recently received a nod from the government. Sihanoukville International Airport, being one of Muhibbah's airport networks, has been experiencing rapid growth whereby the number of passengers has risen by 210% in the 1H19. Moving forward, the airport is on course to welcome more passengers with an expansion plan already underway to cater up to 3.5 million traffic. According to a news source, the plan for Sihanoukville airport is to reach 10 million design capacity. We opine Muhibbah's associate airports are still in their growth stage, hence our mid- to high teens growth expectation.
We believe the prospects remain encouraging for Muhibbah, considering the support from its airport concession and the crane segment. As a construction company, its presence in other specialised activities will provide a competitive edge against the other domestic construction players. Maintain "buy" with an unchanged TP of RM3.73. The downside risks to our call are slower-than-expected growth in passenger traffic, lower-than-expected contribution from its crane and construction segments, and slower replenishment rate for its construction segment. — MIDF Research, Sept 24