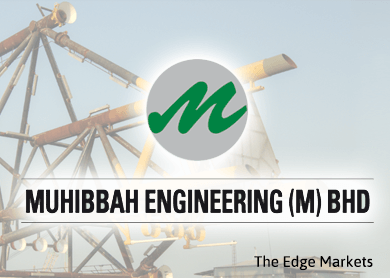 Muhibbah Engineering (M) Bhd
(July 31, RM2.26)
Maintain add call with an unchanged target price (TP) of RM3.06. Muhibbah has won a civil, concrete and building package in Petroliam Nasional Bhd's (Petronas) refinery and petrochemical integrated development project (Rapid)  from TTCL Plc.
The contract relates to an engineering, procurement, construction, and commission package undertaken by TTCL for the construction of a steam cracker complex. The job is scheduled for completion in November 2017.
Muhibbah's order book growth outlook in second half of financial year ending Dec 31, 2015 (2HFY15) looks more promising with the award of a RM158 million civil works package for one of the five major refinery scopes in Petronas's Rapid project. This is the group's second job win in Rapid and its fifth new contract year to date (YTD).
Infra-type job wins have been on a steady recovery phase since 2004, with potentially more to come in the months ahead, backed by the group's RM4 billion to RM5 billion jobs in tender.
We maintain our earnings per share forecasts as the new contract forms part of our RM600 million new jobs in FY15.  Our TP remains pegged to a 30% discount to revalued net asset valuation.
Muhibbah remains an "add" and our preferred small- to mid-cap pick for its niche exposure to domestic oil and gas or marine and port infra works.
This is good news and reaffirms the group's prospects in Rapid. YTD total wins have accumulated to RM555 million, close to our RM600 million targeted total infra wins for FY15. With a tender book of RM4 billion to RM5 billion over the next 12 to 18 months and expectations of more potential job awards in 2HFY15, total infra wins could rise to as much as RM1 billion this year, exceeding our target.
Muhibbah had in February 2015 won a subcontract package under a separate refinery scope undertaken by Tecnicas Reunidas SA.  This new contract from TTCL underscores Muhibbah's technical competencies in securing more specialised subcontract works for other refinery packages in Rapid.
Accumulate ahead of potentially more positive newsflow in 2HFY15. Through its cranes business (Favelle Favco) and Cambodian airport concessions, the group is a beneficiary of the strong US dollar given its US dollar-based export earnings which make up at least 50% of earnings before interest and tax. The group could be among the prequalifiers of mass rapid transit 2 elevated civil works for which tenders will begin in 4QFY15 and it has spare capacity to undertake highway jobs such as subcontract works for the West Coast Expressway. — CIMB Research, July 31
This article first appeared in Digital Edge Daily, on August 3, 2015.