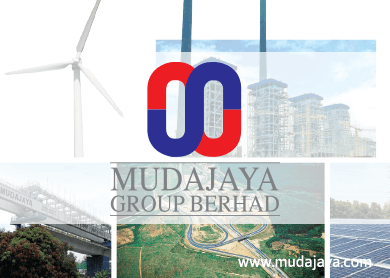 KUALA LUMPUR: Loss-making Mudajaya Group Bhd, which has expressed its keenness to acquire the power assets belonging to debt-laden 1Malaysia Development Bhd (1MDB), expects to make a turnaround in its financial year ending Dec 31, 2016 (FY16).
The construction, property and power outfit made a net loss of RM70.2 million for full year FY14, and a net loss of RM19.7 million in the March quarter.
"We are coming out of recovery [mode] and should turn around in FY16. We are quite positive on results that will come from our construction division. With the roll-out of the mass rapid transit and the Refinery and Petrochemical Integrated Development projects, we hope to be successful in some of their [construction] packages," group managing director and chief executive officer James Wong told reporters after the group's annual general meeting yesterday.
It has secured construction order book of RM900 million, the bulk of which will be recognised towards the year-end. The group is also tendering for RM5 billion worth of construction projects, and over RM1 billion of power jobs.
While construction will remain the group's main revenue driver, Wong expects the power segment to contribute up to 50% of the group's bottom line beyond 2016.
For FY14, the power segment contributed a pre-tax profit of RM3.2 million. This compared to the group's pre-tax loss of RM61.6 million during the same period.
Mudajaya's efforts to ramp up its power segment business, which brings in recurring income and higher profit margins, are contrary to a media report stating that the group is looking to sell its power asset in India.
"There is no such talk. We are not looking to sell [our power asset in India]. On the contrary, we are on the lookout for power assets in Malaysia and Southeast Asia," Wong said.
He  said the first unit of the 4x360mw coal-fired power plant in Chattisgarh, India is scheduled to be completed and commissioned next year, a delay of one year. Mudajaya has a 26% stake in RKM Powergen Pte Ltd, the developer of the power plant.
Upon comissioning of all four units, Mudajaya should rake in RM80 million in profits a year from the plant by FY17 or FY18, Wong noted.
"We are [also] interested to explore 1MDB's power assets. But all of its three assets would be a bit sizeable to us. [As such,] we are open to exploring partnerships or outright acquisition if the price is right," said executive director Eric Lee.
As at March 31, 2015, Mudajaya had cash of RM117.3 million, against borrowings of RM466.5 million and equity of RM1.07 billion.
"We have built almost 16-18 power plants in Malaysia, but we don't own any. It'd be nice to have a substantial [stake] in power plants in Malaysia," Wong noted.
"We are not in any discussion at the moment. They (1MDB) have not approached us, neither have we approached them. But if they do present themselves and the price is right, we are keen to explore," said Wong.
Three power assets are currently parked under 1MDB's wholly-owned subsidiary Edra Global Energy Bhd, and are said to have an enterprise value of RM16 billion to RM18 billion.
Apart from Mudajaya, IJM Corp Bhd, Tenaga Nasional Bhd, Malakoff Corp Bhd and Singapore's government-linked company Sembcorp Industries Ltd have reportedly indicated their interests in the acquisition of these power assets.
Meanwhile, Mudajaya told Bursa Malaysia yesterday it may initiate legal action against a former employee in the recently-uncovered irregular transactions involving one of its projects, which had led to additional costs incurred.
This follows the completion of an investigation by KPMG, which submitted its report to the Mudajaya board of directors yesterday.
Mudajaya said findings by KPMG suggested that the irregular transactions were the conduct of a former employee, and there was no clear evidence of collaborated fraud.
This article first appeared in The Edge Financial Daily, on June 18, 2015.