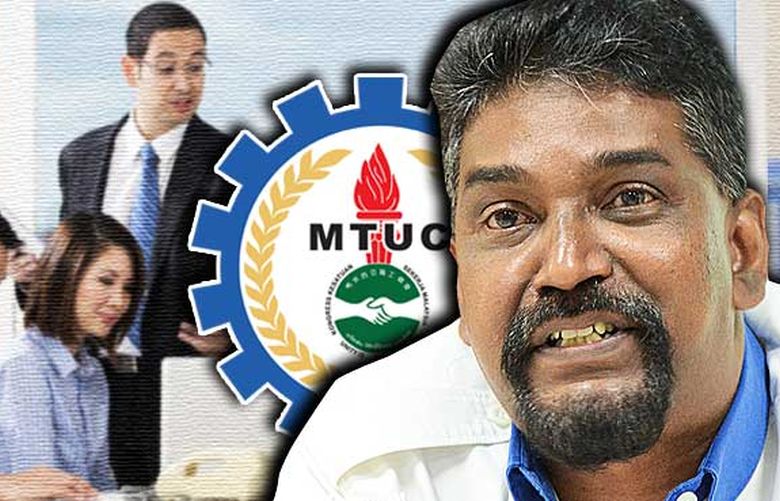 KUALA LUMPUR (May 8): Malaysian Trades Union Congress (MTUC) secretary-general J Solomon has accused Barisan Nasional (BN) of interfering with the administration of the umbrella trade union body.
This follows MTUC president Datuk Abdul Halim Mansor's pledge of support for BN, which came hours after Solomon had urged the country's 14 million workers to vote for Pakatan Harapan in tomorrow's general election.
Solomon had made the call in a press release bearing the official letterhead of MTUC, saying he was making the statement in his capacity as MTUC secretary-general.
Abdul Halim, however, insisted that Solomon was making the call in his capacity as the secretary-general of the National Union of Bank Employees (NUBE).  
He also insisted that MTUC's policy required official statements to receive the approval of the general council and consent of the 200 unions affiliated to the umbrella body.
This is, however, disputed by Solomon in a later statement.  
"The MTUC Constitution is very clear," he said. "The secretary-general is the only official who has the constitutional power to make statements on behalf of MTUC."
The MTUC president, on the other hand, has no power to issue press statements on behalf of the body, said Solomon.
"Nevertheless he has been doing so all the while ignoring the provisions of the constitution thus far," he said.
"This only proves that BN is interfering in the administration of MTUC through the president who is an Umno member as he claims," Solomon added.
In his earlier statement, Solomon urged Malaysian workers to vote for Pakatan to remind the government that workers are key to the country's economy and should never be ignored.