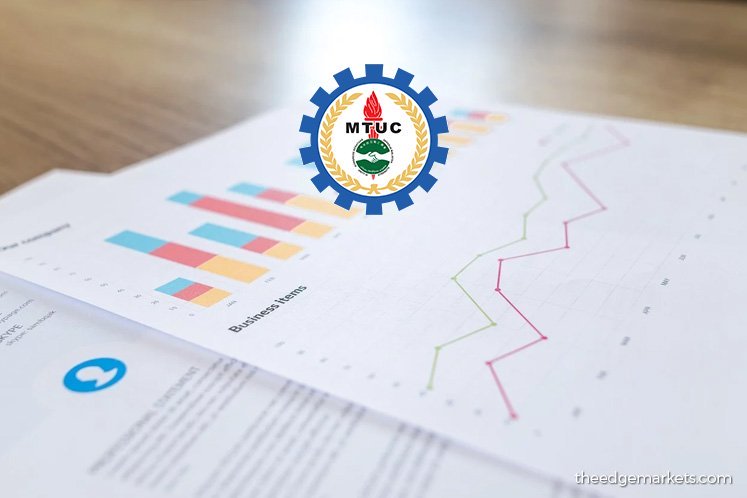 KUALA LUMPUR (May 31): The Malaysian Trades Union Congress (MTUC) said today it is baffled by Finance Minister Tengku Datuk Seri Zafrul Tengku Abdul Aziz's claim that nearly 70% of the nation's workforce has returned to their jobs because many employers have been talking about massive layoff exercises in the coming weeks.
MTUC secretary-general J Solomon said in a statement today the Malaysian Employers Federation had provided a grim prediction that up to two million people are expected to lose their jobs after the Hari Raya Aidilfitri celebrations.
"MTUC has taken note of Tengku Zafrul's statement, proclaiming nearly 70% of the workforce has returned to their jobs in the various sectors and that Malaysia's economy is set to rebound next year, after recording negative growth (forecasted for) this year. We are baffled as to where the minister got his figures from and worry that he is attempting to mask the reality of the growing unemployment problem in Malaysia which has been worsened by the economic crisis triggered by the Covid-19 (pandemic).
"MTUC does not wish to be the prophet of doom or douse Tengku Zafrul's rather exuberant optimism on Malaysia's prospects come next year. However, the devil is in the details and the details will show there are hundreds of thousands of workers [who] have lost their jobs or are forced to take deep pay cuts from their already meagre salaries. Their livelihood has been greatly impacted and many of them are barely surviving. 
"Employers are saying that the worst is yet to come. As such, MTUC is mindful about any attempts by government leaders to trivialise or downplay the dire situation of Malaysian workers, by claiming a rebound is imminent. The public must treat such claims with caution as it does not reflect the bleak reality on the ground," Solomon claimed.
Solomon claimed that the massive job losses are partly due to the government's refusal to introduce MTUC's proposed emergency employment regulations (EER), which will bar employers from retrenching workers for a specific period. 
"Instead, the government is seen to be only keen in indulging employers, rather than protecting the livelihood of workers. Consequently, due to the absence of the EER, workers were laid off from the very first day the Movement Control Order (MCO) was enforced as employers went on to receive billions of ringgit in grants and soft loans under the Prihatin (Bantuan Prihatin Nasional) stimulus packages," he claimed.
At the time of writing of this report today, Tengku Zafrul had not issued a statement in response to MTUC's claims. 
Yesterday, Bernama, quoting Tengku Zafrul, reported that in line with the reopening of the Malaysian economy which saw nearly 70% of the workforce returning to work in various sectors, Malaysia has the capacity that is set to spur an economic recovery in 2021.
"We must rise again and record a positive gross domestic product (GDP) growth as opposed to the negative GDP forecast for this year in line with the global economic growth," Tengku Zafrul said in an exclusive interview for a Bernama TV documentary.
Malaysia's MCO, which was initially scheduled between March 18 and 31, 2020, requires non-essential businesses to stop operations, while the public has been ordered to stay at home to curb the Covid-19 outbreak.
On March 25, Prime Minister Tan Sri Muhyiddin Yassin said the government decided to extend the MCO until April 14, because updates from the National Security Council and Health Ministry indicated an increase in Covid-19 cases. On April 10, Muhyiddin said the government was extending the MCO until April 28.
On April 23, he said the MCO will be extended for another two weeks until May 12. 
On May 10, the premier said the MCO will be extended to June 9.
Read also: Malaysia set for recovery in 2021 with most employees back at work — Tengku Zafrul