This article first appeared in The Edge Malaysia Weekly, on January 22, 2018 - January 28, 2018.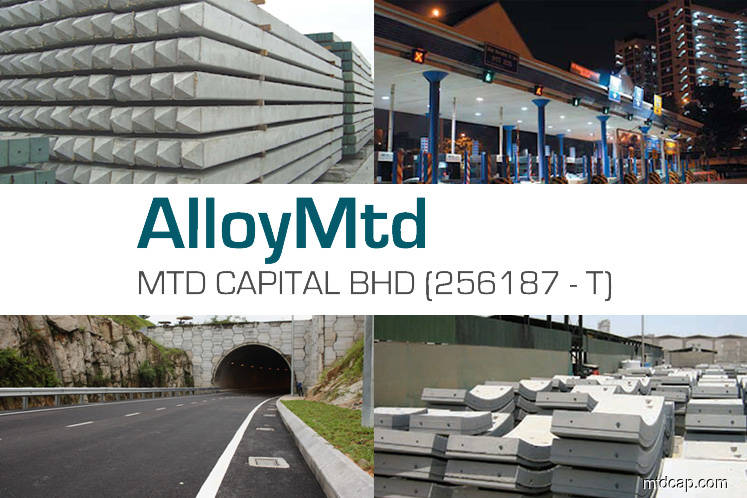 MTD Capital Bhd, a Malaysia-based regional infrastructure group, is set to develop a national government administrative centre (NGAC) — similar to Putrajaya — on a 60ha tract at New Clark City in the Philippines at a cost of about PHP22.7 billion (RM1.77 billion).
The groundbreaking ceremony is expected to take place this Tuesday, according to various sources.
 It will be MTD Capital's biggest property project to date in the Philippines, country head Isaac S David, who is also a company director, says.
It will undertake the project via a joint venture with the Bases Conversion and Development Authority (BCDA), a Philippine government-owned corporation. BCDA transforms former military bases and properties into key centres of economic growth in partnership with the private sector.
"BCDA owns the land in New Clarke City while MTD Capital will be the developer. It is a 10:90 joint venture, with 10% being BCDA's, representing the value of the land it owns, and 90% being MTD Capital's, representing the cost of the development," Isaac says when contacted by The Edge.
Under the plan, MTD Capital will finance the project as well as provide technology and engineering expertise for its construction, operation and maintenance.
MTD Capital has already secured financing for the project from banks in the Philippines, Isaac says without elaborating.
The NGAC is expected to house not just satellite offices but the major administrative offices of various executive departments and agencies. It will include a sports complex comprising an athletics stadium and aquatic centre that is expected to be the venue for the 2019 Southeast Asian Games in the Philippines.
Isaac says the first phase of the development, which is set to be completed by the end of next year, will cover 40ha and is expected to cost PHP12.7 billion. According to BCDA, in Phase 1, MTD Capital will build two seven-storey government buildings,  an integrated operations centre, the aquatic centre, athletics stadium, athlete's village, government housing and parks, among others.
Construction of Phase 2 is expected to begin next year and be completed by 2022. It will span 20ha and cost some PHP10 billion. This phase will comprise additional government office buildings, housing and parks as well as support service facitities such as retail centres.
The move by the BCDA to set up the NGAC in New Clark City — about 80km outside of Manila — is to help ease traffic congestion and overpopulation in the metropolitan area as well as to spur economic development outside the capital. New Clark City is BCDA's most ambitious project to date.
MTD Capital has long had a presence in the Philippines. In 2007, it began construction on the South Luzon Expressway, which was completed in 2010. "We then operated it for two years before exiting in 2012. It is still the most modern expressway in the country," Isaac says.
The group has also been developing small administrative centres — "mini Putrajayas', as Isaac describes them — for regional governments in the Philippines, which is divided into 18 regions.
"It is a niche type of development and, so far, we don't have competitors in that space. We have completed two such projects and another one is ongoing, all at the provincial level. There are another 10 such projects in the pipeline," he says.
The NGAC, however, is on a much larger scale.
MTD Capital, which operates in 16 countries, was previously listed on the Main Board of Bursa Malaysia until its owners took it private in May 2011.
Through its subsidiaries, it holds several toll-road concessions at home, including the KL-Karak Highway and its extension, the East Coast Expressway Phase 1, and the East-West Link Expressway. MTD Capital also owns a 27.8% stake in Touch 'n Go Sdn Bhd.  
Group chairman Tan Sri Nik Hussain Abdul Rahman and his children are major shareholders in MTD Capital.
Its latest filing with the Companies Commission of Malaysia shows that it made a net loss of RM186.26 million on the back of revenue of RM696.47 million in the financial year ended March 31, 2016 (FY2016). This compares with a profit after tax of RM286.63 million and revenue of RM848.44 million in FY2015.
Its biggest shareholders are Alloy Capital Sdn Bhd (43.01%), Alloy Consolidated Sdn Bhd (23.41%), NikVest Sdn Bhd (20.53%).
Among its ongoing overseas projects is a mixed-use development called One Crowne Place in London, the UK.
Save by subscribing to us for your print and/or digital copy.
P/S: The Edge is also available on Apple's AppStore and Androids' Google Play.