This article first appeared in The Edge Financial Daily, on August 23, 2019.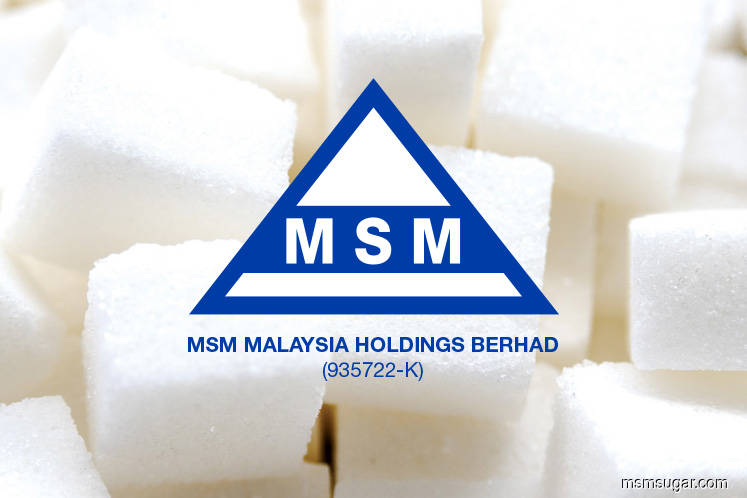 MSM Malaysia Holdings Bhd
(Aug 22, RM1.40)
Maintain sell with a lower target price (TP) of 88 sen: MSM Malaysia Holdings Bhd's core losses plunged to RM74 million for the first half ended June 30, 2019 (1HFY19), compared to a profit of RM32.3 million in the prior year. The larger-than-expected negative earnings were predominantly due to the continued deteriorating average selling price (ASP) of refined sugar amid a worsening price war, as well as higher finance and refining costs mainly from the Johor refinery operations.
The group's 1HFY19 revenue dropped 14.5% year-on-year (y-o-y) to RM959.5 million primarily as a result of a lower ASP of refined sugar.
In 1HFY19, the ASP of refined sugar fell 9.3% y-o-y to RM1,994 per tonne, a new record low in two years. Take note that the group's ASP has been declining since the first quarter of 2017 when the ASP was still hovering around RM2,600. The total sales volume has also waned by 3.3% y-o-y to 446 million tonnes, mainly attributable to the sugar industry's liberalisation, that is an increase in approved permits, giving rise to an oversupply of cheaper foreign refined sugar in the domestic market. We view its ASP of refined sugar and volume will still face an uphill battle to see signs of recovery in the foreseeable future.
The operating loss was also further exacerbated by higher finance and refining costs arising mainly from its Johor refinery plant. Take note that 1HFY19's finance cost rose 287% y-o-y to -RM48.4 million as a result of modification of certain terms of the Islamic term loan being an accounting impact. The management guided the finance cost is expected to normalise in the coming quarters to about RM20 million. In addition, the Johor refinery's low utilisation between 20% and 30% contributed to a higher refining cost, further weighing on the margin. We expect the utilisation rate to remain low in view of the competititve sugar market.
We have further reduced our FY19 and FY20 core losses to RM140 million and RM120 million respectively in view of the current heightened domestic sugar price war and dwindling sales demand, as well as higher refining and finance costs. Subsequent to our earnings adjustment, we derived a new TP of 88 sen from RM1.07 previously. Our valuation is based on a forecast FY20 book value per share of RM1.76 to its two-year historical price-to-book ratio of 0.5 times.
The outlook for the group's fundamentals remains bleak as it still suffers from a lower ASP of its refined sugar and higher operating costs. This negative repercussion from the Malaysian government liberalising the sugar industry has also reverberated across MSM's domestic market where it derives approximately 90% of its revenue.
We opined that a prolonged oversupply of cheaper foreign refined sugar in the domestic market would still present a precarious situation for MSM. We also view the Johor refinery will still negatively impact the group's well-being as it contributes to higher refining and finance costs. Albeit the management has been actively seeking strategic partnerships in the export market and downstream segment, we posit the turnaround efforts may require more time amid the current protracted and unfavourable operating environment. All in, we are maintaining our "sell" recommendation on the stock. — MIDF Research, Aug 22