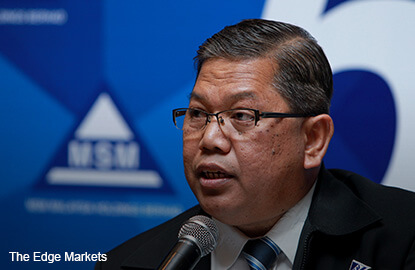 KUALA LUMPUR (July 12): MSM Malaysia Holdings Bhd, the country's leading refined sugar producer and a subsidiary of Felda Global Ventures Holdings Bhd, has promoted its deputy chief executive officer (CEO) Mohamad Amri Sahari @ Khuzari to the president and group CEO role.
Mohamad Amri replaces the late Datuk Sheikh Awab Sheikh Abod, who passed away on April 14.
In a statement today, MSM said during his stint as deputy CEO, Mohamad Amri led the company's strategic initiatives and business development efforts, establishing a track record for building strong leadership teams and delivering high quality, meaningful results.
Mohamad Amri has a 27-year career with Felda and MSM Group and has led in areas such as operations, policies, strategies, growth and profitability. Mohamad Amri began his career as a mill engineer with Felda Palm Industries Sdn Bhd in 1989 and rose to acting general manager of procurement and supply services within the company. He was later promoted to CEO of MSM Perlis Sdn Bhd in 2004.