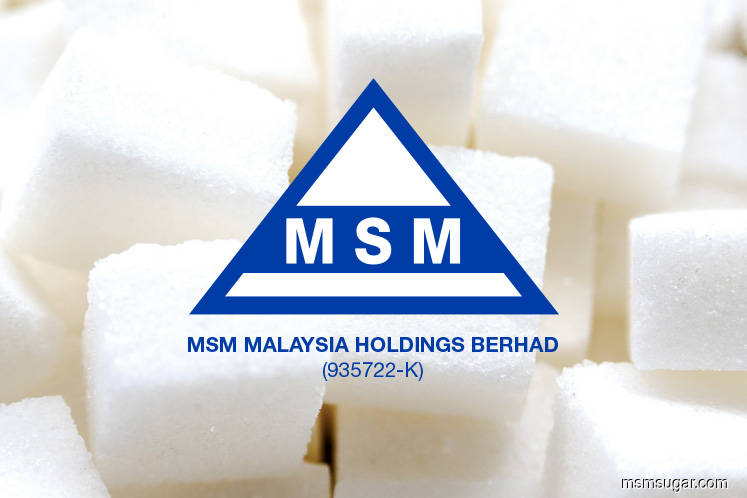 KUALA LUMPUR (Feb 25): Sugar refiner MSM Malaysia Holdings Bhd posted a net loss of RM299.77 million for the financial year ended Dec 31, 2019 (FY19), versus a net profit of RM35.66 million in the preceding year.
Revenue contracted 9.4% to RM2.01 billion, from RM2.21 billion in FY18, which the group said was due to the reduction in overall volume sold and lower average selling price.
In its stock exchange filing, MSM said FY19 loss was partly contributed by a higher finance cost due to a loan modification and the provision of RM140.55 million for the impairment of plant and machinery.
MSM group chief executive officer Datuk Khairil Anuar Aziz said the decline in performance was also a result of certain extraneous factors such as weakening of the ringgit, as well as stiff competition in the local and export markets.
"Strategically, the massive impairment that we have incurred is in relation to the assessment that we have carried out as part of our synergistic plan to enhance our operational capabilities.
"On the other hand, the previous raw sugar contract which has expired in December 2019 will benefit us in terms of strategic raw sugar procurement that potentially reduce our cash outflows and ensuring a sustainable supply of best quality raw sugar stocks for all MSM's refineries," he added.
The FY19 loss came after the group recorded losses for all four quarters of the year.
In its final quarter (4QFY19), the group turned in a net loss of RM40.28 million on revenue of RM516.04 million, amid continuous depletion of its average selling price and decline in export volume. This compares with a net loss of RM10.35 million on a revenue of RM530.85 million in 4QFY18.
According to MSM, the higher loss in the quarter was due to lower average selling price, higher refining and higher finance costs incurred for its continuing operations. There was also higher tax expense during the quarter for its discontinuing operations, which included its rubber, palm oil and mango business.
Going forward, the group said it will prioritise and tighten its focus on the restructuring business towards stabilising and turnaround through sustainable growth strategies.
This includes rationalising its production capacity, downstream product diversification, research and development on food and non-food sugar related products, initiating cost savings energy projects and strengthening its selling price with better margin.
Shares in MSM closed unchanged today at 79 sen, valuing the group at RM555.35 million.
Read also:
MSM chairman Azhar steps down 'to resolve FGV director fee issue'