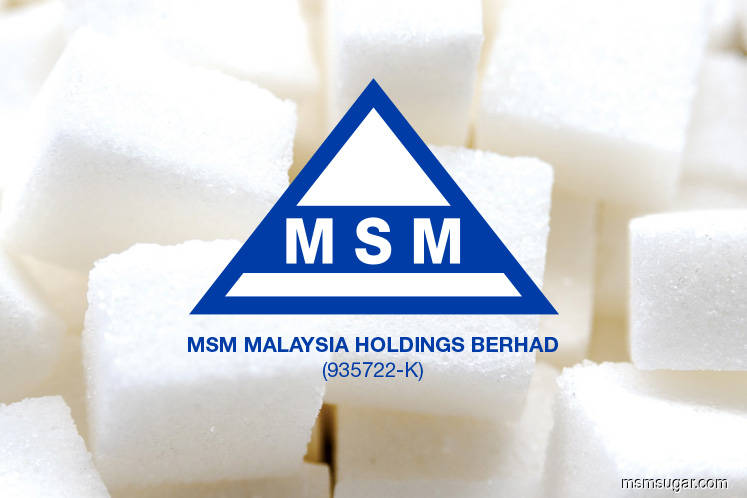 KUALA LUMPUR (June 12): MSM Malaysia Holdings Bhd and Central Sugars Refinery Sdn Bhd (CSR) are urging the government to reconsider its decision to grant sugar import permits to eight Sarawak-based food and beverage (F&B) manufacturers, as the move would force the domestic sugar refining industry to cut costs besides having negative long-term impacts.
In a statement today, the two sugar refiners said that in the short term, sugar imports will only force the domestic industry to cut costs to survive. They highlighted that this include reducing the security stock cover for the country and closing loss making factories to reduce costs and capacity.
"This will inevitably have a negative impact on the country in the mid to long term, especially when global sugar prices increase. This is a risk that our nation cannot afford to take," they said.
In particular, they highlighted domestic sugar refiners hold sugar stocks lasting two to three months, which are valued between RM180 million and RM210 million, resulting in an annual cost of RM7 million to RM20 million on refiners.
The sugar refiners added that once sugar prices rise, it will be up to local sugar refiners to absorb price fluctuations and ensure a stable supply.
MSM and CSR noted that sugar, which is a controlled substance, now has a retail price of RM2.85 a kg — one of the lowest levels worldwide, and the move to import sugar at a lower price is the result of "dumping" excess supply that currently characterises the market and has contributed to lower sugar prices.
This, in turn, makes foreign imports cheaper than locally refined sugar, exacerbating existing margin pressure on local sugar refiners.
"As such, from a consumer standpoint, the sugar brought in by companies granted the APs (import permits) may not have the necessary "Halal" certification and even if they have, it remains doubtful whether they are legitimate. Consumers are advised to be vigilant when buying and consuming products manufactured by these F&B companies," added MSM and CSR.
According to Bernama on June 7, the Domestic Trade and Consumer Affairs Ministry (KPDNHEP) approved the permits for the F&B manufacturers to import sugar from abroad.
KPDNHEP Deputy Minister Chong Chieng Jen was reported to have said the import permits would help reduce the cost of production in factories, as the price for raw sugar was RM1.40 a kg, while refined sugar was RM1.80 a kg.