This article first appeared in The Edge Malaysia Weekly, on January 8, 2018 - January 14, 2018.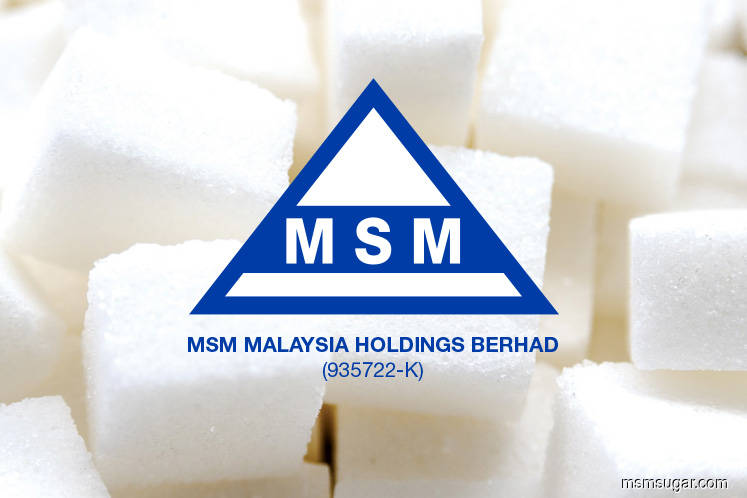 SUGAR refiners MSM Malaysia Holdings Bhd and Central Sugars Refinery Sdn Bhd are said to have written to the Ministry of Domestic Trade, Co-operatives and Consumerism to request a review of its recent move to issue new sugar import licences, according to industry sources.
It is understood that MSM and Central Sugars sent the letter last December. "They (MSM and Central Sugars) are complaining, and say there is no need for more players," a source says.
Between three and five new licences are said to have been issued to companies that are well-connected, The Edge understands.
However, the incumbents are no pushovers. MSM, which is listed on Bursa Malaysia, is a 51%-owned unit of Felda Global Ventures Holdings Bhd (FGV).
FGV took over Malayan Sugar Manufacturing Company Bhd, which commands 60% of the domestic sugar market, from PPB Group Bhd for RM1.22 billion cash in 2010. This marked the exit of Robert Kuok — once dubbed the Sugar King — from the local sugar refining business. FGV listed MSM in June 2011 at an initial public offering price of RM3.38 and raised RM422 million, one year before FGV's own flotation exercise.
MSM Prai Bhd and MSM Perlis Sdn Bhd, which are units of MSM, operate sugar refineries in Seberang Perai and Perlis, respectively. A third MSM refinery — MSM Sugar Refinery (Johor) Sdn Bhd — is set to be completed this year.
Central Sugars is a wholly owned unit of Tradewinds Corp Bhd — one of tycoon Tan Sri Syed Mokhtar Albukhary's flagships — and owns two refineries: Central Sugar Refinery and Gula Padang Terap Sdn Bhd.
One of those granted a new licence was little-known private company Nerdz Resources Sdn Bhd. According to documents sighted, Nerdz Resources was given the green light to import 10,000 tonnes of refined sugar for eight months from May to December 2017.
It applied for a licence to import refined sugar in March last year and was given the approval in end-May. It is not clear if it managed to get an extension, or a renewal.
Among the requirements imposed were that the imported refined sugar had to be cheaper than what is offered locally, and could not be sold to retailers and end-users.
RAM Credit Info shows that Nerdz Resources has a paid-up capital of RM100,000. Its shareholders are Raslam Hasan with a 26% stake, Mohd Razali Awang Soh (25%), Noor Ellyshafika Mohd Razali (25%) and Khairulnisah Mudzir (24%). The company's directors, apart from Noor Ellyshafika, are Mohamad Salim Mohamad and Mohamed Arshad Mohamed Apandi.
Nerdz Resources had no revenue in the past two years, and little in terms of assets for 2015 and 2016.
While details are scarce, other personalities understood to have been given sugar import licences include Tan Sri Tan Kean Soon and Datuk Seri Tiong King Sing.
In Tan's case, the licence is understood to have been given to one of his private companies. Tan is executive deputy chairman of oil and gas outfit T7 Global Bhd (formerly Tanjung Offshore Bhd), in which he has a 15% stake . He is also a director of East West One group of companies that is involved in plantations, or more accurately, oil palm plantation-based investment schemes.
Tiong, meanwhile, is Member of Parliament for Bintulu in Sarawak, and is the managing director of Timberwell Bhd, a wood-based company in which he has a 23.82% stake.
He is involved in several Sri Lankan companies, including TKS Holdings Ltd, TKS Capital Pvt Ltd, TKS Securities Pvt Ltd, TKS Finance Ltd, Asian Finance Ltd and Dinapala Properties Pvt Ltd. He is also chairman of Indonesia-based PT Mandiri Jaya Bara, PT Berau Jaya Energi and PT Mega Karya Energi, and was the CEO of Wijaya Baru Global Bhd, now renamed Tadmax Resources Bhd.
Tiong and Wijaya Baru were involved in the Port Klang Free Zone controversy sometime back. It is likely he may only have got a licence to import sugar into Sarawak.
Nevertheless, the move to issue the new licences came as a surprise.
MSM is investing RM1.1 billion in a refinery in Tanjung Langsat in Johor and is acquiring a sugar cane plantation and mills in Indonesia. The new refinery will raise MSM's total refining capacity by 80% to 2.25 million tonnes per annum.
As it is, the domestic sugar refining business has been volatile and margins have come under pressure because of changes in the operating landscape. These include the implementation of special price quotas and the withdrawal of sugar subsidies.
The price of refined sugar in Malaysia is the second cheapest in Asean, after Thailand.
Earlier, in 2013, inflight caterer Brahim's Holdings Bhd, via 60%-owned subsidiary Admuda Sdn Bhd, had been given approval to build a RM150 million sugar refinery in Demak Laut Industrial Park, Kuching, Sarawak, but the company decided not to proceed with it.
Brahim's is now in court over the non-payment of progress claims and is in talks to exit the venture.
MSM, despite its 60% market share, has definitely seen better days. For its nine months ended Sept 30, 2017, it suffered a net loss of RM45.66 million on RM2.01 billion in revenue. With heightened competition, it is likely to face an even tougher year.
Save by subscribing to us for your print and/or digital copy.
P/S: The Edge is also available on Apple's AppStore and Androids' Google Play.