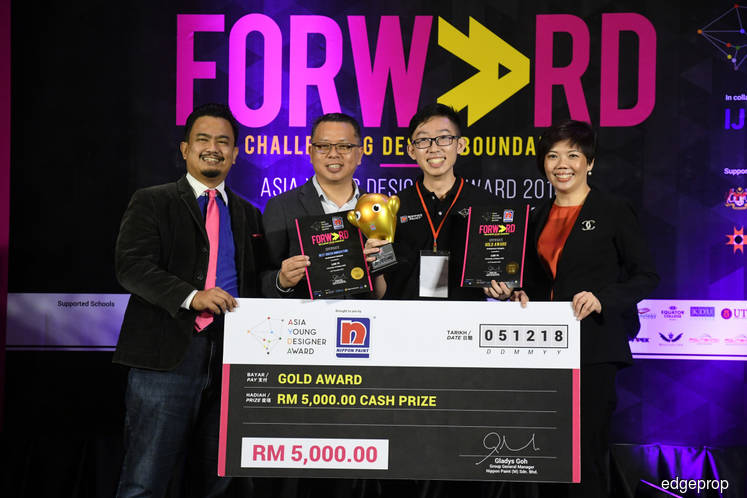 KUALA LUMPUR (Dec 6): Malaysian winners of the Asia Young Designer Award 2018 (AYDA 2018) will be representing the country to compete with winners from 14 geographical locations across Asia for the title of Asia Young Designer of the Year 2018/19.
The two winners announced in a ceremony on Dec 5 were Loo Yi from Universiti Malaya (UM) and Zachary Khaw Lit Siang from Taylor's University. They won the Gold Awards for the Architecture and Interior Design categories respectively, having beaten 1,260 other entries to the annual interior design and architecture competition this year. AYDA 2018 was jointly organised by Nippon Paint Malaysia and IJM Land Bhd.
Loo and Khaw will take their winning projects to Singapore in March 2019 to compete against winners from Bangladesh, China, Hong Kong, India, Indonesia, Iran, Japan, Pakistan, the Philippines, Singapore, Sri Lanka, Taiwan, Thailand and Vietnam and strive to win a 6-week all-expenses-paid design programme at the Harvard Graduate School of Design.
In her opening speech at the AYDA 2018 awards ceremony, Nippon Paint Malaysia group general manager Gladys Goh said the goal of this year's theme 'Forward: Challenging Design Boundaries' was to dare young designers to challenge conventional limitations of design, while considering how the act of designing can bring a positive impact to environmental issues, infuse new values into social and cultural contexts, enhance better community living and lifestyle, and encourage progressive growth and development in a city.
"We are extremely proud of the Malaysian winners who have raised the bar to win the Gold Awards and have shown us what it means to question creative perimeters and think in a forward-looking, innovative way that breaks the norm of design as we know it," she said.
Meanwhile, IJM Land managing director Edward Chong said the company is immensely proud of AYDA and the way in which it has evolved internationally, as winners prove year after year that they are designers shaping the future of the industry.
"Our partnership with Nippon Paint in its 5th year aims to connect students to the heart of the industry, to build places and spaces for vibrant living and thriving sanctuaries [that are] respectful of nature, that resonate with families, businesses and communities. We strongly believe in shaping and empowering young talents who will essentially transform the architectural and interior design panorama of our future," he continued.
The winning designs 
According to Sarly Adre Sarkum, chief judge of the Architecture category, Loo's project "Mangrove Charcoal Living Museum" was the top winner of the Architecture category due to its sustainable design that echoes this year's theme.
 "[The design of the project] fits the theme in a very unique way and it [has included] both the environment and cultural aspects [of the project site]," Sarly said at a press conference after the awards ceremony.
The student from UM has designed a museum on a 3.7-acre site within a mangrove forest in Kuala Sepetang, a small coastal fishing village in Perak. The aim is to preserve the existing traditional charcoal factories and the natural mangrove forest while transforming the area into a new tourist attraction and educational site.
It features a history and science zone, charcoal art gallery, souvenirs, a restaurant where one can dine within a lanai, kids' reading alcove, community spaces, boat and fishing rental service areas, community libraries, living labs and offices for the charcoal factories, Loo said during a presentation of the winning work.
"When I came up with this design, I wanted it to be not just a gallery to display collections of physical remains at Kuala Sepetang, but also a site to incorporate the locals' non-material cultural practices and natural forestry heritage," he added.
Meanwhile, Khaw, the winner of the Gold award in the Interior Design category said he took inspiration from the local fashion design industry and manifested his ideas into 'The Weave', which is a fashion incubator for local designers and an upcycling design facility to turn old textiles into new outfits.
"This project has actually been a personal one for me, as I am interested in all branches of design and understand the struggles of a budding fashion designer. In creating The Weave, I wanted to give young fashion design students a leg up in the industry and help them become successful, thanks to the facilities incorporated into the design," he said.
Envisioned as a 3-storey design hub, the site identified for the project was the City Harvest Church KL, located in the Subang Jaya Industrial Estate, Selangor. The area is conducive for industrial energy, yet close enough to residential areas and thus accessible to consumers, explained Khaw.
Chief judge of the Interior Design category Lai Siew Hong, who is the chief executive designer of Blu Water Studio, said the judges were amazed by Khaw's work, with its underlying purpose of creating an impact on society and future generations.
"What he has done is not just about aesthetics. It has its purpose and he designed from his heart, with the focus being its impact on the next generation. We felt the strong purpose helped him focus his design, using how he feels to create a space that will impact others," he said. — EdgeProp.my
Click here to visit EdgeProp.my for the latest news on all things property