This article first appeared in The Edge Financial Daily, on April 29, 2019.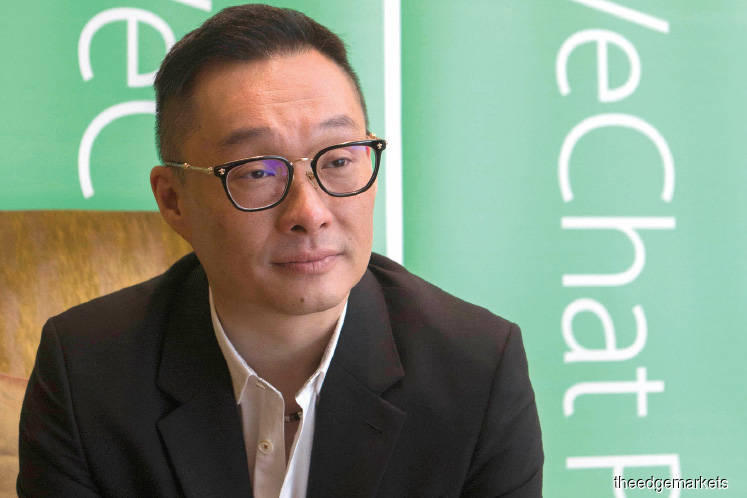 KUALA LUMPUR: When Tencent organised a technology exhibition here in March to showcase the convenience of WeChat Pay, many people were surprised to learn that the e-wallet service — which is ubiquitous in China — had also been available in Malaysia for over half a year.
Tencent's international business group vice-president Poshu Yeung is unfazed by the lack of publicity surrounding the service in Malaysia as it has over 20 million registered users in the country for it to leverage on.
"We have a pretty significant WeChat user base here. We officially launched [WeChat Messenger] here first and established an office here many years ago [before launching our e-wallet service]," Yeung said.
"We have millions of users in Malaysia, it's not a small user base," he told The Edge Financial Daily. "We are happy with our numbers right now."
"When we look at the mass market, probably 30% adoption is pretty good, and I can tell you that we've already achieved that in Malaysia in terms of instant messaging," he added.
According to Bank Negara Malaysia's website, apart from WeChat Pay Malaysia Sdn Bhd, there are 38 other non-bank companies that are recognised as e-money issuers.
Despite the competition, Yeung said Tencent is attracted by the digital adoption growth in Southeast Asia, and intends to establish an ecosystem of products and services surrounding WeChat in Malaysia before expanding more aggressively in other countries within the region.
"As a digital society, I think the Southeast Asia market has been growing very fast, so if we are looking at fast growth, this is the region in which we definitely have to spend more time," he said, adding that apart from WeChat, Tencent's music streaming services JOOX is already well-established in Malaysia. The group is trying to grow its cloud computing services here as well.
Meanwhile, to enhance WeChat Pay Malaysia's relevancy, Tencent's international business group general manager Norman Tam said the group will broaden its partnership with local service providers and continue to rope in more merchants into its payment system.
"Malaysia has been one of the standout international markets for WeChat with over 20 million registered WeChat users. Since the official launch of WeChat Pay Malaysia in August 2018, merchants and users have been receptive to it as the trend of mobile payment that is emerging in Malaysia.
"On the other hand, to encourage merchants across the globe to accept cross border retail payments from mainland Chinese travellers in renminbi using WeChat Pay, WeChat Pay has evolved into a product which is more than a payment tool within its ecosystem," he said.
Tam said WeChat Pay Malaysia's value proposition is enabling retailers and service providers to leverage on the e-wallet system to automate their promotions, marketing and point-of-sales.
"We want to focus more on social payments, user experience and improve our product to ease everyday life. WeChat Pay Malaysia's value proposition to the market is to jointly build with our business partners an ecoystem where consumers will enjoy a seamless integration of the digital realm into their day-to-day activities," he said.
While Tencent has built a successful e-wallet business case in China, it is interesting to see how it is going to replicate the success in more liberal markets like Hong Kong and Malaysia moving forward.