This article first appeared in The Edge Financial Daily, on November 2, 2017.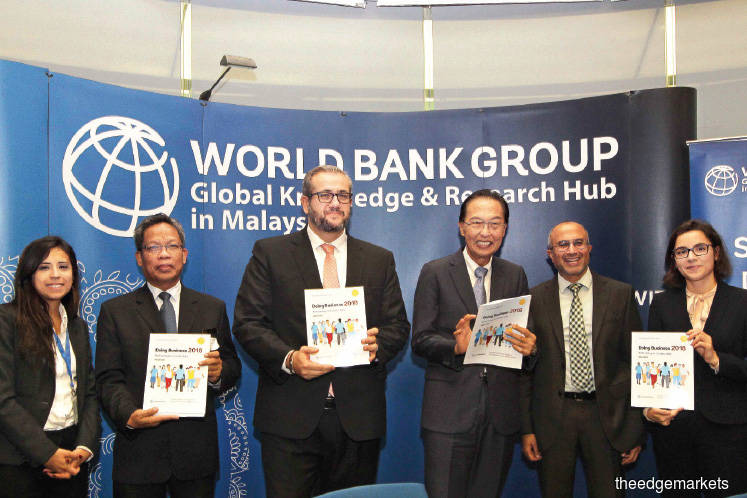 KUALA LUMPUR: Malaysia's global ranking among 190 economies fell another notch to the 24th spot in the World Bank's Doing Business Report 2018 (DB 2018) after it slipped one spot to the 23rd place in the previous report released last year.
However, World Bank's country manager in Malaysia Faris Hadad-Zervos said Malaysia recorded an improvement of 0.96 percentage points (ppts) in terms of overall distance to frontier (DTF) score this year to 78.43, from 77.47 last year.
The DTF score measures the distance of each economy to the "frontier economy", which is the best performing country on each of the indicators measured in the ranking.
"Malaysia remains and retains its position in the top 25 countries in the world in doing business, and is one of the few economies that reformed the most in East Asia and the Pacific region.
"The country's global ranking, however, went from 23rd spot to 24th due to no actions on its part but [because of] the depth, breadth and pace of reform in other countries who have joined the fold," Hadad-Zervos told reporters yesterday in conjunction with the regional launch of the report.
International Trade and Industry (Miti) Minister Datuk Seri Mustapa Mohamed concurred, and highlighted that Malaysia's drop in global ranking was a result of reforms undertaken by the United Arab Emirates (UAE).
"These reforms translated into an increase in its DTF score by 1.87ppts, which enabled the UAE to leapfrog from the 26th spot last year to 21st this year," he said in a statement. The drop in Malaysia's ranking also indicates that other countries have been successful in implementing deeper reforms at a much faster pace, he added.
"We need to do more and move faster in pushing through reforms to improve our business regulatory environment. It is hoped that Malaysia will do better in its future rankings, given the positive impact that will be produced by the reforms," he said.
According to the latest World Bank report, the reforms Malaysia instituted in the past year were in the areas of: getting credit (ranking 20th, with 80 DTF scores versus DB 2017's 75); trading across borders (ranking 61, with 82.75 versus DB 2017's 82.38); and protecting minority investors (ranking 4th, with 80 versus DB 2017's 78.33).
"To improve access to credit, Malaysia has established a modern collateral registry. In addition, importing and exporting were made easier by improving the infrastructure, equipment and facilities at Port Klang, which triggered a reduction on the border compliance time for both exports and imports.
"A further reform strengthened minority investor protections by requiring greater corporate transparency. This reform, on the information that companies must share in order to enter into transactions with interested parties, places Malaysia in 4th place globally in the area of protecting minority investors," said Hadad-Zervos.
World Bank operations analyst Dorina Peteva Georgieva also noted Malaysia's DTF score for starting a business improved to 83.78 — and was ranked 111th — from 83.67 last year.
"Malaysia is already close to the frontier of 100 at 83.78. However, what it indicates is there is so much competition coming between this 83.78 and 100 that brings the rank of Malaysia to the 111th [position].
"However, there is certainly room for improvement in reducing the number of procedures as well as the number of days required to incorporate a business," she said.
On protecting minority interests, Malaysia ranked 4th, with a DTF score improving 1.67ppts from last year, said Georgieva, due to higher corporate transparency.
"The transparency in the corporate sphere is where Malaysia improved this year, specifically as a result of amendments in the Companies Act," she said. The Companies Act 1965 was repealed and replaced with the Companies Act 2016 [effective] from Jan 1.
Other notable areas in which Malaysia continued to perform include getting electricity, where Malaysia ranked No 8 due to the reliability of supply and the transparency of tariff, and the affordablility in obtaining an electricity connection.
"It takes 31 days to get connected to the electrical grid in Malaysia, less than half the average 78 days across the Organisation for Economic Cooperation and Development's high-income economies," the report said.
The World Bank also noted that Malaysia performed well in dealing with construction permits, with a global ranking of 11. "The time to complete all requirements to obtain a construction permit stands at 78 days now, from 285 days in 2006, and compares very favourably with the global average of 158 days," it said.
The World Bank's DB 2018 is the 15th in a series of annual reports investigating the regulations that enhance business activity and those that constrain it. The 2018 report covers data collection from June 2, 2016 to June 1, 2017.