This article first appeared in The Edge Financial Daily, on March 17, 2020.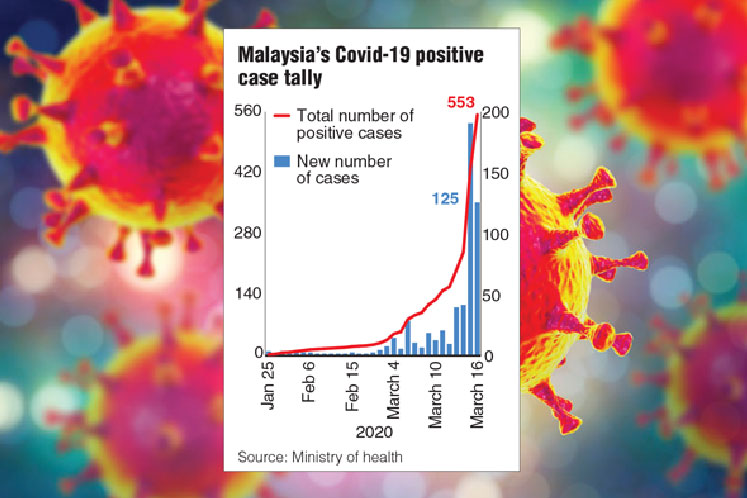 KUALA LUMPUR: The ministry of health (MoH) has announced 125 new confirmed Covid-19 cases yesterday, raising the total number of infections to 553 — the highest in the Asean region.
In a statement, Health Minister Datuk Seri Dr Adham Baba said 95 new Covid-19 positive cases were related to the cluster involving the tabligh assembly at Jamek Seri Petaling Mosque, according to preliminary investigations.
"To date, a total of 12 cases of Covid-19 have been treated in the Intensive Care Unit (ICU) on breathing assistance support," he said in the statement.
Malaysia is currently the country with the highest number of infected cases in the Asean region while Singapore is the second highest with 226 cases, according to official data.
Considering the current situation, the MoH has entered the final containment stage — late containment, which aims to curb the spread of Covid-19 infection from becoming more serious in Malaysia.
Besides, the MoH is also preparing to enter the mitigation stage, which includes making Sungai Buloh Hospital the "admitting hospital" specifically for those who tested positive for Covid-19 and increasing the capacity and capabilities of the laboratory to carry out Covid-19 infection detection.
"Next is to identify quarantine centres nationwide as well as collaborate with non-governmental organisations (NGOs) and private facilities in Covid-19 case management," said Adham in the statement.
The number of confirmed infected cases topped 1,739,000 globally, with the death toll at 6,677 while the number of cured cases was 78,267 as at 12am midnight.
In view of the rising number of new infected cases in the country, the MoH has advised the public to take preventive measures.
The ministry urged the public to postpone or not to attend any mass gatherings and keep a social distance of at least one metre away from other individuals.
Another preventive measure is to delay travel abroad, especially to regions or cities declared to be affected by the Covid-19 outbreak in China or South Korea, Japan, Italy and Iran.
The MoH has also advised the public to practise optimal levels of hygiene at all times, such as washing hands frequently with water and soap or a hand sanitiser as an effective way of preventing the transmission of infection.
Likewise, it also advised the public to practise good cough etiquette, which is to cover the mouth and nose with a tissue when coughing or sneezing, and then washing hands immediately to prevent the spread of the disease to others.