This article first appeared in The Edge Financial Daily, on April 5, 2018.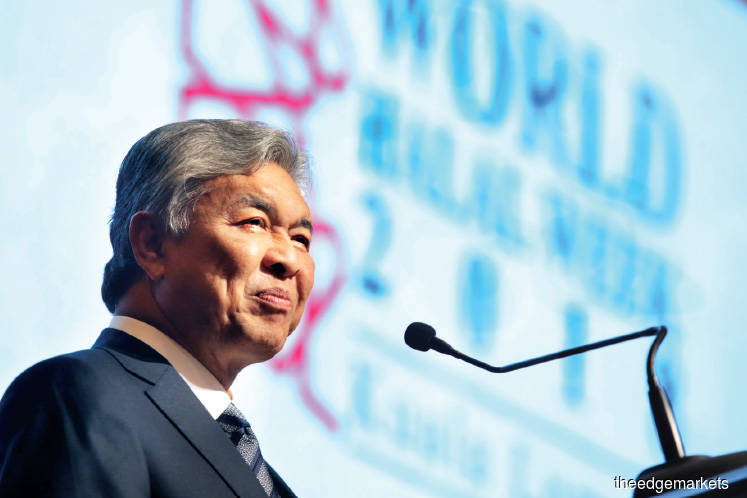 KUALA LUMPUR: Malaysia's halal industry, which contributed about 7.5% of the country's gross domestic product (GDP) last year, continues to lead the Global Islamic Economy Indicator for the fifth year in a row, said Deputy Prime Minister Datuk Seri Dr Ahmad Zahid Hamidi.
The indicator, he said, was published under Thomson Reuters' State of the Global Islamic Economy 2017 to 2018 report, which projects that the Islamic economy will be worth US$3 trillion by 2021. The survey defined the Islamic economy as one comprising halal food, Islamic finance, halal travel, modest fashion, halal media and recreation, as well as halal pharmaceuticals and cosmetics.
Ahmad Zahid said Malaysia enjoys a substantial lead in Islamic finance and halal food, which reflects its robust Islamic economic ecosystem. The country also reaffirmed its position as the leading global halal hub with an annual export value of RM43.39 billion for halal products last year, he said.
At the same time, Malaysia has attracted investments worth RM13.3 billion in Halal Malaysia-certified halal parks — which caters for the production of halal products with the highest quality, integrity and safety — under the Halal Industry Development Corp.
"This is a very significant achievement by our industry players. The government recognises the potential of the halal industry and Islamic finance, both pillars are for the development of Islamic economy," he said at the opening ceremony of the World Halal Week 2018 (WHW 2018) yesterday.
Ahmad Zahid said with the world's Muslim population at 1.8 billion now, the Islamic economy presents vast opportunities.
"Insya-Allah (God willing), by 2030 the Muslim population is estimated to make up 27% of the global population.
"The Islamic economy is a fertile market for many businesses, but we should remember it is not just about making money, [it is about] a service [at] a deeper and more spiritual level," he said.
Meanwhile, the government has established the International Halal Authority Board (IHAB) under the Department of Islamic Development Malaysia (Jakim) on Tuesday, after obtaining the approval of 69 halal certification bodies and authorities from 42 countries.
Ahmad Zahid first announced the setting up of IHAB in June last year.
"IHAB is a platform for harmonisation among all halal certification bodies and authorities from all over the world for us to have the same understanding, rules and guidelines. Insya-Allah, we can avoid trade barriers between countries from around the world when dealing in halal certification," Jakim's halal hub division director Datuk Dr Sirajuddin Suhaimee told reporters on the sidelines of WHW 2018 yesterday.
IHAB, whose secretariat will be based in Malaysia, was designed by Jakim to promote halal certification among members under a mutual recognition arrangements to bring greater collaboration to halal certification.
"It will also encourage global cooperation among members, provide training for certification bodies, and help boost market access," Sirajuddin added.