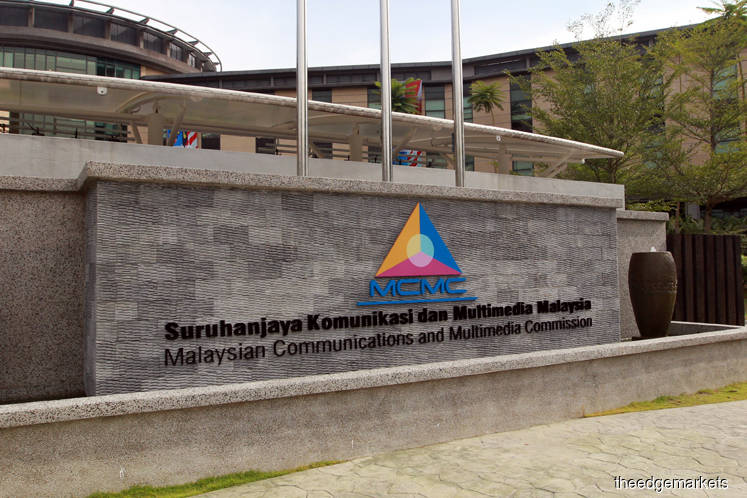 KUALA LUMPUR (May 16): The market capital of the communications and multimedia (C&M) industry on the local stock exchange was RM135.7 billion at the end of 2018 — almost triple its RM50.7 billion value in 1999 — according to a report by the Malaysian Communications and Multimedia Commission (MCMC).
The MCMC's Industry Performance Report 2018 (IPR 2018) said that last year, the C&M industry's aggregate revenue increased by 0.2% on an annual basis to RM51.6 billion
The biggest contributor to the industry was the telecommunications sector (69% or RM35.9 billion), followed by the broadcasting sector (12% or RM6.4 billion) and postal sector (5% or RM2.4 billion).
The remaining 14% (RM7 billion) of the revenue came from ACE Market and non-public listed licensees.
Meanwhile, the capital expenditure (capex) of the telecommunications sector in 2018 reached RM5.21 billion, less than RM6 billion in 2017, mainly due to a slowdown in 4G LTE buildouts.
The capex-to-revenue ratio last year was 14.5%, compared with the global average of 17.1%.
Meanwhile, the overall telecommunications sector margin remained stable, with earnings before interest, tax, depreciation and amortisation (EBITDA) margin and operating profit margin at 38% and 21% respectively on average.
"This is despite relatively flat revenue and higher operating costs placing pressure on margins.
"Going forward, service providers are pursuing new growth strategies and creating cost reduction plans to improve performance," said the report.
MCMC also noted that connectivity was the driver for service provider revenue growth over the last two decades, with milestones during the period including the substitution of fixed voice to mobile and recently, mobile broadband.
Mobile broadband subscriptions in 2018 rose by 4.2% to 36.8 million, with a 121.1% penetration rate per 100 inhabitants in 2018. In comparison, in 2005 the figure stood at 10,000.
"This is after 3G services [were] launched and an extensive rollout of 4G LTE services since 2012 contributes to the surge in mobile subscriptions," said MCMC in a statement accompanying the release of the report.
In 2018, mobile cellular subscriptions has grown to 42.4 million, from 5.1 million in 2000, while direct exchange line (DEL) dropped to 2.6 million subscriptions from 4.6 million in 2000, said MCMC.
"Factors driving higher mobile broadband subscriptions include mobility and better livelihood; including video viewing, online shopping, online banking, and communications through WhatsApp video calls," MCMC noted.
MCMC chairman Al-Ishsal Ishak, in the statement, emphasised that close collaboration among stakeholders was needed to accelerate connectivity.
"For 2019 and over the next few years, service providers have expressed commitment to increase capex for growth and offer new digital services.
"Going forward, with artificial intelligence and big data analytics, service providers can optimise their resources for more personalisation. This provides the pathway for further monetisation of service provider network assets from Business-to-Business (B2B) and Business-to-Consumer (B2C)," he added.