This article first appeared in The Edge Financial Daily, on June 4, 2019.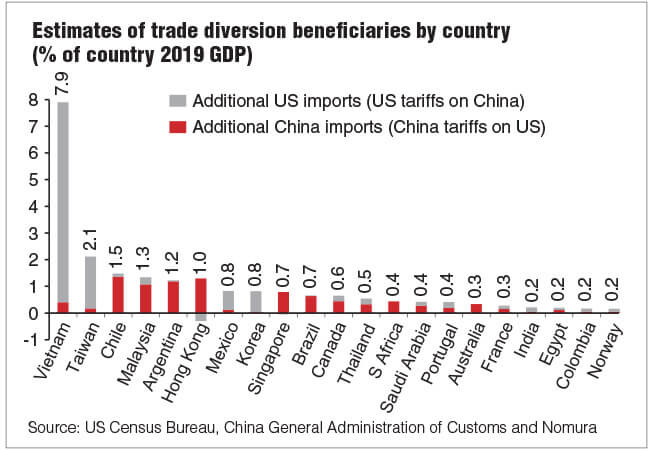 KUALA LUMPUR: As the US-China trade tensions show no sign of easing, Nomura Global Markets Research has identified Vietnam, Taiwan, Chile, Malaysia and Argentina as the countries that will benefit the most from trade frictions between the two large economies.
In the 50-page report, Nomura stated that Malaysia is the fourth largest beneficiary of the trade diversion arising from the trade war, which resulted in both the US and China to seek import substitutions.
Nomura found that Vietnam is by far the largest beneficiary, gaining 7.9% of gross domestic product (GDP) from trade diversion, based on one full year of trade data since April 2018 when the US Trade Representative announced the first threat of 25% tariffs on US$50 billion imports from China. Taiwan is the second, gaining 2.1% of GDP, followed by Chile (1.5%), Malaysia (1.3%) and Argentina (1.2%).
Nomura said out of the top 10 beneficiaries in its sample size — World 50 largest economies — six countries are located in Asia, while the other four in Latin America.
"Interestingly, for the top two beneficiaries — Vietnam and Taiwan — the trade diversion is mostly additional US imports. For the next top three — Chile, Malaysia and Argentina — the trade diversion is mostly additional China imports," said Nomura.
For Malaysia, the research firm identified additional exports in waste and scrap alloy (0.4% of GDP), natural gas (0.3%) and benzole (0.3%) from the country since the beginning of the trade war.
The Japanese stockbroking firm concluded that its analysis this time yielded three additional "interesting" results.
"First, the loss to China (-0.5% of GDP) is more than the loss to US (-0.3% of GDP), in line with the higher share of US exports in China's GDP.
"Second, even as third-party countries benefit from both the tariff lists, the benefit is more due to US tariffs on China [than China's tariff on US], which intuitively makes sense, given China is more of a manufacturing hub for MNCs (multinational companies) than the US," it said.
The third result, Nomura said, is among the big regional blocks, Asia (ex-China) and Americas (ex-US) are the biggest gainers from trade diversions.
Nomura said the US' tariffs on China, resulting in US' import substitution on mostly electronics goods, whereby Malaysia sees additional exports of electronic integrated circuits (0.2% of GDP), semiconductor devices and light emitting diodes (0.2%).
"China's import substitution has led to beneficiaries in copper (Chile), soybeans (Argentina, Brazil, Chile and Canada); gold (Singapore, Hong Kong and South Africa); natural gas (Malaysia, Australia); and aircraft (France and Germany)," it said.
"The imposition of US tariffs has resulted in the most US import substitution [and market share loss for China] in electric apparatus for phones, parts of office machines, automatic data process machines, furniture and travel goods," it said.
Nomura pointed out that trade diversion in the electronics and electrical machinery segments are likely driven by the ability of MNCs to quickly switch to factories located in other countries and away from China.
In relation to China tariffs on the US, Nomura said China import substitution are mostly in agricultural and commodities.
While it remains unknown whether the meeting between US President Donald Trump and China President Xi Jinping would yield any progress on the trade deal between the two countries at the G20 Osaka Summit at end-June this year, Nomura expects import substitution by them would increase substantially should the situation worsen.
"Importantly, these results suggest that if the US follows through on its threat to impose 25% tariffs on its remaining about US$300 billion of imports from China, it could lead to substantially more import substitution, given that a much larger proportion of this tranche of imports comprise electronic products," it said.
The US is mulling imposing 25% tariffs on US$325 billion imports from China, on top of the existing US$200 billion imports.
Over the weekend, China started imposition of tariffs on US$60 billion imports from US, and published a white paper on Sunday to denounce the US' unilateral and protectionist measures, criticising its backtracking on Sino-US trade talks, and demonstrating China's stance on trade consultations and pursuit of reasonable solutions.