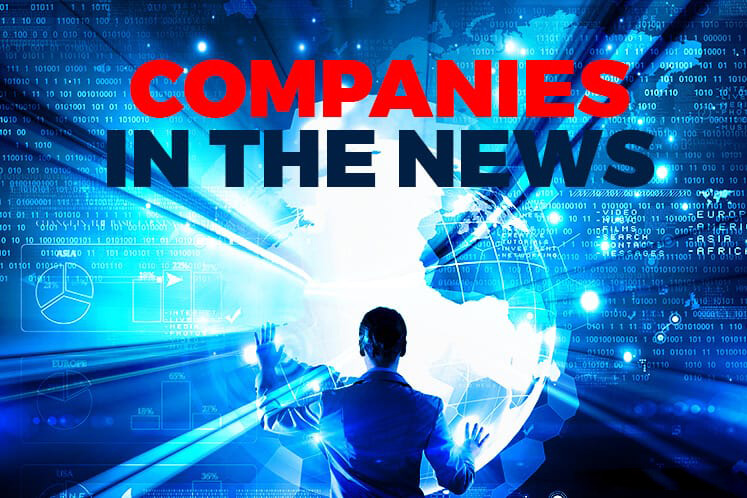 KUALA LUMPUR (Aug 10): Based on corporate announcements and news flow today, stocks in focus on Monday may include the following: Malaysia Smelting Corp Bhd, Westports Holdings Bhd, YFG Bhd, Marine & General Bhd, NWP Holdings Bhd, Minetech Resources Bhd, Green Packet Bhd, Malaysia Airports Holdings Bhd, PRG Holdings Bhd, CIMB Group Holdings Bhd, Utusan Melayu (Malaysia) Bhd, Versatile Creative Bhd, PLS Plantations Bhd, Petrol One Resources Bhd and Jadi Imaging Holdings Bhd.
Malaysia Smelting Corp Bhd (MSC) announced a 73% year-on-year drop in net profit for its second quarter ended June 30, 2018 (2QFY18) to RM2.46 million from RM9.02 million, as its tin smelting operations continues to be impacted by inefficiencies at its aged plant in Butterworth, Penang.
Quarterly revenue was up 6% to RM326.82 million from RM307.88 million a year ago, due to higher quantity of refined tin sold.
For the first half of the year (1HFY18), net profit fell 68% y-o-y to RM7.04 million from RM21.64 million. Cumulative revenue contracted 4% to RM683.77 million from RM714.49 million on lower average tin prices in ringgit terms.
Transport Minister Anthony Loke announced that the second phase of the increase in container tariff will be deferred six months to March 1 next year, from Sept 1 this year.
Westports Holdings Bhd, which acknowledged receiving the letter on the deferment yesterday from the Port Klang Authority, said the second phase of the increase in Port Klang's container tariff is crucial to the financial viability of its proposed container terminal expansion as the latter has always been a supply-expansion-driven container port.
YFG Bhd's wholly-owned YFG Engineering Sdn Bhd has bagged an RM40 million contract to construct a 23-storey building housing 62 apartment units and 38 office units for Atta Global Group Bhd's subsidiary, Tetap Gembira Development Sdn Bhd, in Penang.
The project, to start on Oct 1 is to be completed within 24 months, and it is expected to contribute positively to YFG's revenue and earnings for the financial year ending Sept 30, 2019.
Marine & General Bhd's unit Jasa Merin (Malaysia) Sdn Bhd has secured a three-year contract worth RM48 million to provide two 60 tonne anchor handling tug supply (AHTS) vessels from Murphy Sarawak Oil Co Ltd to support Murphy's operations.
The deal also comes with two options for Murphy to extend for an additional one year under each option, valued collectively at RM30 million.
NWP Holdings Bhd has decided to abort a RM744.96 million contract to construct affordable housing under six projects of SPNB Aspirasi Sdn Bhd and Perbadanan PRIMA Malaysia, due to the lack of progress made in negotiations.
The turnkey construction Heads of Agreement that was inked for the project has lapsed as there was no further extension and/or execution of any definitive turnkey agreement, it said.
Minetech Resources Bhd has inked a partnership with Hong Kong Marine Construction Ltd (HKMC) to explore business opportunities for land reclamation, industrial property development and port construction in Perak. HKMC is a subsidiary group of CCCC Dredging (Group) Co Ltd.
The proposed project has been approved by the Perak State government and involves the reclamation and the development of 3,400 acres into a heavy industrial development with a sea port to provide logistic facilities.
Under an MoU signed, Minetech and HKMC are expected to construct a sea port, whereby Minetech would undertake the reclamation of 300 to 500 acres of land to be developed into a free trade zone industrial park.
HKMC is to be the lead party seeking and recommending competent investors including the port operator to fund the construction and operation of the proposed port.
Green Packet Bhd's joint venture company Funsea Interactive Entertainment (M) Sdn Bhd has teamed up with Apigate, a subsidiary of Axiata Digital Services Sdn Bhd, to enable direct carrier billing (DCB) for Celcom's customers.
Under the partnership, Funsea Interactive will be able to facilitate payments for their over-the-top (OTT) content related games, music and video-based apps to more than 9.6 million Celcom subscribers in Malaysia through the DCB payment facility offered by Apigate.
Malaysia Airports Holdings Bhd (MAHB) said the number of passengers who passed through the 39 airports it operates in Malaysia grew 2.2% to 8.56 million in July this year, from 8.38 million a year ago.
International passenger volume rose 5.1% year-on-year (y-o-y) in July 2018 to 4.6 million, but was offset by a 1% decline in domestic traffic to 4 million passengers.
Overall aircraft movements increased a marginal 0.2% y-o-y, with international movements up 2.6% while domestic movements fell 1.4% over July 2017.
MAHB said both international and domestic sectors achieved record passenger movements for a month in July 2018, surpassing peak December passenger movements of previous years.
PRG Holdings Bhd's 75%-owned Hong Kong-listed subsidiary, Furniweb Holdings Ltd, saw its net profit plummet 76.1% to RM612,000 in the cumulative six months ended June 30, 2018 (1HFY18) from RM2.56 million a year ago.
It said gross profit margin was impacted by higher material prices of crude oil-based raw materials, and the abrupt weakness in the US dollar against the ringgit, besides a decrease in sales volume, which in turn increased the weighing of fixed overheads over total cost of sales compared with 1HFY17.
Quarterly revenue fell 23.9% to RM44.5 million from RM58.45 million a year ago, mainly due to reduced sales for certain existing products, and reduced procurement from certain customers as their local currencies depreciated against the US dollar.
CIMB Group Holdings Bhd has received Bank Negara Malaysia's approval to incorporate a Malaysia-based joint venture (JV) company as the holding company of Jupiter Securities Sdn Bhd — the platform that will be used for the Malaysia stockbroking business of CIMB and China Galaxy Securities Co Ltd.
CIMB and China Galaxy will own equal stakes in the Malaysia JV company through their respective wholly-owned subsidiaries CIMB Group Sdn Bhd and China Galaxy International Financial Holdings Ltd.
Utusan Melayu (Malaysia) Bhd has defaulted in its principal payment to Bank Muamalat Malaysia Bhd and Maybank Islamic Bhd due to financial constraints, and intends to submit a proposal to restructure the loan facilities with the banks.
The facility with Bank Muamalat is a revolving finance totalling up to RM530,121, while the facility with Maybank is a bankers acceptance worth RM654,750.
Utusan also proposed to undertake a private placement of up to 10% or 11.07 million of its shares, to raise gross proceeds of RM2.1 million for the repayment of bank borrowings besides expenses for the corporate exercise. The proposed private placement is expected to be completed by third quarter of 2018.
Versatile Creative Bhd confirmed there were irregularities involving payments worth RM2.3 million, on completion of a forensic audit its board ordered last month to check on some suspected payments done by the group.
The payments were approved by the company's managing director and chief financial officer, both of whom could not account for the RM2.3 million and failed to provide evidence as to whom the money was paid to.
Petrol One Resources Bhd, a Practice Note 17 (PN17) company, said today it is unable to implement the proposed regularisation plan by tomorrow (Aug 11), despite numerous extensions granted by Bursa Securities.
Petrol One said the regulator has the right to suspend trading of its securities and delist the company, if it fails to implement the plan within the time frame or extended time frame stipulated by any one of the regulatory authorities.