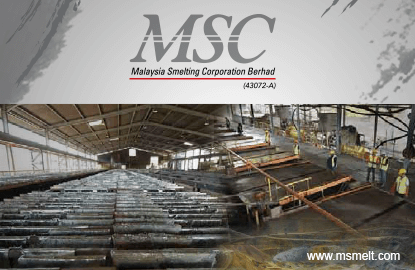 KUALA LUMPUR (June 15): Malaysia Smelting Corporation Bhd (MSC) is buying three parcels of land at Pulau Indah Industrial Park, Westport —  along with plant and machinery on the properties — for RM50 million.
In a filing with Bursa Malaysia today, the integrated tin mining and smelting group said its unit, M Smelt (C) Sdn Bhd, is acquiring the properties from Metal Reclamation (Industries) Sdn Bhd.
It is paying RM32.5 million for the three plots of leasehold land, with aggregate land size of 48,753 sq metres, and the buildings built thereon, and RM17.5 million for the plant and machinery.
"The land disposal price was arrived after considering the net book value of the properties and the land sale transactions in Pulau Indah and their proximity to Westport and the London Metal Exchange warehouse," said MSC.  
The purchase consideration will be funded via internal-generated cash and bank borrowings, it added.  
On the rationale for the purchase, the group said the properties and assets are located in an industrial park, which is a matured area with good connectivity to Westport and LME warehouse.
"The propose acquisitions present the company with the opportunity to execute its business plan," said MSC, adding that the new manufacturing facilities can also cater to its long term business plan.  
Shares in MSC closed down three sen or 1.12% today at RM2.65, for a market value of RM265 million.