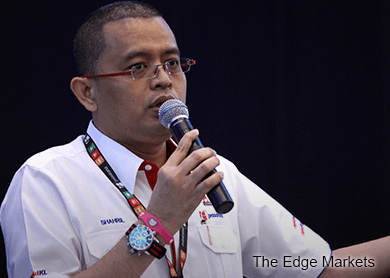 KUALA LUMPUR: The 52.2km Sungei Buloh-Serdang-Putrajaya Mass Rapid Transit (MRT) Line 2 is likely to cost over RM30 billion taking into account the private land acquisition that is estimated to be between RM4 billion and RM5 billion.
Mass Rapid Transit Corp Sdn Bhd (MRT Corp) has allocated RM4 billion to RM5 billion for private land acquisitions which make up 19% of the alignment of MRT Line 2, said chief executive officer (CEO)Datuk Seri Shahril Mokhtar. Construction works are expected to commence in the second quarter of next year (2Q16).
Speaking after visiting the MRT Line 2 alignment public inspection booth at Quill City Mall, Shahril also revealed that MRT Line 2's pre-qualifying exercise for the underground construction will be called next week before the proper bidding session begins in the last quarter of this year.
He told The Edge Financal Daily that the allocation for land acquisitions is not part of Line 2's estimated construction cost of RM28 billion compared with RM23 billion for the MRT Line 1 project.
"The RM28 billion estimation does not include the project delivery partner (PDP)'s cost and consultant's fee. We had to consider the cost of material, manpower and inflation rate, all of which have increased since Line 1 began four or five years ago.
"The length of the tunnel in Line 2 was 13.5km as opposed to 9.5km in Line 1. However, we can only firm up the actual amount after the final alignment for the railway scheme has been approved by the federal government," said Shahril.
Shahril said the cost for the land acquisition was 66.6% more than the RM3 billion allocated for the 51km Line 1 project because the Line 2 alignment covers more prime land.
"Unlike Line 1, where the government to private land percentage ratio was 70:30, in Line 2, it was 81:19 but there is more prime land along the alignment," he said, adding that he hopes that mutual agreements would reduce acquisition costs.
It was previously reported that MRT Corp, which saved RM1.6 billion out of RM3 billion during the Line 1 land acquisition deal through mutual agreements with landowners, hoped to repeat that feat with Line 2.
Asked if MRT Corp would acquire any part of the 1Malaysia Development Bhd's (1MDB) Bandar Malaysia land to house its Bandar Malaysia North and South stations, Shahril said no, adding that the two are underground stations.
Besides, he pointed out that the Bandar Malaysia land, located about 3km from the Tun Razak Exchange where the Singapore-Kuala Lumpur high speed rail (HSR) will meet, is a greenfield area with no structures on it.
"We neither intend to acquire the land nor do we have to protect any structure at the top. Therefore, there is no issue of payment in Bandar Malaysia," he said.
The underground section for MRT Line 2 from Sentul to Bandar Malaysia is a highly congested area, he said, adding that it will feature 11 stations.
Joint-venture company MMC-Gamuda KVMRT (PDP) Sdn Bhd were chosen as the project delivery partner (PDP) for MRT Lines 1 and 2.
The MRT Line 2 will be built in two phases — Sungai Buloh to Batu with an anticipated completion in July 2021, and Batu to Putrajaya with completion expected in July 2022.
This article first appeared in The Edge Financial Daily, on May 22, 2015.