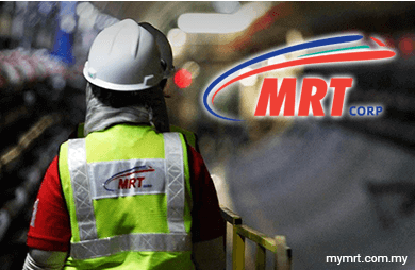 KUALA LUMPUR (March 29): Mass Rapid Transit Corp Sdn Bhd (MRT Corp) has awarded a total of RM536.3 million supply contracts for the construction of the MRT Sungai Buloh-Serdang-Putrajaya (SSP) Line and Sungai Buloh-Kajang (SBK) Line.
In a statement, MRT Corp said the awards were made pursuant to a One Stop Procurement Committee (OSPC) meeting chaired by Minister of Finance II Datuk Seri Ahmad Husni Hanadzlah.
For the SSP Line, SPC Industries Sdn Bhd, a wholly-owned unit of Kimlun Corp Bhd, has been given a RM199 million contract to supply and deliver segmented box girders for viaduct work packages V201 to V205.
A similar contract to supply and deliver segmented box girders for viaduct work packages V206 to V210, worth RM170 million, was awarded to Acre Works Bhd.
MRT Corp chief executive officer Datuk Seri Shahril Mokhtar said the two packages come immediately after the announcements for the first two major work packages, namely the Viaduct Work Package V201 and V202.
"Although lower in terms of contract sum, these work packages are just as important for the construction of the SSP Line. It is good that companies with good track records have emerged successful in the tender process," he said.
Yesterday (March 28), MRT Corp announced the award of RM1.21 billion construction of a viaduct package for the SSP line to Sunway Construction Group Bhd's wholly-owned unit, Sunway Construction Sdn Bhd.
Last week, Ahmad Zaki Sdn Bhd bagged a RM1.44 billion contract to build the same for the SSP line.
Meanwhile, MRT Corp said the OSPC has also awarded two work packages for the SBK Line.
"The first work package, for the construction of the Pasar Seni Link and other associated works between the existing Pasar Seni light rail transit (LRT) station and the Kuala Lumpur KTM station, was awarded to Trans Resources Corporation Sdn Bhd. The contract sum for this work package is RM103.8 million.
"The second work package is for the construction of an MRT feeder bus depot and related supporting buildings and facilities for the SBK Line at Kajang, which was awarded to Potensi Cekal Sdn Bhd. The contract sum of this work package is RM62.5 million," it said.
The SSP Line is 52.2km in length, of which 13.5km will run underground. It will have 37 stations — 11 of them being underground stations.  
In total, there are 66 work packages being tendered for the construction of the SSP Line. They include 10 viaduct guideway packages, one underground works package, two depot work packages, 10 station work packages, and 15 multi-storey park and ride work packages.
The remaining tenders are for Advance Works, Connectivity, Systems, Designated Suppliers and Designated Contractors.