This article first appeared in The Edge Malaysia Weekly, on June 29, 2020 - July 05, 2020.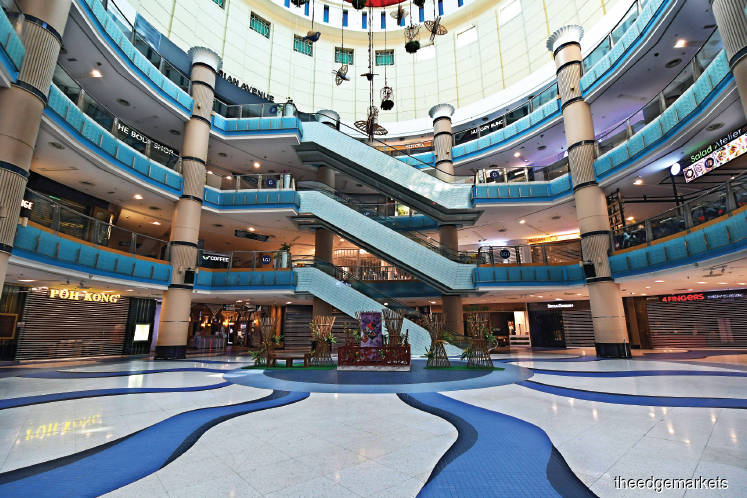 MALAYSIAN real estate investment trusts (M-REITs) have long been a favourite of risk-averse investors, given the asset class' stable returns and promise of healthy dividend payments. However, the coronavirus pandemic has raised concerns about the resilience of rental payments, which are vital to the net property income performance of M-REITs.
With businesses struggling to cope in the aftermath of the pandemic, their ability to make good on rental payments and service potentially higher rates once their leases are up for renewal is in question, and this has translated into an uncertain operating environment for M-REITs.
The Bursa Malaysia REIT index, which tracks the performance of the 18 listed M-REITs, has underperformed the FBM KLCI, declining 7.67% year to date (YTD) to 888.96 points last Wednesday, compared with the FBM KLCI's YTD decline of just 5.4% to 1,502.63 points.
Analysts and fund managers are still sanguine about the performance of M-REITs, but qualify that this would depend on the type of properties making up the portfolios.
TA Investment Management chief investment officer Choo Swee Kee says the REITs expected to be negatively impacted by Covid-19 are those in the retail and hospitality sectors, while industrial REITs will be the least affected.
"Hence, we favour industrial REITs. [For retail REITs], however, you have to take a longer-term view because when weaker tenants leave, the mall owners will replace them with other tenants that are [able to service] the rental payments," he tells The Edge.
Pankaj C Kumar, a former director of investment at KSK Group Bhd, says the acid test for REITs will come when rental agreements are up for renewal.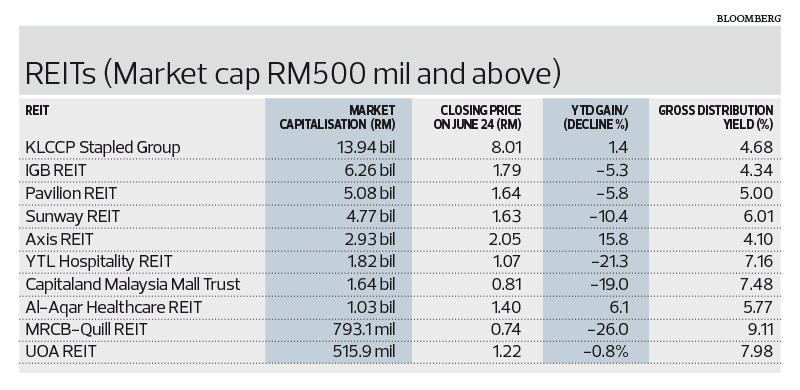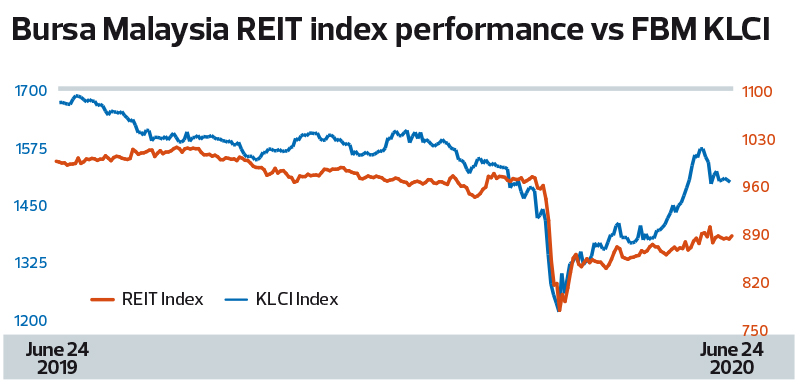 "The test is not only whether tenants will stay on, but whether their lease agreements are to be renewed at a lower rate. If the tenancy is renewed at a lower rate, this translates into a lower net property income for REITs, which also means the dividends will be lower," he explains.
"As to what extent the tenant profiles of REITs are to be impacted, it is difficult to price it in at this moment, but certainly, it is more telling in some segments, such as the retail segment, which is impacted by weaker consumer spending and lower tourist arrivals."
Nevertheless, Pankaj believes investors can still garner decent returns from REIT investments.
"This is because yields for the sector are still attractive, with some REITs offering 7% to 8%, which is more attractive than putting money in fixed deposits, which offer much less.
"If Bank Negara Malaysia were to further reduce the overnight policy rate, this would make the yields for REITs more attractive. This would also benefit REITs, which have more floating rate borrowings, in the form of lower interest rate expense, which would help to boost their profitability to a certain extent," he says.
Which M-REIT to buy?
In a note on the sector last Monday, UOB Kay Hian maintained its "overweight" call on M-REITs.
"In this low interest rate environment, M-REITs still command attractive yields compared with fixed income instruments. In the short run, office REITS are less impacted by the Covid-19 outbreak, but in the long run, we continue to prefer the retail segment, particularly in the prime malls, for their proven business resilience," the brokerage says.
UOB's top pick for the sector is MRCB-Quill REIT (MQREIT), which boasts prime commercial properties such as Menara Shell and Platinum Sentral in the heart of KL Sentral, as well as properties in Cyberjaya that house the operations of HSBC, DHL and BMW.
"We opine that earnings risk is low for MQREIT, as [its] tenants are mostly well-established multinational corporations and local businesses that are able to ride out the current situation. Furthermore, rental collection during the movement Control Order period in the second quarter of 2020 remains strong, coupled with its long weighted average lease expiry of 4.65 years," UOB says.
Last Wednesday, MQREIT closed at 74 sen, which gives it a distribution yield of 9.1%. YTD, MQREIT units have declined 26%.
Its distributable income for the first financial quarter ended March 31, 2020 (1QFY2020) saw a marginal year-on-year increase of 1.9% to RM19.79 million. According to UOB Kay Hian, MQREIT successfully renewed 93% of leases due in 1Q2020.
"MQREIT's current gearing ratio remains healthy and on a par with peers, which allows it to tap into debt and equity markets for future acquisitions," the firm says.
UOB Kay Hian has a "buy" call on MQREIT with a target price of 97 sen, indicating an upside of 31%.
TA's Choo favours Axis REIT, whose portfolio comprises warehouses, manufacturing facilities, offices and hypermarkets. The properties include Menara Axis and Axis Business Park in Petaling Jaya, Axis Mega Distribution Centre and Axis Northport Distribution Centre 1 in Klang, Bayan Lepas Distribution Centre in Penang, Nusajaya Tech Park Facility 1 and 2 in Johor, and Tesco Bukit Indah in Johor.
"We like Axis, not only because it is in the right sector to weather the current pandemic — in other words warehousing, logistics, and manufacturing facilities — but it also has capable management.
"The REIT grew from five assets at the time of listing in 2005 with a total valuation of RM343 million to, now, 50 properties with assets under management of RM3.1 billion and still growing. Unitholders are able to benefit from stable income distribution and growth in net asset value per unit. About 82% of its assets are located in Selangor and Penang, where industrial properties are sought after and supply is limited, thereby pushing up property values. It also has the support of major shareholders such as KWAP, EPF and most large institutional funds," says Choo.
Year to date, Axis REIT units have appreciated 15.8% to close at RM2.05 last Wednesday, with a distribution yield of 4.1%.
Another REIT favoured by most analysts is YTL Hospitality REIT, although its portfolio consists of properties that have been severely impacted by Covid-19 — hotels. The hotels in its portfolio include JW Marriott Hotel and The Majestic Hotel in Kuala Lumpur, Hilton Niseko Village and Green Leaf Niseko Village in Japan and the Sydney Harbour, Brisbane and Melbourne Marriott Hotels in Australia.
In its third financial quarter ended March 31, 2020, YTL REIT saw its total distributable income increase 4.4% to RM34.03 million. Post the release of its 3Q results, Maybank IB Research maintained its "buy" call on YTL REIT.
"Looking beyond the bearish near-term outlook for its Australian hotels due to Covid-19, we continue to favour YTLREIT's master lease assets, with all of its Malaysian and Japanese properties providing resilient rental income. We are also positive on its strong pipeline of hospitality assets from its parent, YTL Corp Bhd," the brokerage says.
Maybank IB has a "buy" call on YTL REIT with a target price of RM1.25, indicating an upside of 17% to its closing price of RM1.07 last Wednesday. At RM1.07, YTL REIT's units are trading at a yield of 7.2%.
IGB REIT, which has two malls in its portfolio — Mid Valley Megamall and The Gardens Mall — saw its distributable income decline 16.7% to RM74.48 million in 1QFY2020 owing to the impact of Covid-19. Nevertheless, RHB Research maintains its "buy" call on IGB REIT at RM1.90.
"Mid Valley Megamall and The Gardens Mall have had their respective asset values go up by RM165 million and RM95 million since 2012, and we see minimal risk of a sharp negative revaluation this year.
"With a gearing ratio of 23% and interest coverage of more than 6 times, backed by near-to-full occupancy rates and blended rental reversion of a low- to mid-single digit, the attractiveness of the REIT's assets should remain despite the current headwinds, given their strong market positioning," says RHB Research.
The Edge reported earlier this month that the listing of a commercial REIT, comprising nine of IGB Bhd's office buildings, could take place as early as November. IGB is IGB REIT's largest unitholder.
The nine buildings include Menara IGB and the Gardens South Tower in Mid Valley City, and Menara Tan & Tan and GTower in Jalan Tun Razak.
Meanwhile one of the country's largest diversified REITs, Sunway REIT, reported a 4.7% decline in its distributable income for 3QFY2020 to RM65.66 million. Among the assets in the REIT's portfolio are Sunway Pyramid shopping mall, Sunway Resort Hotel and Spa, Menara Sunway office building, Sunway Medical Centre private hospital and Sunway University and College campus.
At its closing price of RM1.63 last Wednesday, Sunway REIT commands a distribution yield of 6.01%. Hong Leong Investment Bank Research maintains its "buy" call on Sunway REIT, with a target price of RM1.74.
"We continue to like Sunway REIT for its well-diversified portfolio in which the prominent assets are located, its unique township planning and strong backing from its sponsor."
While Sunway REIT has to contend with the challenging retail and hotel business climate owing to Covid-19 and the MCO, nonetheless, at current levels, the stock's yield remains appealing even after imputing the negative repercussion from this crisis," says the brokerage.