This article first appeared in The Edge Financial Daily, on February 11, 2020.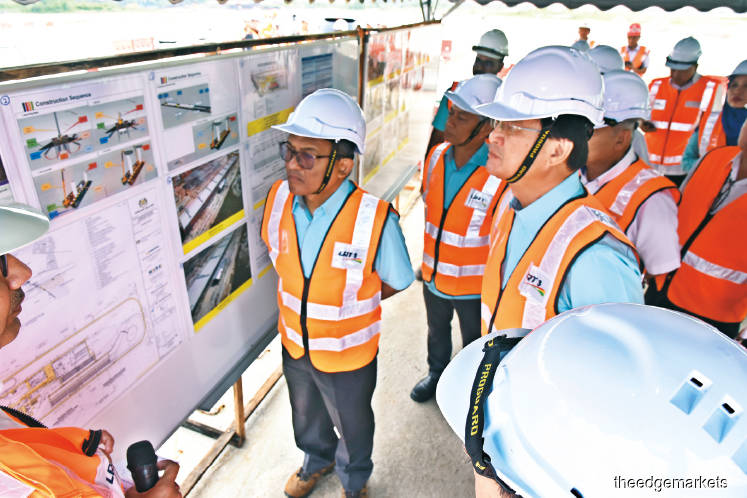 KLANG: MRCB-George Kent Sdn Bhd, constructing the Light Rail Transit Line 3 (LRT3), aims to complete more than 40% of the project by end-2020. The line, from Bandar Utama in Petaling Jaya to Johan Setia in Klang, is now 27% completed.
MRCB-George Kent's LRT3 project director Patrick Hwang Chee Leong told The Edge Financial Daily that the project is divided into civil and system works, having achieved 31% and 15% completion respectively.
Malaysian Resources Corp Bhd (MRCB) and George Kent (Malaysia) Bhd each owns a 50% stake in MRCB-George Kent through their subsidiaries.
The LRT3 project started in August 2015 with an initial budget of RM10 billion to serve some two million people along the Bandar Utama-Johan Setia route, before costs escalated to a whopping RM31.65 billion.
It was among several mega infrastructure projects reviewed by the federal government after Pakatan Rakyat came to power in May 2018.
In July 2018, the LRT3 project resumed with the final total costs reduced by 47% to RM16.63 billion, from RM31.65 billion previously, as well as replacing the project delivery partner model with the turnkey model. The completion date was also extended from 2020 to 2024.
Meanwhile, the Construction Industry Development Board (CIDB) of Malaysia awarded MRCB-George Kent with a five-star Sustainable Infrastar certification yesterday for the LRT3 project's design phase. This is the first infrastructure project to have received a five-star rating for environmental sustainability.
Launched by CIDB in March 2019, the Sustainable Infrastar is an assessment tool measuring sustainability elements of infrastructure projects during the design and construction stages. It also covers the gap in addressing environmental concerns for the construction industry.
According to the board, the Sustainable Infrastar's main objective is to ensure infrastructure projects in Malaysia are developed sustainably, factoring in sustainability elements such as the natural, social and economic environments from the design stage to the project's completion.
"We are excited that the CIDB is recognising our effort to incorporate sustainable elements into the project's design. We look forward to working with the CIDB to enable knowledge sharing on sustainable measures throughout our construction phase," said Hwang.
The certificate of recognition was presented by Works Minister Baru Bian in conjunction with a working visit to the LRT3 construction site. The minister also witnessed the signing of a memorandum of understanding between the CIDB and MRCB-George Kent to enhance environmental sustainability programmes and good practices in construction works.
Baru said the government wants construction projects costing above RM100 million be assessed and rated for sustainability.
Besides the LRT3 project, another four pilot projects have been rated since the launch of Sustainable Infrastar, and 18 projects waiting to be assessed, according to CIDB.
To encourage more industry players to assess their projects for sustainability, CIDB is offering to conduct the Sustainable Infrastar assessment for free,
George Kent's share price fell one sen or 1.17% to 84.5 sen yesterday, with a market capitalisation of RM450.86 million. MRCB's share price also dropped one sen or 1.52% to a 13-month low of 65 sen, valuing the group at RM2.87 billion.