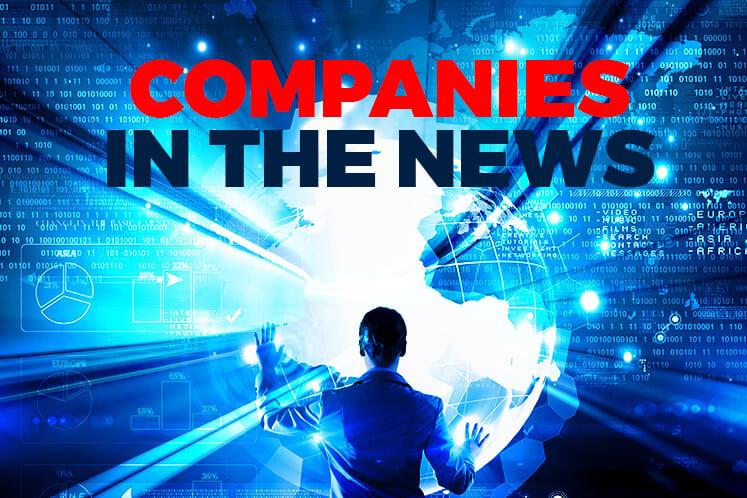 KUALA LUMPUR (Dec 26): Based on corporate announcements and news flow today, companies that may be in focus tomorrow (Dec 27) may include: MRCB, MPay, Pensonic, Sona Petroleum, TNB and Hibiscus.
Malaysian Resources Corp Bhd (MRCB) has entered into agreement with Lembaga Tabung Haji for the pilgrim fund to purchase 70% stake in 59INC Sdn Bhd, which owns three parcels of land in Setapak for mixed development, for RM100.1 million cash.
The cash proceed from the divestment, MRCB said in its filing with Bursa Malaysia, will be utilised for working capital purposes and property  development activities within 12 months from receiving the disposal consideration.
The three parcels of land, measuring 111,195 sq m in total, have a market value of RM270 million as at Aug 17, 2017.
Managepay Systems Bhd (MPay) will provide services under its e-marketplace platform BuyMalaysia.com to small and medium enterprises (SMEs) registered under eTRADE programme by Malaysia External Trade Development Corp (MATRADE).
MPay said it received a Letter of Offer from MATRADE to provide the services, which it said will contribute to its earnings in the financial year ending Dec 31, 2018 (FY18) onwards.
Pensonic Holdings Bhd is buying two parcels of freehold land in Taman Perindustrian WorldwideKapas Bestari (Phase 2) in Kapar, Klang from Cekal Unggul Sdn Bhd for RM20.07 million cash.
Pensonic said in a filing today that the acquisitions, made via Pensonic Sales & Services Sdn Bhd, are for construction a new warehouse and office block there, due to its strategic location near Port Klang.
Sona Petroleum Bhd has yet to receive the tax clearance for the final distribution of the remaining cash in its cash trust account amounting to 1.39 sen per share to shareholders.
It however said in a filing that tax returns for the Year of Assessment 2017 have been filed with the Inland Revenue Board (IRB), Sona said its tax agent had immediately sought for tax clearance,adding that the liquidation of subsidiary Sona E&O (Perth) Pty Ltd should complete by this month.
Tenaga Nasional Bhd (TNB) said that the Malaysian government's decision to provide RM929.37 million or 1.80sen/kWh rebate under the current Imbalance Cost Pass Through (ICPT) for electricity customers from Jan 1 to June 30, 2018 as neutral on the utility giant's business operations and financial position.
TNB said in a filing that the government has also agreed to maintain existing electricity tariff rates, which has been in place since Jan 1, 2014, unchanged until Dec 31, 2020.
Hibiscus Petroleum Bhd, which is acquiring 50% stake in the 2011 North Sabah EOR Production Sharing Contract (PSC) from Shell Sabah Selatan Sdn Bhd for US$25 million, announced that both parties have clarified and agreed on the conditions set by Petronas for the deal.
Hibiscus said that on Dec 22, the three parties had entered into a novation agreement so it can continue production and further develop the resources upon completion of the acquisition, which it expects to happen on March 31, 2018.