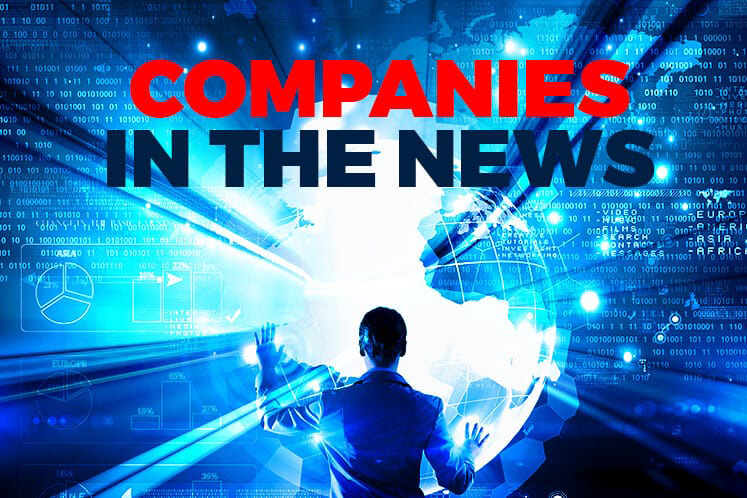 KUALA LUMPUR (June 26): Based on corporate announcements and news flow today, stocks in focus on Monday (June 29) may include: Malaysian Resources Corp Bhd's (MRCB), Dutch Lady Milk Industries Bhd, Malayan Banking Bhd (Maybank), Kim Hin Joo (M) Bhd, Leong Hup International Bhd, APM Automotive Holdings Bhd, Mynews Holdings Bhd, AT Systematization Bhd, IJM Corp Bhd, Cypark Resources Bhd, IJM Plantations Bhd and Alliance Bank Malaysia Bhd.
Malaysian Resources Corp Bhd's (MRCB) net profit more than tripled to RM15.65 million in 1QFY20, from RM4.14 million a year ago, mainly due to higher contribution from its property and investment segment. Revenue rose 82% to RM425.75 million from RM243.05 million. Noting that the  quarter covers the initial part of the Movement Control Order (MCO), MRCB said a "significantly weaker performance in the second quarter" is anticipated.
Dutch Lady Milk Industries Bhd's net profit tumbled 33.02% to RM22.73 million in 1QFY20 from RM33.9 million a year earlier, on lower revenue and amid higher dairy raw material prices.
Revenue fell 5.21% to RM251.17 million, from RM264.99 million, due to product mix changes and early impact of COVID-19. Nonetheless, the group said most of its brands have been outperforming the category and have been gaining market share during the quarter.
Malayan Banking Bhd (Maybank) estimates that Day-One modification loss for fixed rate financing assumptions from the six-month moratorium of hire purchase loans will be about RM1 billion. It said the amount would be reflected in 2QFY20. According to the bank, more than 70% of its loan book is currently under moratorium, relief or rescheduling and restructuring programmes.
Kim Hin Joo (M) Bhd, a leading retailer of baby, children's and maternity products in Malaysia through its Mothercare outlets, has ventured into the toys sector by opening The Entertainer, a UK retailer, in Sunway Pyramid. It is also allocating RM1.6 million to RM1.8 million capital expenditure to open another two outlets by year-end.
Regional poultry producer Leong Hup International Bhd (LHI) expects to record revenue growth of RM500 million per year for The Baker's Cottage (TBC) by 2024. The group plans to expand TBC's store network abroad going forward. On June 1, Leong Hup acquired the entire equity interest in food manufacturer and distributor The Baker's Cottage Sdn Bhd for RM17.94 million.
APM Automotive Holdings Bhd's unit in Indonesia is teaming up with Hyundai Motor Company to manufacture and supply automobile seats and related components. The joint venture between PT APM Automotive Indonesia and Hyundai Transys Inc is to support Hyundai's automobile manufacturing plant in Cikarang, Indonesia, which is expected to be fully operational in the second half of 2021. The plant will produce 150,000 units of vehicles a year, half of which would be exported to neighbouring countries in Southeast Asia.
Mynews Holdings Bhd posted a net loss of RM2.33 million for 2QFY20 – its first quarterly loss since it was listed in 2016. In contrast, the company posted a net profit of RM7.95 million in the previous corresponding quarter. The quarterly losses were mainly due to the COVID-19 impact. Revenue fell 7.14% to RM123.49 million from RM132.98 million. For the cumulative six-month period, the group reported a whopping 87.53% drop in net profit to RM2.02 million against RM16.19 million a year ago, although revenue grew nearly 3% to RM264.07 million from RM256.48 million.
AT Systematization Bhd (ATS) is acquiring industrial glove maker Pearl Glove Sdn Bhd (PGSB) for RM22 million cash. The vendors are Hai Hong Capital Sdn Bhd, P'ng Sim Guan, P'ng Lai Heng, Hai Hong Holdings Sdn Bhd and Aaron Khoo Teng Soon. ATS said the immediate outlook for PGSB's existing business, as a trusted and tested OEM/ODM manufacturer of safety gloves, is extremely positive as the demand for the industrial safety gloves increases proportionately with improving workplace health and safety practices globally.
IJM Corp Bhd's earnings fell 70.4% to RM71.3 million for 4QFY20 from RM240.81 million a year earlier, dragged by lower profits across four divisions namely property development, manufacturing and quarrying, plantation and infrastructure. However, revenue grew 46.7% to RM2.05 billion from RM1.39 billion in the year-ago period, following higher revenue contributed by the construction, property development and plantation divisions.
Similarly, the group's annual net profit contracted 40.2% to RM250.59 million from RM418.92 million previously, while revenue surged 16.8% to RM6.61 billion from RM5.66 billion in FY19.
Going forward, IJM said it anticipates disruptive implications of the pandemic on the overall market environment, together with the uncertainty of commodity prices and volatility of foreign exchange rates.
Cypark Resources Bhd's net profit for 2QFY20 fell 4.34% to RM18.5 million from RM19.34 million a year ago, despite revenue falling 25.32% to RM75.75 million from RM101.43 million.
The lower revenue was due to the suspension of on-site work activities of its environmental engineering as well as landscaping and infrastructure divisions as a result of the MCO.
For the six-month period, net profit rose 2% to RM33.05 million from RM32.35 million, though revenue fell by 12% to RM166.63 million from RM189.87 million previously. Cypark expects the outlook for renewable energy remains good despite the immediate challenges from COVID-19.
IJM Plantations Bhd has recorded its second consecutive loss-making financial year, with a net loss of RM63.42 million arising from total net forex losses of RM87.11 million.
Annual revenue, however, grew 17.16% to RM739.13 million from RM630.9 million in FY19. For 4QFY20, the group reported a net loss of RM76.39 million versus a net profit of RM13.52 million a year earlier, weighed down by a RM100.68 million net forex loss.
In the year-ago fourth quarter, IJM Plantations had recognised a RM9.73 million forex gain.
Quarterly revenue, however, was 18.56% higher at RM195.39 million, from RM164.8 million last year, due to higher commodity prices.
Coupled with the disruptive implications of the COVID-19 pandemic, the group expects a challenging financial year ahead.
Alliance Bank Malaysia Bhd expects its net interest margin to shrink by 18 basis points as a result of Bank Negara Malaysia's aggressive 100 basis points cut on the overnight policy rate so far this year.
The group will address this by repricing its current account savings accounts and growing a higher yield of products.
Alliance also expects to incur up to a RM60 million modification loss from the beginning of FY21 as a result of the six-month moratorium on loans for both its individual and small and medium sized enterprises.
However the impact of the moratorium is expected to unfold throughout the remaining tenure of the loans, and therefore the net impact to net interest income is expected to be RM25 million in FY21.