This article first appeared in The Edge Malaysia Weekly, on October 12, 2020 - October 18, 2020.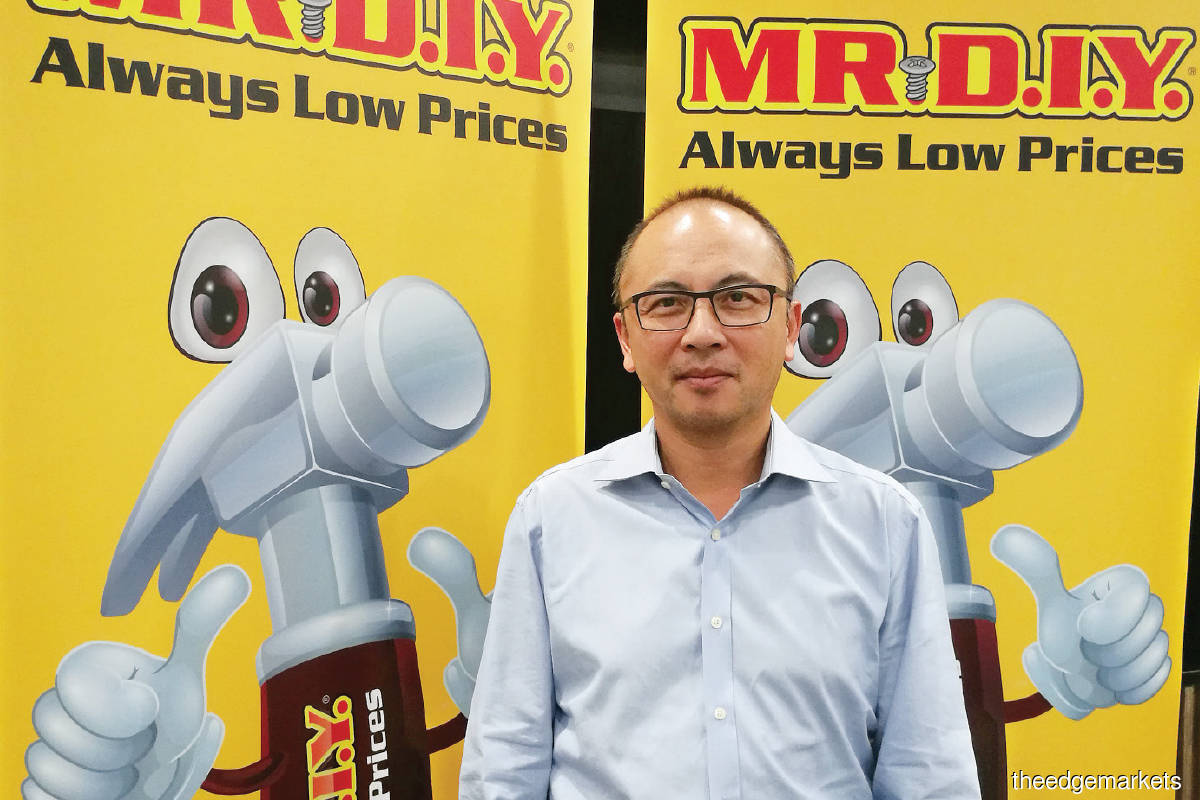 MAIN Market-bound Mr DIY Group (M) Bhd has pushed back on concerns that the home improvement retailer is listing at the high end of the valuation spectrum.
Speaking to The Edge at its headquarters in Seri Kembangan, Selangor, CEO Adrian Ong says Mr DIY's price-to-earnings (PE) valuation reflects demand in the home improvement market. He further elucidates that the company is operating in an industry that is expected to grow at a compound annual growth rate (CAGR) of 10.2% between 2019 and 2024 to reach RM12.5 billion.
"We are well capitalised as a business, and we have the systems, the structure, the platform to grow; and we have teams that work on seeking out sites. There are other businesses that come to us now that we add stores," Ong stresses, adding that Mr DIY is the market leader in the home improvement space in Malaysia, with a market share of 29.1%.
At its retail issue price of RM1.60, Mr DIY is valued at RM10 billion, based on its enlarged share base of 6.28 billion. This values the retailer at 31.6 times its earnings per share of 5.06 sen for the financial year ended Dec 31, 2019 (FY2019).
For perspective, Mr DIY's PE does fall in line with those of its regional peers. For example, Indonesia-listed PT Ace Hardware Indonesia Tbk — a unit of US-listed Ace Hardware Corp — has a trailing 12 month (TTM) PE of 30.71 times and forward 12-month PE of 31.56 times.
Meanwhile, Thailand-listed Home Product Center PCL has a TTM PE of 36.57 times, with a forward-looking 12-month PE of 38.13 times.
Australia-listed diversified conglomerate Wesfarmers Ltd — which operates home improvement retailer Bunnings Warehouse — has a TTM PE of 32.61 times, with a forward 12-month PE of 26.96 times (see table).
Mr DIY's IPO is the largest in Malaysia in three years since petrochemical group Lotte Chemical Titan Holding Bhd went public at an offer price of RM6.50, raising RM3.77 billion in 2017.
Through its IPO, Mr DIY hopes to raise RM1.5 billion, of which RM1.2 billion will go to its promoters offering to sell their shares. The balance RM301.44 million to be raised through the issuance of new shares will be used to pay off debts worth RM276.14 million, and RM25.3 million in IPO fees and expenses incurred.
The IPO consists of 941.49 million shares, whereby 779.96 million shares are for institutional investors and 161.53 million shares are for retail investors. A total of 753.0 million shares are being offered for sale by the promoters, and 188.4 million new shares will be issued.
On whether the group will take on more debt to fund its growth, given that none of the proceeds from its listing will be used to fund business expansion or working capital requirements, Ong points to the group's operating cash flow of RM666.23 million for FY2019 and RM280.91 million as at June 30, 2020 (6MFY2020).
"Our operating cash flow and cash profits will be reinvested into our business. We are still going to pay dividends based on a minimum 40% of earnings policy," Ong notes, adding that capital expenditure would come from operating capital.
As at June 30, 2020, Mr DIY's borrowings stood at RM608.85 million, translating into a gearing ratio of 1.34 times and a net gearing ratio of 0.74 times.
The group's borrowings had shot up to RM623.36 million in FY2019 from RM92.02 million in FY2018. Ong explains that this was due to the group's acquisition of its Brunei business as well as dividend payouts to shareholders at the time.
Upon listing, its borrowings, which will be paid off through the fundraising, will be reduced to RM153.85 million, giving it a gearing of 0.22 times.
On concerns that the company's gearing could increase to pre-listing levels, given its 40% dividend policy and ambitious business expansion plans, Ong says Mr DIY would keep to "a modest level of gearing".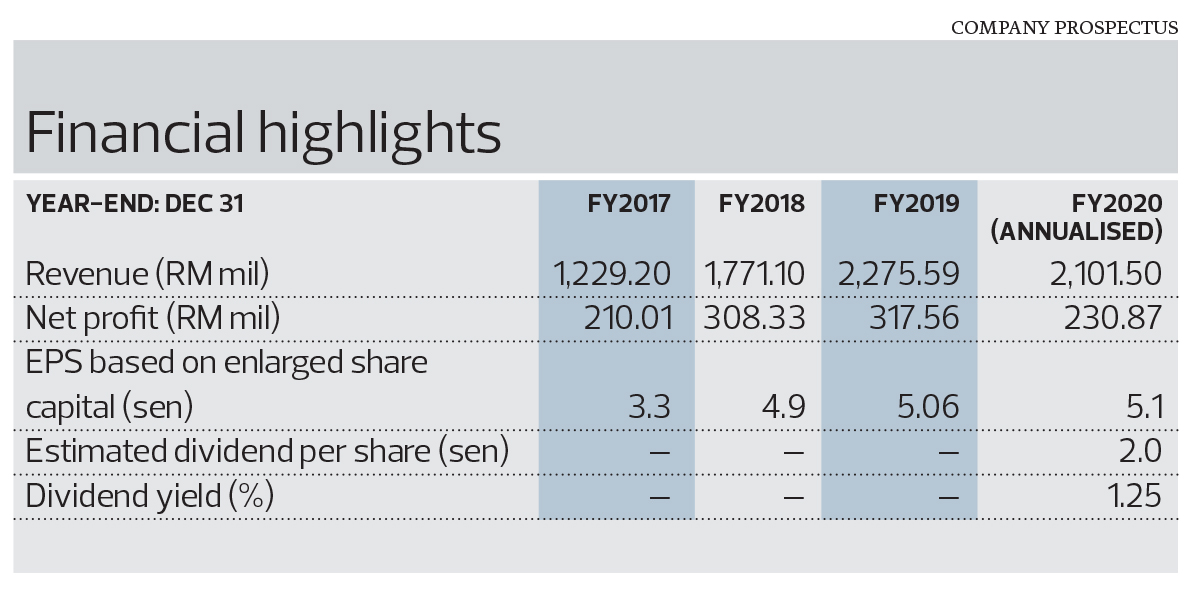 It is worth noting that Mr DIY has been exempted from the minimum public spread requirement of 25% and will have a public spread of 15%.
"A 15% public spread out of RM10 billion is a sizeable amount. Besides, a public spread of this size is common in other markets such as Singapore and Hong Kong," says Ong.
Rapid expansion
In May, Mr DIY's monthly revenue more than quadrupled month on month (m-o-m) to RM233.5 million, from RM51 million in April, following the implementation of the Conditional Movement Control Order (CMCO) on May 4. Its revenue for June was RM232.1 million.
Asked how the company managed a V-shaped revenue recovery amid the pandemic, Ong explains that it has had the benefit of new-store growth in the past three years.
"Sales have been in line with our growth expectations. As a business, we were well positioned with stores [in various locations]. People didn't have to travel far [to shop at our stores]. As we sell home improvement goods, people working from home have found items in their homes to be in need of changing and improving, and this has contributed to higher sales. By next year, our store count will increase again. Our history provides a reference of the future and we are pleased with the fair valuation, which reflects that growth," Ong says.
For 6MFY2020, Mr DIY posted a net profit of RM115.4 million on the back of RM1.05 billion in revenue.
Ong credits the company's strong cash generation profile to its operational efficiencies, which enabled the company to achieve its target payback period of under two years for the 223 new stores opened in FY2017 and FY2018.
Mr DIY maintained gross profit margins of 44.1%, 43.7% and 42.3% from FY2017 to FY2019 respectively, and 42.6% for 6MFY2020.
According to Ong, Mr DIY has achieved these results while maintaining the affordable pricing on its goods by virtue of bulk orders from core manufacturers and suppliers, thanks to its wide retail distribution network.
The company's unaudited statements for 6MFY2020 shows trade payables turnover of 10 days compared with six days in FY2019.
Most of its product inventory is sourced from China and Malaysia, at 73.4% and 25.7% in 6MFY2020. According to its prospectus, Mr DIY has more than 800 end suppliers, with its largest end supplier accounting for less than 5% of its total purchases.
Mr DIY, which has a workforce of 10,162 employees, is currently Malaysia's and Brunei's largest home improvement retailer, with a network of 674 stores. It aims to open 307 new stores by 2021 — comprising 200 Mr DIY stores, 47 Mr Toy stores and 60 Mr Dollar stores — to bring its current stable of stores to 900.
This year, the company opened 75 stores, adding to its 593 stores as at Dec 31, 2019.
Last year, it opened its first Mr Toy store at Tesco Rawang, Selangor, and its first Mr Dollar store in Taman Maluri, Kuala Lumpur, this year.
The group saw the same-store sales growth rate ranging from 1.8% to 6.5% for FY2017 to FY2019.
Given the rapid growth in the number of stores, one concern is oversaturation of outlets, which could lead to cannibalisation between Mr DIY stores. Ong believes this would not be the case, as its many stores are seen as a convenience for its customers.
In the weakened economy, Mr DIY has had the help of its landlords, particularly in the form of rental rebates for its anchor tenancy.
Asked whether Mr DIY's earnings would have been lower without this landlord support, Ong says: "We did receive some assistance from understanding landlords, but that number, which is in the millions, is not particularly material. We value our relationship with our stakeholders, thus they are willing to provide this leeway. We did ask, as anybody would, and they agreed. It is a disclosure item in the P&L accounts."
He adds that the availability of property and the shift in supply versus demand have swung in Mr DIY's favour, which has helped the retailer negotiate better sites and terms.
The group, whose facilities are a mixture of owned and leased properties, operates a distribution centre comprising a cluster of 11 properties in Balakong, Seri Kembangan, and one property in Port Klang, Selangor.
Mr DIY has business under the eponymous brand in Thailand, Indonesia, Singapore, the Philippines, India and Cambodia parked under separate entities. In regard to the group's plans for the business abroad, Ong says it is focusing on Malaysia and Brunei.
As for the proportion and profitability of Mr DIY outlets in cities versus small towns, Ong says the business model is one that suits both urban and rural environments, given the "universal appeal" of its goods.
"We note, however, that our highest store demand comes from East Malaysia," he adds.
Making its debut on Bursa Malaysia in two weeks' time at RM10 billion, Mr DIY will be more valuable than some banks.
At market close on Thursday, Affin Bank Bhd, Alliance Bank Malaysia Bhd and Malaysia Building Society Bhd (MBSB) were worth RM2.91 billion, RM3.39 billion and RM3.56 billion respectively. In fact, the combined market value of all three banks totalled RM9.86 billion.
Mr DIY's market cap is nearly four times that of British American Tobacco (M) Bhd's, eclipsing the tobacco company's market cap of RM2.88 billion by 3.47 times.
Even airport operator Malaysia Airports Holdings Bhd (MAHB) comes up short against the home improvement retailer with a market value of RM7.58 billion.
In addition, Mr DIY is worth more than retailers such as AEON Co (M) Bhd and convenience chains 7-Eleven Malaysia Holdings Bhd and MyNews Holdings Bhd, which have market caps of RM1.07 billion, RM1.64 billion and RM412.70 million respectively.