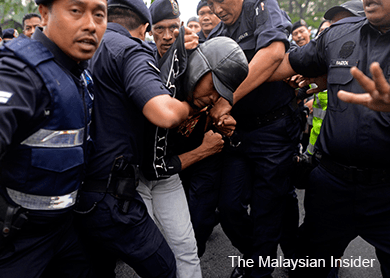 TWO opposition MPs along with 23 other people were charged with illegal assembly under the Peaceful Assembly Act at the Petaling Jaya Sessions Court today after protesting against the goods and services tax (GST) at a sit-in demonstration on Monday.
The lawmakers are Parti Sosialis Malaysia's Dr Michael Jeyakumar Devaraj, the MP for Sungai Siput, and Kuala Krai MP Dr Mohd Hatta Ramli from PAS.
All were accused of ignoring a police order to disperse at the sit-in outside the Customs Department office in Kelana Jaya.
Each of them were released on bail of RM3,000 in one surety and must return to court on May 14 for a hearing.
The charge under Section 21(1)(d) of the Peaceful Assembly Act 2012 states the circumstances under which the police have the power to order protesters to disperse.
Muhammad Zaki Sukeroi, one of the lawyers acting for those charged, said they could each be fined up to RM20,000 under Section 21(3) of the act.
The 25 charged were among 29 remanded for a further two days yesterday after being arrested at the sit-in and at a candlelight vigil held outside the Kelana Jaya police station for detained anti-GST protesters on the same night.
Muhammad Zaki said the remaining four will be brought to the court tonight and lawyers are expecting them to be released.
The anti-GST protest on Monday was organised by Parti Sosialis Malaysia (PSM) and Gabungan Bantah GST, a coalition of activists opposed to the consumption tax.
The goal of the sit-in was to get the Customs Department to answer some 100 questions on the GST which will be implemented on April 1.
Police broke up the sit-in after 5pm and arrested 80 people then, while another three were arrested later that night at the candlelight vigil outside the police station.
Inspector-General of Police Tan Sri Khalid Abu Bakar has defended the police against criticism for arresting peaceful protesters, saying the demonstrators were "trespassers" and had acted "as if to take control of the Customs complex". – March 25, 2015.